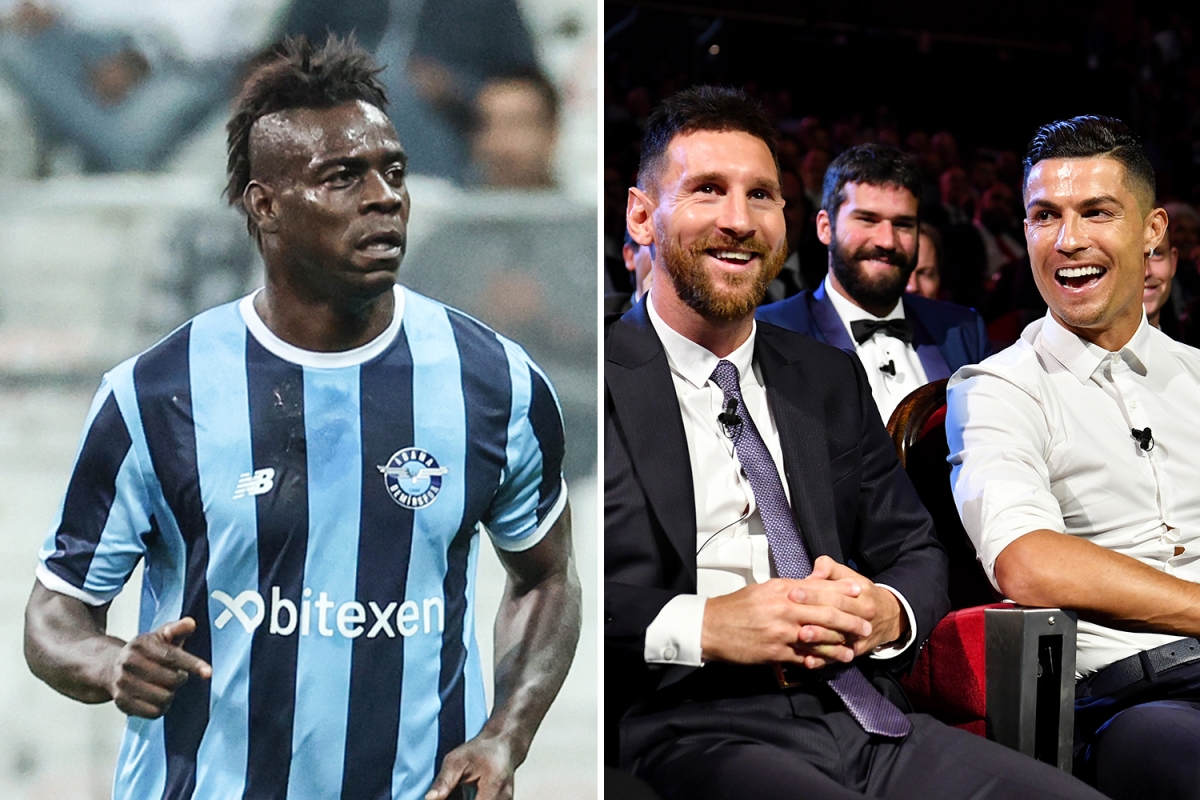 Balotelli claims he is at the same level with Messi and Ronaldo in terms of football quality but not golden balls
He admits he is not jealousy of either Messi or Ronaldo
What is Balotelli's two main objectives?
Mario Balotelli's professional career
Mario Balotelli regrets his decision to leave Manchester City, envies Aguero's long stay at the club
In comments to The Athletic, Mario Balotelli compared himself to Lionel Messi and Cristiano Ronaldo.
Balotelli is positive that his quality is equal to Lionel Messi and Cristiano Ronaldo, even though he 'missed some opportunities to be at that level.'
"I'm 100% sure that my quality is the same level as these people [Messi and Ronaldo]," Balotelli told The Athletic.
"But I… I missed some chances, you know? It happens."
"Nowadays, I cannot say I'm as good as Ronaldo, because Ronaldo won how many golden balls (Ballons d'Or)? Five?
You cannot compare yourself to Messi and Ronaldo, nobody can. But if we're talking about only quality, football quality, I have nothing to be jealous of them, to be honest."
has admitted that his attitude at Manchester City held him back from being a player on the same level as the game's all-time greats.
The Italy international is on loan at Adana Demirspor in Turkey, where he has 10 goals in 22 games this season.
The former Inter Milan striker last played for Italy in May 2018, but he recently returned to Coverciano for a get-together during the international break in January.
The 31-year-old is hoping for a chance to participate in the World Cup play-offs later this month.
Balotelli's main objectives
"The only objective I have is to go to the national team and to try to drive the Italian squad to the World Cup,
"So obviously, I'm working to be there in March when we have the qualifiers and I hope he will pick me."
and also trying to get in the first three places (in the Turkish Super Lig) here with Adana.
" I know it's not easy, but that's probably the two objectives coming out in my mind, the most important things at this moment.
"I feel it can be like this for the rest of my career, and that's what I want, I just want to go back to the national team.
"The last two years weren't very easy for me, in Monza and Brescia. I had some injuries too. For me, normality should be being in the national team.
"The thing that's not normal is when I'm not.
"So obviously, I'm working to be there in March when we have the qualifiers and I hope he will pick me."
Balotelli says that his best moment as an Azzurri player came in the semi-finals of Euro 2012 when he scored a brace against Germany to help La Nazionale qualify for the final.
"That was the best moment in my career, I guess," he told The Athletic.
Balotelli's professional career
Balotelli was born in Palermo to Ghanaian parents and grew up in foster care in Brescia, Italy.
At the age of 15, he made his professional debut with Lumezzane before joining Internazionale at the age of 17.
He moved to Manchester City when he was 20 years old, where he played some of his best football.
After City, he went to Milan before a period with Liverpool and a three-year tenure with Nice in the south of France.
Before moving to Turkey, he played for Marseille, Brescia, and Monza since 2019.
Throughout his career, he has earned 36 caps for the Italian national team and has 14 goals to his credit.
Balotelli has 10 goals in 20 Super Lig games this season, and he appears to be returning to the kind of form that made him one of Europe's most watchable players.
He is said to be the most controversial player in the world
Balotelli regrets leaving Etihad
Moreover, Mario Balotelli has admitted that he made the wrong decision when he left Manchester City in the English Premier League.
The 31-year-old striker told Football Italia that he regrets not sticking with Manchester City like Sergio Aguero after seeing the Citizens develop year after year.
Balotelli also won the FA Cup with City, but following a falling out with Roberto Mancini, he moved to AC Milan in 2013.
"Even in the year when I left, I played very well in Milan for a year and a half, but after that, I had some problems.
And now that I'm older, I know that I shouldn't have left City at that time," he added.
"All these years seeing City improving, improving and improving. I could have been here like Sergio Aguero for a long time.
"When I was at City, probably one golden ball (Ballon d'Or) I could have won, I'm sure about this. But you know, when you grow up, you mature more, so…"