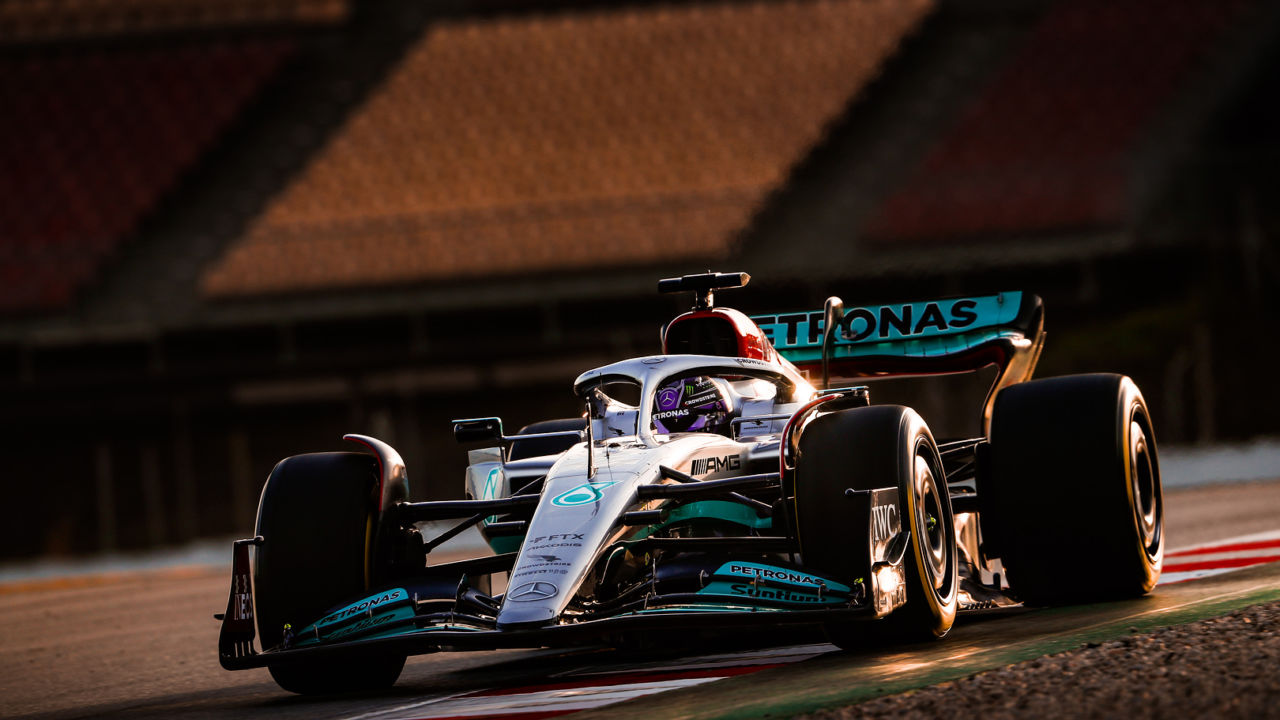 Lewis Hamilton leads Mercedes 1-2 from Red Bull during the 2022 F1 Barcelona pre-season testing
Alpine's F1 Barcelona test ends early with a fiery halt
Sebastian Vettel's Aston Martin was forced to stop on the circuit after 48 laps owing to an oil leak
Day three-time sheet of the 2022 F1 Barcelona pre-season testing
Mercedes had a good conclusion to pre-season testing in Barcelona, with Lewis Hamilton leading a one-two from new teammate George Russell on February 25 , 2022.
Red Bull's Sergio Perez and Max Verstappen were third and fourth.
Alpine and Aston Martin are two of the teams that have been affected by reliability concerns.
Hamilton produced a pair of fastest lap times, including a 1m19.138s in the closing 10 minutes on the C5 tires to beat Russell's 1m19.233s from the morning session and win the Barcelona pre-season test.
Russell's effort, which was also set on C5 tires, was threatened by both his Mercedes teammate and Red Bull's Sergio Perez, who put in a late surge once the track had dried out sufficiently following a Pirelli wet tire test that began the afternoon running.
Although water trucks soaked the Barcelona circuit during the lunch break, just three wet tire laps were completed – all by McLaren's Daniel Ricciardo – before the move to intermediate tires was led by him.
For the first 90 minutes of the afternoon session, all drivers stayed on the green-walled compound until the track had improved enough to let them switch to dry tires.
After pushing Red Bull teammate Max Verstappen back to fourth, Hamilton posted the fastest overall time for a Mercedes 1-2 ahead of Perez in third.
Four teams failed to complete any laps in the afternoon, including Haas, which was wearing a new livery after dropping title sponsor Uralkali branding after Russian forces invaded Ukraine.
Nikita Mazepin only managed nine laps in the morning before the team was forced to end the test early due to a suspected leak.
Fernando Alonso completed 12 circuits before a hydraulics malfunction caused a fire in the back of the Alpine A522 F1 vehicle, resulting in the first of five red lights.
After 40 laps, AlphaTauri's program was also cut short after Pierre Gasly slid off-track at Turn 5 and damaged the AT03, resulting in the second red flag in a stop-start morning.
Sebastian Vettel's Aston Martin was forced to stop on the circuit after 48 laps owing to an oil leak, which resulted in an engine fire and another red flag just before the lunch break, with the team unable to repair the car in time to race later in the day.
Guanyu Zhou had two more red lights due to separate incidents, but Alfa Romeo was still able to complete 51 laps with Valtteri Bottas.
Despite the shortened morning session and afternoon wet tire test, Mercedes, Ferrari, Red Bull, McLaren, and Williams all completed over 100 laps.
Vettel finished fifth on the combined timings for Aston Martin, ahead of Ferrari's Charles Leclerc and Carlos Sainz, despite being behind the top Mercedes and Red Bull drivers.
Alexander Albon and Nicholas Latifi of Williams finished eighth and ninth, respectively, in a strong effort by the team, while Daniel Ricciardo of McLaren completed the top ten ahead of his teammate Lando Norris.
Despite his limited running, Alonso finished 12th for Alpine, ahead of Zhou, Gasly, Mazepin, and Bottas. Lance Stroll, Yuki Tsunoda, Esteban Ocon, and Mick Schumacher were all unable to compete on the final day owing to mechanical issues with their respective teams.
F1 Barcelona pre-season testing 2022: Day Three timesheet
| | | | | | |
| --- | --- | --- | --- | --- | --- |
| Pos | Driver | Team | Time | Gap | Laps/Tyres |
| 1 | Lewis Hamilton | Mercedes | 1:19.138 | | 89/C5 |
| 2 | George Russell | Mercedes | 1:19.233 | +0.095s | 66/C5 |
| 3 | Sergio Perez | Red Bull | 1:19.556 | +0.418s | 68/C4 |
| 4 | Max Verstappen | Red Bull | 1:19.756 | +0.618s | 59/C3 |
| 5 | Sebastian Vettel | Aston Martin | 1:19.824 | +0.686s | 48/C5 |
| 6 | Charles Leclerc | Ferrari | 1:19.831 | +0.693s | 44/C3 |
| 7 | Carlos Sainz | Ferrari | 1:20.072 | +0.934s | 86/C3 |
| 8 | Alex Albon | Williams | 1:20.318 | +1.180s | 88/C4 |
| 9 | Nicholas Latifi | Williams | 1:20.699 | +1.561s | 13/C4 |
| 10 | Daniel Ricciardo | McLaren | 1:20.750 | +1.612s | 80/C3 |
| 11 | Lando Norris | McLaren | 1:20.827 | +1.689s | 52/C3 |
| 12 | Fernando Alonso | Alpine | 1:21.242 | +2.104s | 12/C3 |
| 13 | Guanyu Zhou | Alfa Romeo | 1:21.939 | +2.801s | 41/C3 |
| 14 | Pierre Gasly | AlphaTauri | 1:22.469 | +3.331s | 40/C4 |
| 15 | Nikita Mazepin | Haas | 1:26.229 | +7.912s | 9 /C3 |
| 16 | Valtteri Bottas | Alfa Romeo | 1:30.433 | +11.295s | 10/C3 |