LeBron James, oldest player ever to post 30-point triple double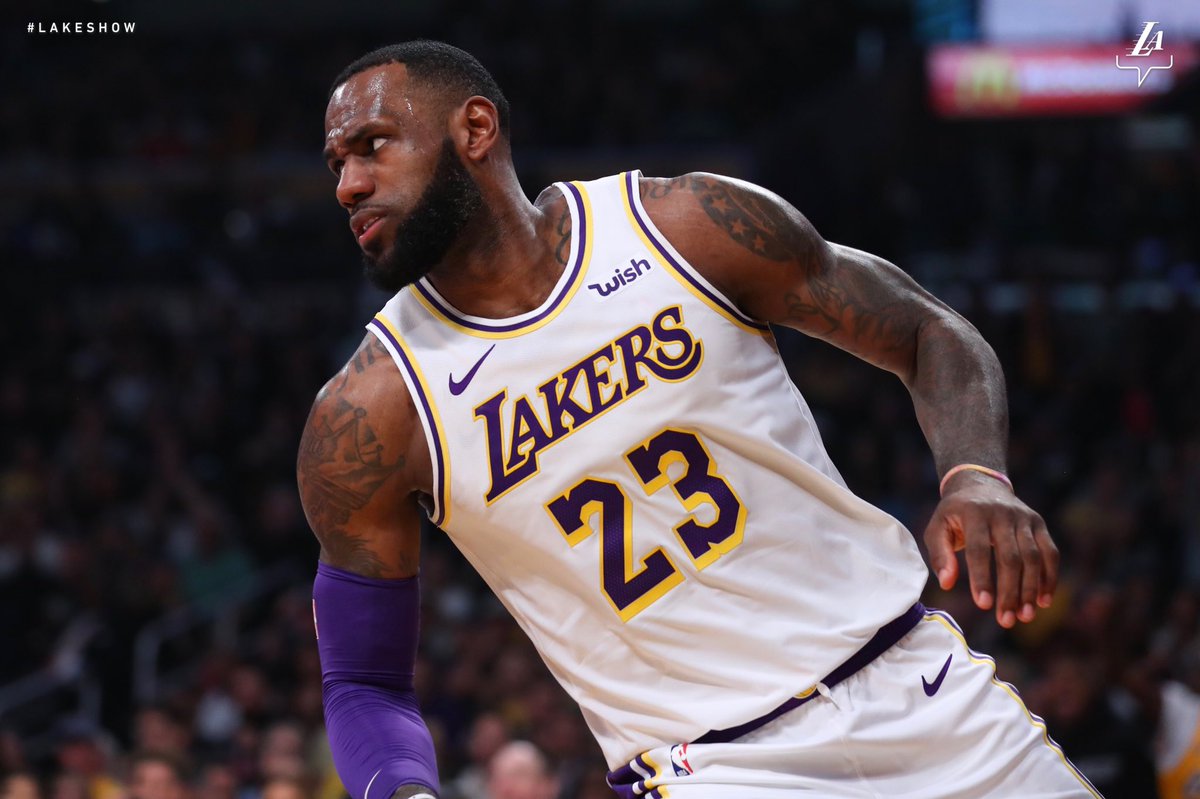 LeBron James is officially the oldest player ever to record a 30-point triple-double after reaching the landmark in Los Angeles Lakers' 106-94 win over the Orlando Magic on Sunday.
LeBron James, speaking after the match said the key to his eye-popping performance was an abundance of shut-eye.
Following a busy three days in which James played a road back-to-back in Memphis and Oklahoma City then flew to Phoenix on Saturday to see his son Bronny lead his high school team to a win, James made sure to recharge with 12 hours of sleep ahead of the Magic game.
"I slept last night from 12 [a.m.] to 8 [a.m.], I got up, ate breakfast and went back to sleep from 8:30 [a.m.] to 12:30 [p.m.]," James said after pacing the Lakers with 30 points on 12-for-20 shooting, 11 rebounds, 10 assists and three blocks in 37 minutes against Orlando.
At 36 years, 346 days old, LeBron James surpassed Lakers great Kobe Bryant as the oldest player ever to drop a 30-point triple-double, according to research by USA based ESPN Stats & Information. the late Bryant was 36 years, 99 days old when he had 31 points, 11 rebounds and 12 assists in a win over the Toronto Raptors in November 2014 during his second last season in the NBA
The Lakers have won three of their past four games to improve to 15-13, with James topping 30 points in all of those victories showing just how vital he is to the side at 36 years.
James was asked how sustainable his recent burst can be and said this was just but the beginning and winning is his motivation every time he steps out on the court to represent the Lakers.
James, who missed 10 of the Lakers' first 16 games because of ankle and abdomen injuries, has improved his play as the season has gone on. In his first eight games, he averaged 22.8 points on 49% shooting with 5.0 rebounds and 6.1 assists. In his past eight, including the Orlando win, he has averaged 29.8 points on 52% shooting, 7.3 rebounds and 8.0 assists.
After helping his side defeat the Boston Celtics last weekend, James dismissed any talk about his workload being too much to handle at this stage of his career considering his age. His 36.8 minutes per game average is the most he has played since joining the Lakers three years ago and a significant uptick from his 33.4 minutes per game last season.
"That's just my mindset. Don't get involved in how many minutes I played, how many days off," James said. "I don't confine to that. I think you think negative thoughts or negative energy, it just creeps into your mind. So, I'm as young as I've ever been."
On Sunday, against the Orlando Magic James was at his peak in the third quarter, scoring 14 points on 5-for-7 shooting and adding three assists and two blocked shots, flying all over the court and sending the crowd into a frenzy. James' play rubbed off on his teammates, as the Lakers dominated the third quarter, outscoring Orlando 36-10 and holding the Magic to 2-for-23 shooting (8.7%). It was the best defensive quarter for a BLakers team since Dec. 14, 1999, when the LA Clippers shot 1-for-18 (5.6%) in the second quarter.
"When he's just being aggressive, he's aggressive in making the right plays and reads, our team's different," Russell Westbrook said of James. "Tonight was another night where he imposed his will."
Talen Horton-Tucker, who turned 21 last month, was asked what it's like playing alongside someone who is nearly 16 years his senior. Tucker, who added two of his six steals in that dominant third quarter said it gives him energy seeing James doing it at 36.
James said that being around Bronny's Sierra Canyon High School team also has made him feel young again, along with his rest.
Lakers coach Frank Vogel said he has adjusted the team's schedule in recent seasons to accommodate more time for his players to rest on game days.
LeBron James has so far won four NBA championships winning in 2012, 2013, 2016 and in 2020. He won the champions back-to-back in 2012 and in 2013 with the Miami Heat, 2016 with Cleaveland Cavaliers and in 2020 with LA Lakers. He is also a four-time NBA Most Valuable Player (MVP) achieving the fete in 2009, 2010, 2012 and in 2013.
Also, Read: LeBron James family serving legacy goals as sons dive into basketball