Kenenisa Bekele training making him world's third-fastest marathoner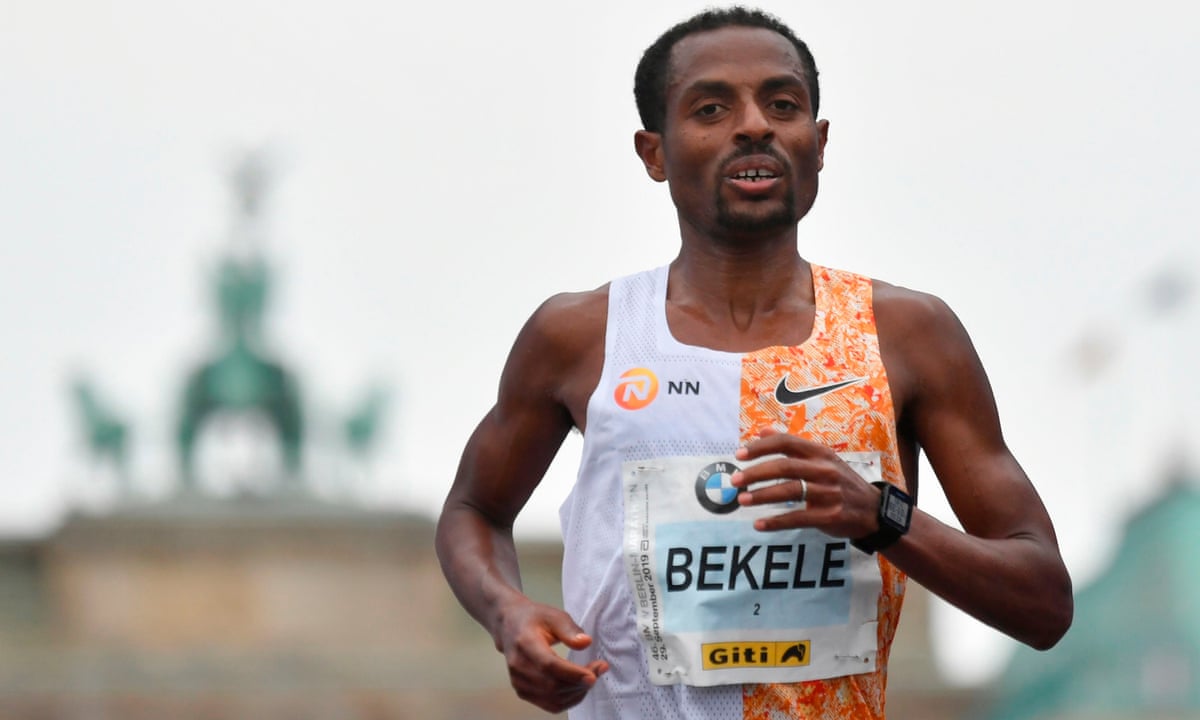 As always, there is something great about Ethiopians when it comes to athletics. And one of the moving stories about them is courtesy of Kenenisa Bekele training.
Runners throughout the world consider Bekele among the best of all time. The 39-year-old legend is a three-time Olympic champion, 5000m and 10,000m world record holder.
He is the third-fastest marathoner in history, on an ordinary day. And the secret is in Kenenisa Bekele training. So, how does he do it? Here are the details and much more.
How Does Kenenisa Bekele Train?
After showering and brushing his teeth, Bekele starts his morning training at the gym at 5:30 a.m. He prepares his jogging gear the previous night to save time the following morning.
Each morning before heading out, tea and bread make up an important component of Kenenisa Bekele training. The long runs and training sessions necessitate a fuelling breakfast and adds to Kenenisa Bekele training.
On days when he only wants to do a short run, he will leave the house and go for a run in the neighborhood. However, he admits that he frequently drives to training. His training track is located in Sululta, which isn't too far from his home in Ethiopia.
While practising in Sendafa he takes as little as half an hour. But, if he is travelling to Addis Ababa's south-east, it could take up to an hour. Bekele makes his morning by listening to the morning radio and know what is happening around the world. It uplifts him every day.
Bekele trains until 10am when he takes his breakfast. He doesn't consider himself much of an athlete if he eats the same thing every day. So, bread, butter, and jam will be the standard continental breakfast for him in the future. For now, though, he enjoys corn flakes, yoghurt/egg, or Ethiopian food for breakfast.
He then sleeps for an hour or two after training to allow his body to rest and when he wakes up, he enjoys a pasta bite with vegetables and chicken or meat. Rest and a specified diet are part of Kenenisa Bekele training.
At 3.30-4 p.m. on most days, he goes back to training. A variety of training methods are available. He could go for a run in the park or work out at the hotel gym – Kenenisa Hotel which his wife and brother run. This might be a treadmill run, but it could also be a bike ride or a cross-trainer session.
That's why he keeps a strict diet in mind in order to keep the body and mind engaged.
How Many World Records Does Kenenisa Bekele Have?
Bekele is unquestionably an icon of distance running. He has Olympic, World, World Indoor, and World Cross Country champions accolade that no other Ethiopia runner has – thanks to Kenenisa Bekele training.
He has 21 worldwide titles (including U20 titles) and six world records all of which he won during his dazzling career. But most of it also has something to do with the Oromia region where he was born and brought up.
Ethiopia's Oromia area has produced many of the world's best long-distance runners. Bekele is not an exception. Just 12 months later quitting football, he won the IAAF World Cross Country Championships short and long course.
He also won gold medals in Dublin, Ireland, for the second year in a row. After his victory in Dublin, he went on to rule the world in both track and cross country.
Kenenisa finished his career with a total of nine World Cross Country titles, five World outdoor track titles, and three Olympic crowns. He became the first man since his fellow countryman Miruts Yifter to complete the 5000m and 10,000m double at the 2004 Athens Games and the 2008 Beijing Games.
A course record time of 60:22 set by Kenenisa at the Vitality Big Half in London marked the start of his competitive 2020 season.
He made a comeback in the Berlin Marathon in 2021, when he finished third in 2:06:47, before placing sixth in the New York City Marathon six weeks later (2:12:52).
Dannawit Gebregziabher, Kenenisa's wife, and their three children all reside in Addis Ababa.
What Else Does Kenenisa Do Besides Running?
As a businessman, Kenenisa has also built a hotel and a racetrack in Suluta, a town just ten kilometers outside of Addis Ababa, Ethiopia.
He also spends his evenings with his three children and puts them to sleep before having dinner and retiring to bed.