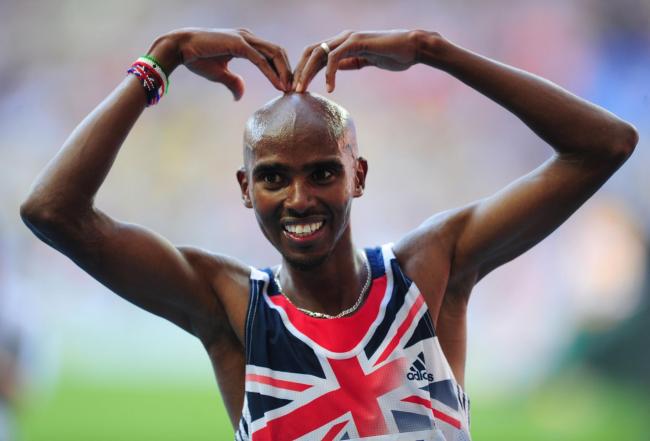 British track athlete Mohamed Farah christened 'Mo Farah' life's dream was to be a mechanic if not a footballer.
His dream team was Arsenal and he had a position already; a right-winger!
Today, he is arguably the most successful British athlete. The double Olympic gold medalist has come a long way to be a global name. When he looks back, he is all smiles.
Mo Farah's life story is nothing short of epic but laden with powerful lessons about resilience and power.
What Is Mo Farah's Relationship In Somali?
Mo Farah is a Somali national by birth. It is his ancestral land having been born in Mogadishu back in 1983.  He lived in the capital for seven years until the civil war pushed him together with his family to Gabiley, Somaliland.
He is a twin brother to Hassan who is one of his six siblings but was separated when he was about seven years old.
How Did Mo Farah Move To Britain From Somalia?
When he was eight, Farah together with his young brothers and mother moved to London where their father, Muktar Farah lived.
Muktar is a British-born Somali. However, Hassan – Farah's twin brother – was sent to live with his grandmother in Djibouti together with his sister. He could not move to London because he was sick at the time.
This geographical change was another headache for Farah who could only speak Somali. Yet, here he was in London, eight years old and not able to utter a single English word.
But, as they say, when you go to Rome do as Romans do, he enrolled in school learning English being a top priority.
He attended Isleworthand and Syon School before proceeding to Feltham Community college.
How Did Mo Farah Start His Athletics Career?
Mo Farah found his feet in athletics as a second option. His heart was always in football and it is what he set his mind on.
But it was not until Alan Watkinson, his physical education teacher saw something special in him. Watkinson who later became his close friend urged a then 11-year-old Farah to try out athletics.
And this was the beginning of his life's journey in long-distance running.
The decorated British athlete joined the Borough of Hounslow Athletics Club in west London. His father, an IT consultant lived in Hounslow.
He made his debut junior career by representing Hounslow in the cross country challenge for the London Youth Games.
In 1996 – at 13 years – he joined English schools cross-country and won five titles the following year.
Then, he was still recognized as a Somali national which hindered him from participating in more events.
Sir Eddie Kulukundis, a philanthropist paid his legal fees for naturalization as a British citizen. Mo Farah would now travel for competitions with ease without Visa restrictions.
When he hit 18 years in 2001, he won his first major title 5000m at the European Athletics Junior Championships. It was not long before this that he left St Mary's, Twickenham where he was attending college to become a full-time athlete.
What Are Mo Farah's Major Career Highlights?
Mo Farah has a lot of success in the track but the greatest remains that he is a double Olympic champion.
He bagged a gold medal for 10,000 meters race at the 2012 London Olympic Games. It was Britain's first gold medal in 10, 000 meters.
At the 2016 Rio Olympic Games, he defended his performance in 10,000 meters and won another gold medal.
Another career highlight for Mo Farah is a double gold win in Zurich during the 2014 European Athletics Championships.
He defended his titles in 10,000 m and 5,000 m after missing out on the 2014 Commonwealth games in Glasgow. He was down with an infection from a tooth extraction procedure gone wrong.
In his bag of success are more titles from World Athletics Championships and IAAF World Half Marathon Championships.
In 2017, he retired from track events and moved to marathon making his debut at the Diamond League in Zurich and Birmingham.
He won the 5, 000 m final in August 2017. In 2018, he secured a third position in the London Marathon final.
In 2019, he surprised many after saying that he misses track events.
"I was honest and said I was done with the track but part of me missed it. I feel like I can still win medals and do as well as I have over the years," he said.
His last how in the track was in the 2020 Diamond League in Brussels where he set an all-men's time record. He also broke Haile Gebreselassie's record of 2007.
What Will Mo Farah Do After Retirement?
The father of three plans on becoming a fitness coach at Arsenal's Emirates Stadium after retirement. His love for Arsenal remains intact and has even trained with the team's first squad.