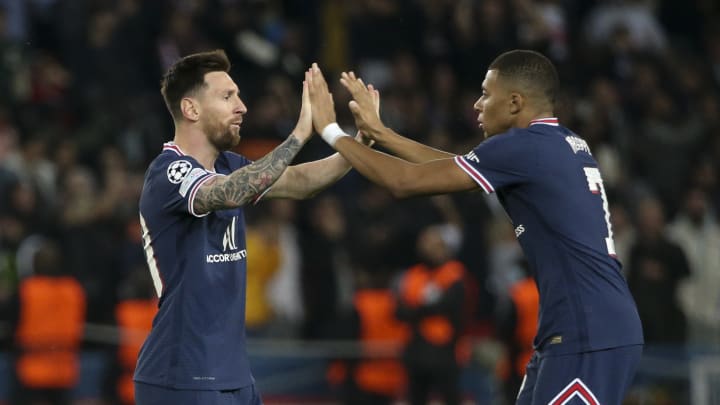 PSG forward Kylian Mbappe has explained that Lionel Messi chose to pass over a last-minute missed penalty to him in Paris Saint-Germain's 3-2 win over RB Leipzig on Tuesday night and that he had no intentions of denying Messi the chance of bagging his first PSG hat-trick.
Messi played an integral part in changing the direction of the match – scoring twice to take PSG from 2-1 down to 3-2 up – and when Achraf Hakimi was fouled in the box in injury time a second penalty of the night was handed to the hosts to seal the points.
Mbappe explained that his respect for Messi led to the Argentinian taking the first spot-kick of the night, which he scored with a delicate yet impressive panenka, but the two traded responsibilities second time around – even though Messi could've scored his first hat-trick for his new club since joining from Barcelona had he taken it.
Mbappe was handed the second penalty but went on to miss it – sparing the ball over the bar – through his error didn't alter the result as PSG had already secured all three points.
Mbappe spoke to the media after the game, revealing the thought process behind who has the responsibility for penalties when Neymar is not on the pitch.
"It's normal; it's respect!" Mbappe said of Messi being first in line. "He's the best player in the world; he's coming to our team; it's a privilege. I've always said it's a privilege that he's playing with us.
"There is a penalty, and he shoots it, period. The second, he wanted to give it to me, and I missed it, but the first is his decision; he must shoot it."
"Yes, we traded, he said to me, 'take it!'. It was the end, 90th minute, it was over, and I took it."
PSG top their Champions League group at the midway point with seven points from three games, one point ahead of Manchester City – who they beat in Paris 2-0 on matchday two. RB Leipzig sits bottom of the group with no points from three matches, with a mountain to climb to stay in European football for the remainder of the season.
PSG's next Champions League match will be an away match at Leipzig as they seek to qualify as the number one of Group A.