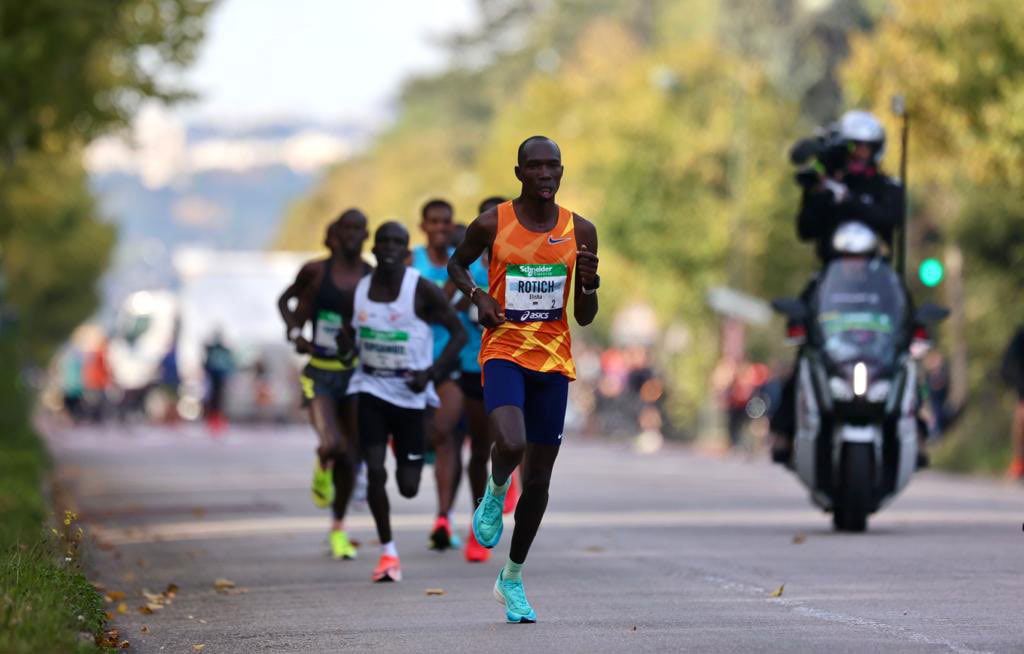 The Kenyan duo of Angela Tanui and Elisha Rotich set new course records at the Amsterdam and Paris Marathons on Sunday.
In Amsterdam, wearing a white ribbon in remembrance of her friend, teammate and training partner Agnes Tirop, Tanui shaved off one minute and 29seconds off the previous mark to set a new Course Record of 2:17:57.
In the French capital of Paris, Rotich lowered Kenenisa Bekele's seven-year Course Record after clocking 2:04:21, taking off almost a minute off the 2:05:04 mark set by the as he won the race in 2014.
It was in Amsterdam that however all emotion was as Tanui ran all through the race with her memory and mind pegged on remembering her friend Tirop in a huge way. She had been barred from running the Boston Marathon due to a visa hitch and was a late entrant to Amsterdam as a substitute for missing Boston.
She did so in style, running the second half of the race with imperious pace.
"This white ribbon is for my friend Agnes Tirop. I am remembering her and paying my tribute after her terrible death. This was to remind me of her and I came here, ran a course record and a new personal best. This was my dedication for Agnes Tirop and everytime I remember this Personal best I will always remember her," said Tanui.
The Kenyan was determined from the word go and took the leading pack of six through the first 10km in a time of 33:00.
Soon, the leading pack dropped to five with Ethiopia's Shasho Insermu dropping off to leave Tanui, fellow Kenyan Maureen Chepkemoi and Ethiopia's Haven Hailu, Gabiyanesh Ayele and Worknesh Alemu out in front.
They covered 15km in 49:48 before reaching the half-way point in 1:10:07, suggesting a sub-2:20 finish was possible with a slightly faster second half.
Alemu was the next to drift off the pack, and she trailed the leaders by 24 seconds at the 25km point, which was covered in 1:23:02.
Tanui, Hailu, Ayele and Chepkemoi stuck together through 30km, clocking a time of 1:39:37.
With 12km remaining, Tanui started putting her foot down and pumping up the pace covering the next five-kilometre section in 15:51.
She continued to pull away from her pursuers in the closing stages and went on to cross the finish line in a new course record time.
Fellow Kenyan Chepkemoi came through to take second place in 2:20:18, overtaking Hailu shortly before the finish. Hailu finished one second adrift in third, while Ayele was further behind in fourth.
In Paris, Rotich ran a calculated race from gun to tape.
The leading pack, spearheaded by pacemakers Hillary Kipkoech and Cornelius Kangogo, passed 5km in 14:37, and at this point, the clock didn't have any suggestion that Bekele's Course Record was in danger.
The Kenyan pair maintained a fast and steady pace, passing 10km and 15km in 29:17 and 44:01 respectively, before reaching half way in 1:01:51.
Kipkoech and Kangogo finished their work at the 30km mark, reached in 1:28:20. Joel Kimurer and Edwin Kimuta chose that moment to make their first move, but they didn't manage to escape.
Soon after the 35km checkpoint, Hillary Kipsambu and Rotich ratcheted up the pace, breaking up the group behind them.
Rotich then made a strong move five kilometres from home, and the 31-year-old Kenyan quickly opened an eight-second gap over Kipsambu, Hailemaryam Kiros and Tsegaye Getachew.
Rotich produced an impressive display of strength over the final kilometres to cross the line in 2:04:23, 40 seconds faster than Bekele's previous course record.
Rotich not only improved his personal best by 55 seconds but he also produced the eighth fastest time of the year.
Kiros pushed hard in the waning stages to finish runner-up in 2:04:42 as Kipsambu took third place in 2:04:45.
-Additional information courtesy World Athletics