Police to detain the late Agnes Tirop's husband for 20 days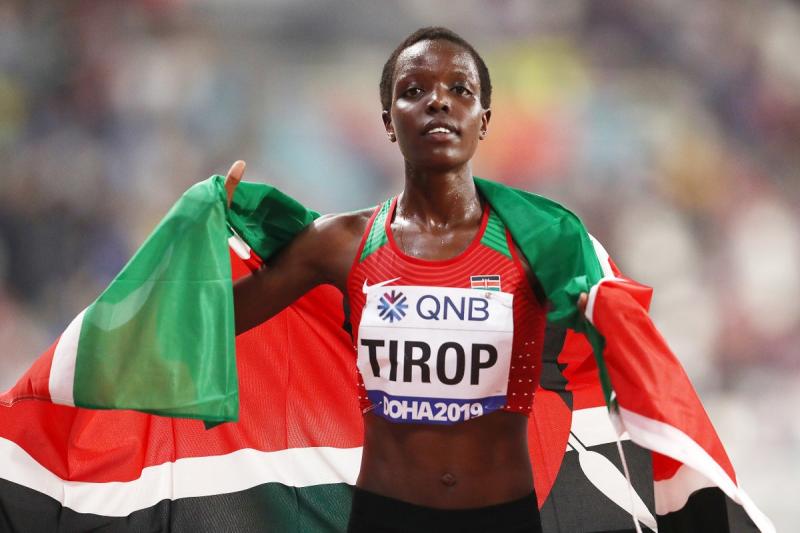 Police have been allowed 20 days to hold the husband of slain former World Champion Agnes Tirop to conclude investigations on his alleged involvement in the gruesome murder of the athletics star last week.
Ibrahim Rotich alias Emmanuel Rotich was arrested by police in a dramatic chase that ended in Changamwe last Thursday after trying to get away, a day after he allegedly stabbed the athlete multiple times leaving her to die in their house in Iten.
He was presented at an Iten Court on Monday morning where police had to restrict an eager public which wanted to storm the Court Room and catch a glimpse of the alleged killer.
Investigating Officers had requested time to conclude their investigations to present a water tight case against the 41-year old.
"The suspect will remain in police custody for 20 days to enable police to complete the investigations into the murder. He will also be taken for mental assessment," Iten chief magistrate Charles Kutwa said as he presided over the case.
Rotich will be taken to the Eldoret Teaching and Referral Hospital for mental assessment.
"Since this is a matter revolving around murder case, I do direct that it be mentioned at Eldoret High Court on 9th November for further directions," the Magistrate further added.
The suspect is alleged to have stabbed the athlete multiple times, leaving her mutilated body on the bed of their house in Iten before trying to get away, before his attempt came to a screeching halt in Changamwe.
According to police Rotich was arrested just before 9pm on Thursday after crashing his vehicle into a truck in a car chase with police and escaping a first attempt by officers to apprehend him before his hide and seek game finally ended in Changamwe, a few kilometres to Mombasa City.
Tirop's murder had shocked the country with many athletes, officials and President Uhuru Kenyatta asking for a speedy investigation to ensure the perpetrators are brought to book.
The athlete had just arrived back home from a race abroad and was still celebrating her 10km world record at the Adizero event in Germany a month earlier before her life was brought to an end by his lover just 10 days short of her 26th birthday.
Those in the know as well as neighbors have intimated that the two were often in a love hate relationship which had its ups and downs. Also, it is alleged that Tirop and Rotich had parted ways before decided to get the relationship back on its groove a few months ago.
The latest episode of their disagreements ended in Tirop's murder as she had said she would leave again, this time for good.