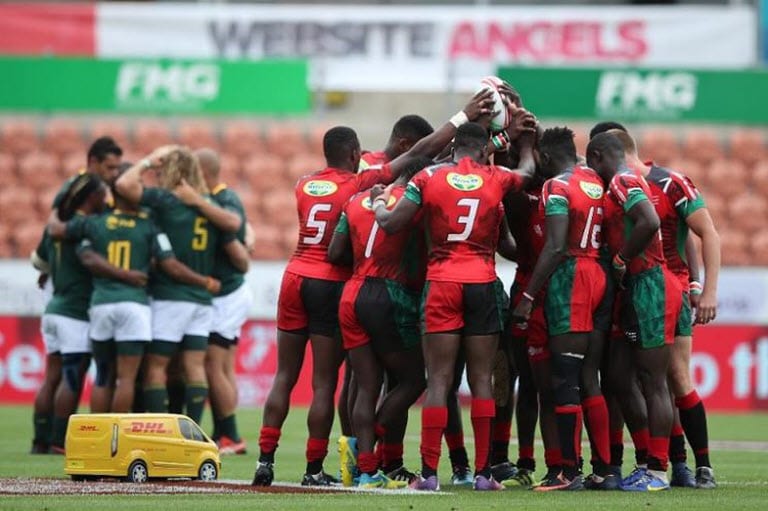 After the Tokyo Olympic Games experience, national sevens team, Shujaa now switch their attention to the transitioning journey starting off with the Vancouver Sevens which will be staged on Saturday and Sunday as the World Rugby Sevens Series returns.
Head coach Innocent 'Namcos' Simiyu is looking to rebuild the team with several new players called in while the older guys begin to phase off slowly. Captain Andrew Amonde has already retired while the tactician is already thinking of life post Collins Injera.
In his squad that is in Vancouver for the season-opening round of the series, the tactician has named up to five debutants. His eyes are pegged on next year's Commonwealth Games as he prepares his new team.
Levi Amunga, Derrick Keyoga, Alvin Marube, Mark Kwemoi and Timothy Mmasi are the new faces who will make their debuts in the Shujaa shirt in Canada. Prior to travelling to Canada last week, the team had trained together for two weeks after the rest from the Olympic Games.
"We had a very good one week high performance camp at Parklands Sports Club and the boys have managed to hit their performance targets. We are quite excited going into Vancouver. As for the team we have selected, we are looking towards the Commonwealth and World Cup and this is the starting point for us."
"Our key focus in the first two tournaments is to get our game going and start hitting those performance targets early enough in the season. If we can be able to play in the quarters and semis, it will be a very big plus in this journey that is heading towards the Commonwealth Games and World Cup,"  further explained the tactician.
Nelson Oyoo will skipper the side with Jeff Oluoch and Willy Ambaka, now based in Russia, being the other experienced faces in the squad.
In Vancouver, Shujaa have been drawn in Pool A. They begin their campaign against Spain on Saturday night before taking on Mexico at 11.42pm. They will complete their fixtures with a clash against South Africa at 3.35am.
The team is looking to atone for the poor performance in Tokyo, where they failed to make it out of the group phase and missing out on the medal places despite a good possibility to do so.
Coach Simiyu hopes for a fresh start for his boys especially with the new blood coming in and has exuded confidence they will rise to the occasion.
The World Rugby Sevens Series returns after a lull last season occasioned by the COVID-19 pandemic. There were many cancellations mid-season due to the virus and this season, organizers have gone for a leaner calendar due to various health restrictions.
Teams will play the rounds in a bubble where movements will be highly restricted to reduce possibilities of virus breakouts.
Shujaa squad to Vancouver:
Nelson Oyoo (Nakuru,captain), Jeff Oluoch, Alvin Otieno, Timothy Mmasi, Herman Humwa, Harold Anduvati, Willy Ambaka (Narvskaya Zastava Rugby Club, Russia), Daniel Taabu (Mwamba), Mark Kwemoi (Menengai Oilers), Levi Amunga (KCB), Billy Odhiambo(Mwamba), Derrick Keyoga (Menengai Oilers), Alvin Marube (Impala Saracens).