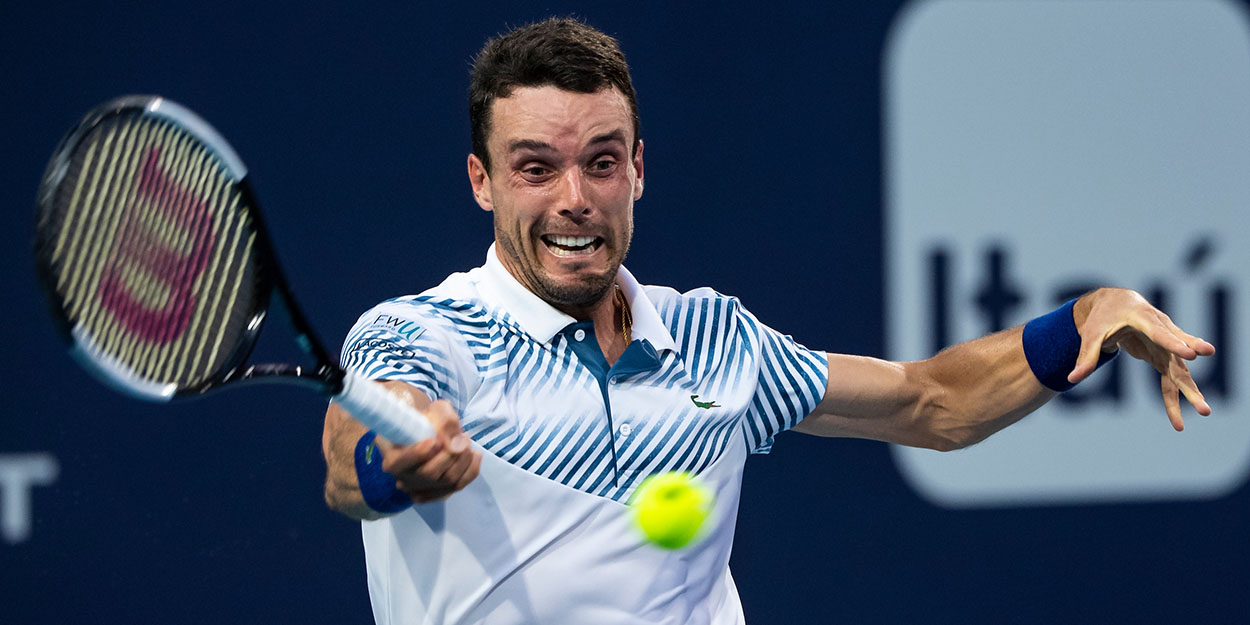 Roberto Bautista Biography
Roberto Bautista is a 33 years Spanish professional tennis player. His full byline is Roberto Bautista Agut. He was born on 14
th
April 1988, in Castellon de la Plana, Spain.
His parents are Joaquin Bautista and Ester Agut. Roberto has a height of 1.83m. He is a beholder of a very special talent in tennis that has escalated to greater heights career-wise.
Bautista has not only been an inspiration to tennis players but also a motivation to those aspiring to undertake tennis as a career.
He has made exemplary performance on the tennis court. This has made him receive several awards and endorsement deals.
The tennis sensation has been ranked as high as the 9th position in the world. That is something to be admired and to be reckoned with.
Roberto has won several titles in the tennis tournaments that he has competed in. He has won nine ATP singles titles out of eighteen finals.
Amazingly, the biggest win was the 2018 Dubai Tennis Championships, an ATP 500 tournament. Additionally, his biggest final has been the 2016 Shanghai Masters. That is unfortunately where he lost to Andy Murray.
However, the tennis icon did not give up. He achieved his best result at a major. That was at the 2019 Wimbledon Championships, where he reached the semifinals.
Roberto started playing tennis as a junior. He compiled a singles win/loss record of 41-13. He reached as high as No.47 in junior world rankings in July 2006.
Professional Career
In the year 2009, Roberto luckily qualified for the ATP 500 tournament in Valencia. He however lost to Albert Montanes in the first round.
At the 2012 Australian Open, the tennis star qualified for his first Grand Slam appearance.  He lost in the first round in straight sets.
However, Bautista broke into the top 100 for the first time in August 2012. That was after strong performances in Challenger tournaments.
In the year 2013, he reached his first professional final. His first tournament in 2013, was in Chennai. While there he reached his first career ATP final. He defeated world No.6.
Roberto Bautista then followed with his then career-best Grand Slam performance at the Australian Open.
He also took part in the Wimbledon and US Open tournaments. On to the 2014 season, his campaign began in Auckland.
There, he made the semifinals of the Heineken Open. He however lost to the third seed and eventual champion John Isner after winning the first set.
Bautista Agut started at the Australian Open with a first-round victory over Tim Smyczek. In the second, he faced and upset world No. 5 Juan Martín del Potro in five sets, his first victory against a top-ten player.
The tennis player participated in many other tournaments, including in the French Open. That was his first Grand Slam tournament where he was one of the top 32 seeded players. He was seeded at the 27th position.
Moreover, Bautista played in the Wimbledon Championships. There, he outshined other tennis stars like Steve Johnson.
Career Progress
On to his career progress, Roberto began 2016 by taking part in the ASB Classic. There, he knocked out the defending champion and the third-seeded American John Isner and the second-seeded Frenchman.
In 2017, he began the season in Chennai. There he made it all the way to the final. He also took part at the Wimbledon Championships in the same year, where he was seeded at the 18th seed.
In 2018, Roberto took part in the Auckland tournament. Therefore, he made it to his 13th ATP final appearance.
In the same year, Bautista lost in the first round of the Australian Open, meaning that his streak of ten consecutive third-round appearances in majors came to an end.
In 2019, the tennis player opened his season as the seventh seed at the Qatar Open. He started 202o with the Australian Open as the 9th seed. There he got a fair share of wins and losses. At the US Open, Bautista Agut was seeded 8th.
In 2021, Bautista Roberto made two finals in the early hardcourt season in Montpellier and Doha. His career went on to blossom tournament after tournament.
The tennis star went on to escalate positively in his career.
Roberto Bautista Net Worth
The celebrated tennis player has an estimated net worth of $5 million according to reports. He has won more than $13.5 million worth of prize money.
His net worth has however hugely accumulated from his professional tennis career.
Roberto Bautista Salary
"In 2021 Roberto earned $548,287 in prize money for 32 matches in various tournaments. During his professional career, Bautista-Agut earned $14,006,280 in prize money according to the official ATP website."
Roberto Bautista Endorsements
The tennis player has had sponsorship and endorsement deals with several brands. He reportedly has deals with Lacoste, Guinot, Wilson, Mizuno Wave brands and others.
Roberto Bautista Family
Bautista is reportedly married to his spouse named Ana Bodi Tortosa.
Roberto Bautista Foundation and Charity Work
The tennis player has been involved in several charity works as a way of giving back to society. He has reportedly taken part in raising funds for the Ronald McDonald House Charities in New Zealand.