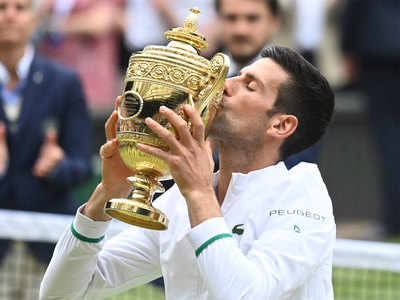 Novak Djokovic won a record sixth Wimbledon title to equal his 20th Grand Slam title on Sunday afternoon with a four-set victory over Mateo Berrettini of Italy.
The win at Wimbledon tied Djokovic with Roger Federer and Raphael Nadal on 20 career Grand Slam titles cementing himself as arguably one of the best players in the history of Lawn Tennis in the globe.
After a wavy start in the finals, the Serbian triumphed 6-7 (4/7), 6-4, 6-4, 6-3 to move level with greats Federer and Raphael Nadal. A sixth victory at the All England Club for Djokovic, who was playing in his 30th final at the Slams, added to his nine Australian Opens, two Roland Garros titles as well as three at the US Open.
The World's Number one is now aiming at winning the US Open and the Olympic Gold Medal to become the first man to ever win a Golden Slam having already won the Australian Open and French Open earlier this year.
Speaking to the press after the win, Djokovic said, "That was more than a battle. I'd first like to extend my congratulations to Matteo, his family, and his team for a fantastic tournament. It was a tough match today."
"From a 7-year-old boy in Serbia constructing a Wimbledon tennis trophy from improvised materials, I found in my room to standing here today with my sixth Wimbledon. It's incredible." Said an emotional Djokovic while holding the winner's trophy.
The 34-year old had a shaky start of the match against Berrettini who was playing his first-ever grand slam final. Djokovic started with a double fault before surviving a breakpoint in his first service.
Berrettini, who was looking to be the first-ever Italian winner of the Wimbledon singles, relied on his powerful service to force Djokovic into faults but he was broken by Djokovic in his second service game.
The Italian gave Djokovic, a regular grand slam finalist a tough match but the Serbian upped his game to win his sixth Wimbledon title.
The third set was more of what many had anticipated the finals to be like, with both Djokovic and Berrettini producing exemplary performance amid wild cheers from packed stands on Center Court.
The 25-year-old Italian applied pressure on Djokovic but the world's number one great experience in such type of matches paid off as he found his way into the winner's medal once again.
Speaking after the match Berrettini praised Djokovic saying, "For sure, Novak was better than me. He is a great champion. He's writing the history of the sport so he deserves all the credit, I'm really happy with the final. Hopefully, it won't be my last one here or the last one in general. It's an unbelievable feeling."
Asked what he thinks about tying Federer and Nadal, Djokovic praised the two calling them legends of the game. "They are legends of our sport and they are the two most important players that I've ever faced in my career," he said. "They are the reason I am where I am today. They helped me realize what I need to do to improve and get stronger."
Djokovic will now head to Tokyo to compete in the 2020 Tokyo Olympics set to start later this month and the US Open set to start on August 30, 2021.