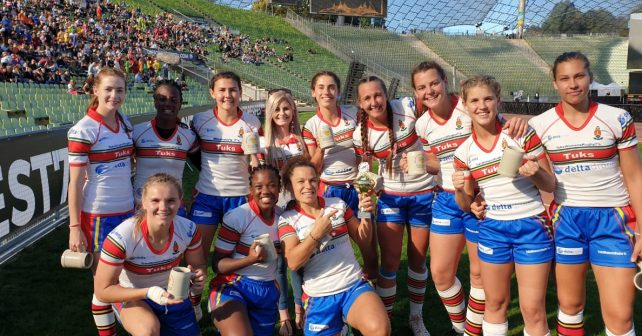 The University of Pretoria (Tuks) team were in a class of their own in winning the inaugural Varsity Women's Sevens tournament in Johannesburg at the weekend.
Tuks gave one of their best performances of the season when they beat Fort Hare 46-0 in the final.
"It was essential for us to not only win the trophy for the University of Pretoria but also to showcase women's sevens rugby. I believe we have succeeded in doing so," said an elated Tuks coach Riaan van der Merwe.
"Before the final, I only asked one thing from the players and that was to be disciplined. They listened because the team conceded only one penalty."
Team captain Kemisetso Baloyi marshalled her troops superbly throughout the tournament.
"She led by example, often being the one to make the vital tackle. She also scored three great tries. What impressed me was how she continually kept on encouraging her teammates," added Van der Merwe.
As far as Baloyi is concerned, she was just doing what was expected.
"Everyone played their part and it was an honour for me to be part of a team that made South African student sports history. We played the very first game in the women's Varsity Tournament as well as becoming the first champions," said Baloyi.
One of Van der Merwe's best tactical decisions was to move Canada Potgieter from prop to centre.
Every time she got the ball, it took two or more defenders to stop her and more often than not they failed to do so. Potgieter scored six tries during Tuks' four games.
The Tuks men's sevens team ended up finishing third after beating Madibaz 36-5 in the play-offs.
The team impressed for most of the tournament, but unfortunately, they also had two poor games.
The University of Johannesburg won the tournament and were the most consistent team throughout.
In the final, they dominated the University of Stellenbosch (Maties), winning 20-0.
In partnership with ANA and Sports Leo