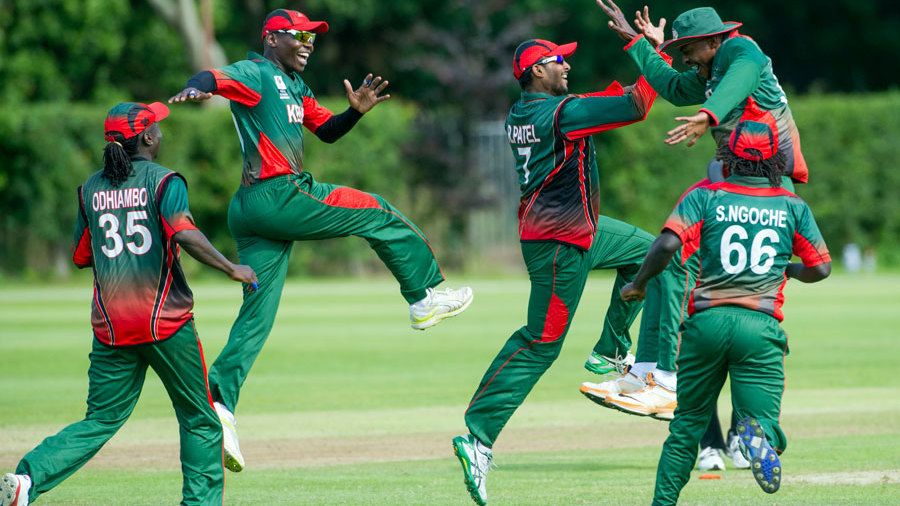 Former Associate heavyweights Kenya enter the ICC Men's T20 World Cup Qualifier 2019 very much as the underdogs in Dubai, United Arab Emirates.
Ranked 29th in the ICC Men's T20 Team Rankings, Kenya face a stiff challenge to qualify for the T20 World Cup in Australia.
They are balanced on paper, with the experience of captain Shem Ngoche and Collins Obuya married to the youth of players such as Sachin Bhudia and Pushpak Kerai.
If the two can come together and fire in unison, it could do Kenya's chances a world of good.
Kenya reached this position by finishing second in the hard-fought T20 World Cup Africa Regional Finals, level on points with Namibia, but behind on net run-rate.
Going back in T20 World Cup history they participated in the inaugural T20 World Cup in 2007 but suffered heavy defeats at the hands of New Zealand and Sri Lanka in their two games.
The key player is Collins Obuya. A giant of Kenyan cricket, Obuya has recorded some of the finest performances by anyone for his country on the world stage.
His performances will likely go a long way to making or breaking Kenya's competition.
Another to watch is Dhiren Gondaria. One of a number of youngsters in the squad, at 23-years-old Gondaria already boasts impressive T20 stats.
His average of 29.08, paired with a strike rate of 136, readily explains his opening spot in the team.
The highlight of his career to date was a sparkling 78 from 47 balls during last year's Africa T20 Cup against rivals Namibia.
Fixtures:
Friday: v Netherlands, ICC Academy, Dubai
Saturday: v Scotland, ICC Global Cricket Academy No 2, Dubai
October 21: v Bermuda, ICC Academy, Dubai
October 23: v Singapore, ICC Global Cricket Academy No 2, Dubai
October 25: v Namibia, Dubai International Stadium, Dubai
October 27: v Papua New Guinea, Dubai International Stadium, Dubai
Squad: Shem Ngoche (c), Sachin Bhudia, Emmanuel Bundi, Aman Gandhi, Dhiren Gondaria, Irfan Karim, Pushpak Kerai, Jasraj Kundi, Alex Obanda, Collins Obuya, Nelson Odhiambo, Lucas Oluoch, Elijah Otieno, Rakep Patel, Rushab Patel
In partnership with ANA and Sports Leo