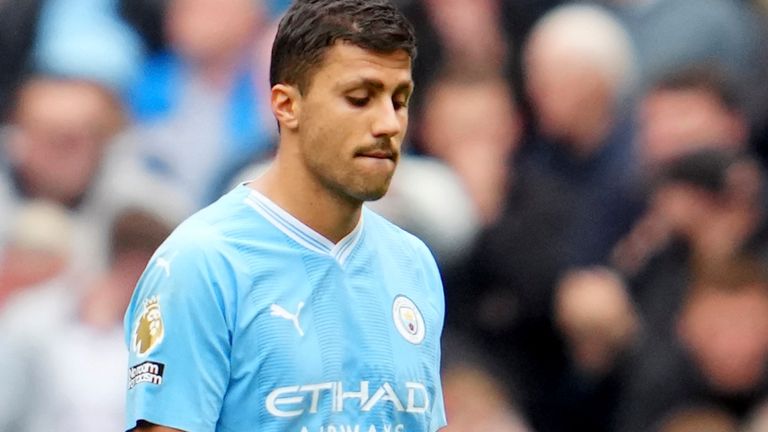 Manchester City midfielder Rodri is set to serve a three-match suspension
This is after he was shown a straight red card in the Premier League clash against Nottingham Forest
Rodri has been a vital figure at City and Pep will miss his services for the three matches
Manchester City midfielder Rodri is set to serve a three-match suspension following his sending-off during City's match against Nottingham Forest. This raises questions about the impact of his absence on Pep Guardiola's team. In this analysis, we will delve into Rodri's significance within the City squad.
Over the past season and into the current one, Rodri's influence on the team has been increasingly recognized, reaching its pinnacle with his decisive goal and player-of-the-match performance in the Champions League final. His importance to the squad is evident, as highlighted by his teammate Phil Foden, who described him as "one of our most important players."
While Rodri may not have been an ever-present fixture in the lineup, he led all City outfield players in playing time last season. Furthermore, he had featured in all but 21 minutes of this season's Premier League matches before his dismissal for an incident involving Nottingham Forest's Morgan Gibbs-White.
The 27-year-old Spaniard currently leads the Premier League in passes and overall touches of the ball this season. Even after his suspension, he maintains a lead of 67 passes and 87 touches over the second-placed player, Brighton defender Lewis Dunk. Last season, Rodri trailed only Dunk in both of these categories.
Rodri's contributions extend beyond passing and ball retention. He is City's leader in tackles made for this season and the previous one. While he also ranks highest for fouls committed, it's noteworthy that this suspension marks his first red card in his club or international career.
In terms of attacking contributions, Rodri ranks third for City this season in shots on goal. In the Premier League, only Erling Haaland has outscored him, and in all competitions, he is second only to Julian Alvarez. These statistics indicate that Rodri has assumed some of the attacking responsibilities that were left vacant following Ilkay Gundogan's departure during the summer.
Gundogan's departure was not the only significant loss for City in the midfield department. Injuries, coupled with Rodri's suspension, have limited Guardiola's options. Kevin De Bruyne suffered a hamstring injury that forced him out of action after just 23 minutes into the new season. Additionally, Bernardo Silva, Mateo Kovacic, and defender John Stones are currently sidelined. Stones, in particular, played a crucial hybrid role for the team last season.
With these challenges in mind, Guardiola may turn to summer signing Matheus Nunes and Kalvin Phillips, who has been somewhat overlooked. Phillips, an England international, has had limited opportunities since his transfer from Leeds last summer, accumulating just over 400 minutes of league football.
While Rodri's absence is undoubtedly a setback, City does have the versatility of players like Foden, who can operate in a deeper midfield role if needed. However, the team faces limitations in the winger positions as Riyad Mahrez and Cole Palmer departed during the summer, and Jack Grealish has only recently returned from a knee injury.
Jeremy Doku has been a promising addition to the squad, and Julian Alvarez has been utilized as a complement to Haaland up front. The absence of key midfielders places greater responsibility on these emerging talents to step up and help City navigate through a challenging period.
In conclusion, Rodri's suspension poses a significant challenge for Manchester City, as he plays a central role in their midfield. The team will need to adapt and rely on both established and emerging players to fill the void left by his absence. Guardiola's tactical adjustments and the performances of players like Kalvin Phillips and Matheus Nunes will be closely scrutinized as City seeks to maintain their competitive edge during this period.