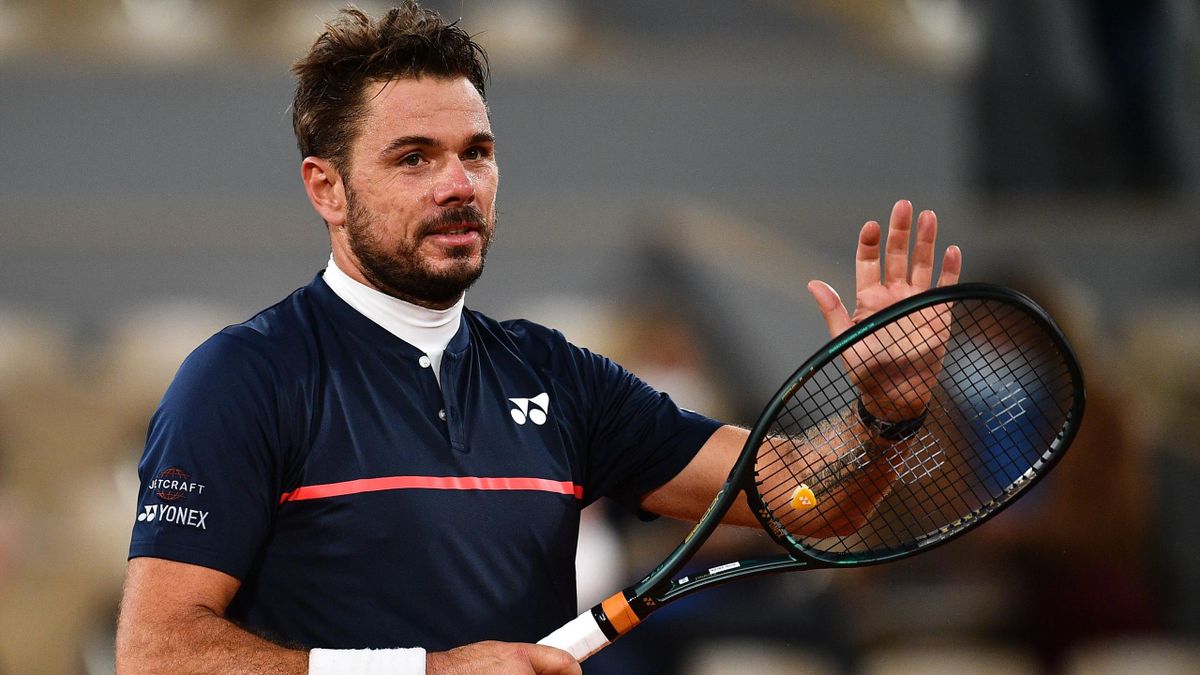 Stan Wawrinka is a Swiss professional tennis player who was born on 28 March 1986
He has won three Grand Slams, making him one of the twenty-two players to win at least three of the top-class tournaments in the Open Era
In 2014, Stan Wawrinka struck a four-year $20 million deal with sports equipment manufacturer, Yonex
Stan Wawrinka is one of the big names in the world; however, only a few have read an in-depth version of his biography.
To begin with, Stan is a Swiss professional tennis player who was born on 28 March 1986. He competes on the ATP Tour and has achieved a career-high ranking of world No. 3 in singles, a feat achieved on 27 January 2014.
Some of his career highlights include winning the 2014 Australian Open, 2015 French Open, 2016 US Open and 2014 Monte-Carlo Masters. Representing Switzerland, Stan won gold with teammate Roger Federer in doubles at the 2008 Beijing Olympics.
In a nutshell, we bring you a detailed version of Stan Wawrinka biography, with info on his prize money and net worth as of 2023.
Stan Wawrinka Biography 
| | |
| --- | --- |
| Full name | Stanislas Wawrinka |
| Age | 38 |
| Height | 1.83 m |
| Place of birth | Lausanne, Switzerland |
| Date of birth | 28 March 1985 |
| Nationality | Swiss |
| Occupation | Tennis player |
| Source of wealth | Tennis |
| Marital status | Unmarried |
Career 
Stan Wawrinka began his tennis at the age of eight when he used to play once a week. Three years, he began practicing three times a week. Stan then quit regular schooling at 15 to focus on his tennis career. He turned professional at the age of 17.
Stan made his professional debut in 2003, reaching a final for the first time at Gstaad the following year. He made his Grand Slam debut in 2005 at the French Open and won his first tournament in 2006 when he defeated Novak Djokovic at the Croatia Open Umag final.
Stan reached the Top 10 for the first time in May 2013. The following year, he won his first Grand Slam at the Australian Open. He continued his impressive performance the following year, winning the French Open. In 2016, he won the US Open.
Wawrinka was a Top 10 for several years until 2018 when his ranking dropped. The following year, he was out of the Top 200. However, he recovered quickly and found himself back in the Top 20 in 2019. All in all, the Swiss has so far won 16 singles titles and a pair of doubles on the ATP Tour.
Prize Money 
To keep you interested in reading Stan Wawrinka biography we take a look at his prize money. According to Wikipedia, Stan's prize money is $35,793,678. The Swiss is one of the players with the highest prize money and ranks sixth in all-time leaders in earnings.
Stan's largest prize money have come from his Grand Slam victories. His prize money in 2014 when he won the Australian Open was $4,966,679. He received a prize money of $5,837,878 in 2015, the same year he won the French Open. In 2016, he won the US Open and his prize money was $6,106,955. His earnings in 2022 were $439,433.
Net Worth
Stan Wawrinka is one of the richest tennis players in the world. According to Wealthy Gorilla, the 38-year-old Swiss has an estimated net worth of $20 million as of 2023.
Besides prize money, Stan has also built his fortune through endorsement deals since he is one of the most marketable tennis players. In 2014, he signed a record-breaking deal with Japanese sports equipment manufacturer Yonex worth $20 million. His other endorsements include Jetcraft, Evian Live Young, London Capital Group and TGV Lyria.
Personal Life
Well, our Stan Wawrinka biography would be incomplete without talking about his personal life. Stan was born in Switzerland to a German father and Swiss mother. As a result, he holds dual Swiss-German citizenship.
His surname originates with Polish as his paternal great-grandfather originated from Silesia, the border region between the former Czechoslovakia and Poland.
Moving onto his love affairs, Stan Wawrinka was married to Swiss television presenter and fashion model Ilham Vuilloud. The couple divorced in April 2015 after six years of marriage. That same year, he began dating WTA player Donna Vekic.
FAQs 
How old is Stan Wawrinka?
Stan is 38 years old.
What nationality is Stan Wawrinka?
Swiss.
How much money is Wawrinka worth?
$20 million.
How many Grand Slams has Wawrinka won?
Three.
How much money does Yonex pay Wawrinka?
In 2014, Stan Wawrinka struck a four-year $20 million deal with sports equipment manufacturer, Yonex.
Manchester City
Manchester City
Manchester City
Manchester City
Manchester City
Manchester City
Manchester City
Manchester City
Manchester City
Manchester City
Manchester City
Manchester City
Manchester City
Manchester City
Manchester City
Manchester City
Manchester City
Manchester City
Manchester City
Manchester City
Manchester City
Manchester City
Manchester City
Manchester City
Manchester City
Manchester City
Manchester City
Manchester City
Manchester City
Manchester City
Manchester City
Manchester City
Manchester City
Manchester City
Manchester City
Manchester City
Manchester City
Manchester City
Manchester City
Manchester City
Manchester City
Manchester City
Manchester City
Manchester City
Manchester City
Manchester City
Manchester City
Manchester City
Manchester City
Manchester City
Manchester City
Manchester City
Manchester City
Manchester City
Manchester City
Manchester City
Manchester City
Manchester City
Manchester City
Manchester City
Manchester City
Manchester City
Manchester City
Manchester City
Manchester City
Manchester City
Manchester City
Manchester City
Manchester City
Manchester City
Manchester City
Manchester City
Manchester City
Manchester City
Manchester City
Manchester City
Manchester City
Manchester City
Manchester City
Manchester City
Manchester City
Manchester City
Manchester City
Manchester City
Manchester City
Manchester City
Manchester City
Manchester City
Manchester City
Manchester City
Manchester City
Manchester City
Manchester City
Manchester City
Manchester City
Manchester City
Manchester City
Manchester City
Manchester City
Manchester City
Manchester City
Manchester City
Manchester City
Manchester City
Manchester City
Manchester City
Manchester City
Manchester City
Manchester City
Manchester City
Manchester City
Manchester City
Manchester City
Manchester City
Manchester City
Manchester City
Manchester City
Manchester City
Manchester City
Manchester City
Manchester City
Manchester City
Manchester City
Manchester City
Manchester City
Manchester City
Manchester City
Manchester City
Manchester City
Manchester City
Manchester City
Manchester City
Manchester City
Manchester City
Manchester City
Manchester City
Manchester City
Manchester City
Manchester City
Manchester City
Manchester City
Manchester City
Manchester City
Manchester City
Manchester City
Manchester City
Manchester City
Manchester City
Manchester City
Manchester City
Manchester City
Manchester City
Manchester City
Manchester City
Manchester City
Manchester City
Manchester City
Manchester City
Manchester City
Manchester City
Manchester City
Manchester City
Manchester City
Manchester City
Manchester City
Manchester City
Manchester City
Manchester City
Manchester City
Manchester City
Manchester City
Manchester City
Manchester City
Manchester City
Manchester City
Manchester City
Manchester City
Manchester City
Manchester City
Manchester City
Manchester City
Manchester City
Manchester City
Manchester City
Manchester City
Manchester City
Manchester City
Manchester City
Manchester City
Manchester City
Manchester City
Manchester City
Manchester City
Manchester City
Manchester City
Manchester City
Manchester City
Manchester City
Manchester City
Manchester City
Manchester City
Manchester City
Manchester City
Manchester City
Manchester City
Manchester City
Manchester City
Manchester City
Manchester City
Manchester City
Manchester City
Manchester City
Manchester City
Manchester City
Manchester City
Manchester City
Manchester City
Manchester City
Manchester City
Manchester City
Manchester City
Manchester City
Manchester City
Manchester City
Manchester City
Manchester City
Manchester City
Manchester City
Manchester City
Manchester City
Manchester City
Manchester City
Manchester City
Manchester City
Manchester City
Manchester City
Manchester City
Manchester City
Manchester City
Manchester City
Manchester City
Manchester City
Manchester City
Manchester City
Manchester City
Manchester City
Manchester City
Manchester City
Manchester City
Manchester City
Manchester City
Manchester City
Manchester City
Manchester City
Manchester City
Manchester City
Manchester City
Manchester City
Manchester City
Manchester City
Manchester City
Manchester City
Manchester City
Manchester City
Manchester City
Manchester City
Manchester City
Manchester City
Manchester City
Manchester City
Manchester City
Manchester City
Manchester City
Manchester City
Manchester City
Manchester City
Manchester City
Manchester City
Manchester City
Manchester City
Manchester City
Manchester City
Manchester City
Manchester City
Manchester City
Manchester City
Manchester City
Manchester City
Manchester City
Manchester City
Manchester City
Manchester City
Manchester City
Manchester City
Manchester City
Manchester City
Manchester City
Manchester City
Manchester City
Manchester City
Manchester City
Manchester City
Manchester City
Manchester City
Manchester City
Manchester City
Manchester City
Manchester City
Manchester City
Manchester City
Manchester City
Manchester City
Manchester City
Manchester City
Manchester City
Manchester City
Manchester City
Manchester City
Manchester City
Manchester City
Manchester City
Manchester City
Manchester City
Manchester City
Manchester City
Manchester City
Manchester City
Manchester City
Manchester City
Manchester City
Manchester City
Manchester City
Manchester City
Manchester City
Manchester City
Manchester City
Manchester City
Manchester City
Manchester City
Manchester City
Manchester City
Manchester City
Manchester City
Manchester City
Manchester City
Manchester City
Manchester City
Manchester City
Manchester City
Manchester City
Manchester City
Manchester City
Manchester City
Manchester City
Manchester City
Manchester City
Manchester City
Manchester City
Manchester City
Manchester City
Manchester City
Manchester City
Manchester City
Manchester City
Manchester City
Manchester City
Manchester City
Manchester City
Manchester City
Manchester City
Manchester City
Manchester City
Manchester City
Manchester City
Manchester City
Manchester City
Manchester City
Manchester City
Manchester City
Manchester City
Manchester City
Manchester City
Manchester City
Manchester City
Manchester City
Manchester City
Manchester City
Manchester City
Manchester City
Manchester City
Manchester City
Manchester City
Manchester City
Manchester City
Manchester City
Manchester City
Manchester City
Manchester City
Manchester City
Manchester City
Manchester City
Manchester City
Manchester City
Manchester City
Manchester City
Manchester City
Manchester City
Manchester City
Manchester City
Manchester City
Manchester City
Manchester City
Manchester City
Manchester City
Manchester City
Manchester City
Manchester City
Manchester City
Manchester City
Manchester City
Manchester City
Manchester City
Manchester City
Manchester City
Manchester City
Manchester City
Manchester City
Manchester City
Manchester City
Manchester City
Manchester City
Manchester City
Manchester City
Manchester City
Manchester City
Manchester City
Manchester City
Manchester City
Manchester City
Manchester City
Manchester City
Manchester City
Manchester City
Manchester City
Manchester City
Manchester City
Manchester City
Manchester City
Manchester City
Manchester City
Manchester City
Manchester City
Manchester City
Manchester City
Manchester City
Manchester City
Manchester City
Manchester City
Manchester City
Manchester City
Manchester City
Manchester City
Manchester City
Manchester City
Manchester City
Manchester City
Manchester City
Manchester City
Manchester City
Manchester City
Manchester City
Manchester City
Manchester City
Manchester City
Manchester City
Manchester City
Manchester City
Manchester City
Manchester City
Manchester City
Manchester City
Manchester City
Manchester City
Manchester City
Manchester City
Manchester City
Manchester City
Manchester City
Manchester City
Manchester City
Manchester City
Manchester City
Manchester City
Manchester City
Manchester City
Manchester City
Manchester City
Manchester City
Manchester City
Manchester City
Manchester City
Manchester City
Manchester City
Manchester City
Manchester City
Manchester City
Manchester City
Manchester City
Manchester City
Manchester City
Manchester City
Manchester City
Manchester City
Manchester City
Manchester City
Manchester City
Manchester City
Manchester City
Manchester City
Manchester City
Manchester City
Manchester City
Manchester City
Manchester City
Manchester City
Manchester City
Manchester City
Manchester City
Manchester City
Manchester City
Manchester City
Manchester City
Manchester City
Manchester City
Manchester City
Manchester City
Manchester City
Manchester City
Manchester City
Manchester City
Manchester City
Manchester City
Manchester City
Manchester City
Manchester City
Manchester City
Manchester City
Manchester City
Manchester City
Manchester City
Manchester City
Manchester City
Manchester City
Manchester City
Manchester City
Manchester City
Manchester City
Manchester City
Manchester City
Manchester City
Manchester City
Manchester City
Manchester City
Manchester City
Manchester City
Manchester City
Manchester City
Manchester City
Manchester City
Manchester City
Manchester City
Manchester City
Manchester City
Manchester City
Manchester City
Manchester City
Manchester City
Manchester City
Manchester City
Manchester City
Manchester City
Manchester City
Manchester City
Manchester City
Manchester City
Manchester City
Manchester City
Manchester City
Manchester City
Manchester City
Manchester City
Manchester City
Manchester City
Manchester City
Manchester City
Manchester City
Manchester City
Manchester City
Manchester City
Manchester City
Manchester City
Manchester City
Manchester City
Manchester City
Manchester City
Manchester City
Manchester City
Manchester City
Manchester City
Manchester City
Manchester City
Manchester City
Manchester City
Manchester City
Manchester City
Manchester City
Manchester City
Manchester City
Manchester City
Manchester City
Manchester City
Manchester City
Manchester City
Manchester City
Manchester City
Manchester City
Manchester City
Manchester City
Manchester City
Manchester City
Manchester City
Manchester City
Manchester City
Manchester City
Manchester City
Manchester City
Manchester City
Manchester City
Manchester City
Manchester City
Manchester City
Manchester City
Manchester City
Manchester City
Manchester City
Manchester City
Manchester City
Manchester City
Manchester City
Manchester City
Manchester City
Manchester City
Manchester City
Manchester City
Manchester City
Manchester City
Manchester City
Manchester City
Manchester City
Manchester City
Manchester City
Manchester City
Manchester City
Manchester City
Manchester City
Manchester City
Manchester City
Manchester City
Manchester City
Manchester City
Manchester City
Manchester City
Manchester City
Manchester City
Manchester City
Manchester City
Manchester City
Manchester City
Manchester City
Manchester City
Manchester City
Manchester City
Manchester City
Manchester City
Manchester City
Manchester City
Manchester City
Manchester City
Manchester City
Manchester City
Manchester City
Manchester City
Manchester City
Manchester City
Manchester City
Manchester City
Manchester City
Manchester City
Manchester City
Manchester City
Manchester City
Manchester City
Manchester City
Manchester City
Manchester City
Manchester City
Manchester City
Manchester City
Manchester City
Manchester City
Manchester City
Manchester City
Manchester City
Manchester City
Manchester City
Manchester City
Manchester City
Manchester City
Manchester City
Manchester City
Manchester City
Manchester City
Manchester City
Manchester City
Manchester City
Manchester City
Manchester City
Manchester City
Manchester City
Manchester City
Manchester City
Manchester City
Manchester City
Manchester City
Manchester City
Manchester City
Manchester City
Manchester City
Manchester City
Manchester City
Manchester City
Manchester City
Manchester City
Manchester City
Manchester City
Manchester City
Manchester City
Manchester City
Manchester City
Manchester City
Manchester City
Manchester City
Manchester City
Manchester City
Manchester City
Manchester City
Manchester City
Manchester City
Manchester City
Manchester City
Manchester City
Manchester City
Manchester City
Manchester City
Manchester City
Manchester City
Manchester City
Manchester City
Manchester City
Manchester City
Manchester City
Manchester City
Manchester City
Manchester City
Manchester City
Manchester City
Manchester City
Manchester City
Manchester City
Manchester City
Manchester City
Manchester City
Manchester City
Manchester City
Manchester City
Manchester City
Manchester City
Manchester City
Manchester City
Manchester City
Manchester City
Manchester City
Manchester City
Manchester City
Manchester City
Manchester City
Manchester City
Manchester City
Manchester City
Manchester City
Manchester City
Manchester City
Manchester City
Manchester City
Manchester City
Manchester City
Manchester City
Manchester City
Manchester City
Manchester City
Manchester City
Manchester City
Manchester City
Manchester City
Manchester City
Manchester City
Manchester City
Manchester City
Manchester City
Manchester City
Manchester City
Manchester City
Manchester City
Manchester City
Manchester City
Manchester City
Manchester City
Manchester City
Manchester City
Manchester City
Manchester City
Manchester City
Manchester City
Manchester City
Manchester City
Manchester City
Manchester City
Manchester City
Manchester City
Manchester City
Manchester City
Manchester City
Manchester City
Manchester City
Manchester City
Manchester City
Manchester City
Manchester City
Manchester City
Manchester City
Manchester City
Manchester City
Manchester City
Manchester City
Manchester City
Manchester City
Manchester City
Manchester City
Manchester City
Manchester City
Manchester City
Manchester City
Manchester City
Manchester City
Manchester City
Manchester City
Manchester City
Manchester City
Manchester City
Manchester City
Manchester City
Manchester City
Manchester City
Manchester City
Manchester City
Manchester City
Manchester City
Manchester City
Manchester City
Manchester City
Manchester City
Manchester City
Manchester City
Manchester City
Manchester City
Manchester City
Manchester City
Manchester City
Manchester City
Manchester City
Manchester City
Manchester City
Manchester City
Manchester City
Manchester City
Manchester City
Manchester City
Manchester City
Manchester City
Manchester City
Manchester City
Manchester City
Manchester City
Manchester City
Manchester City
Manchester City
Manchester City
Manchester City
Manchester City
Manchester City
Manchester City
Manchester City
Manchester City
Manchester City
Manchester City
Manchester City
Manchester City
Manchester City
Manchester City
Manchester City
Manchester City
Manchester City
Manchester City
Manchester City
Manchester City
Manchester City
Manchester City
Manchester City
Manchester City
Manchester City
Manchester City
Manchester City
Manchester City
Manchester City
Manchester City
Manchester City
Manchester City
Manchester City
Manchester City
Manchester City
Manchester City
Manchester City
Manchester City
Manchester City
Manchester City
Manchester City
Manchester City
Manchester City
Manchester City
Manchester City
Manchester City
Manchester City
Manchester City
Manchester City
Manchester City
Manchester City
Manchester City
Manchester City
Manchester City
Manchester City
Manchester City
Manchester City
Manchester City
Manchester City
Manchester City
Manchester City
Manchester City
Manchester City
Manchester City
Manchester City
Manchester City
Manchester City
Manchester City
Manchester City
Manchester City
Manchester City
Manchester City
Manchester City
Manchester City
Manchester City
Manchester City
Manchester City
Manchester City
Manchester City
Manchester City
Manchester City
Manchester City
Manchester City
Manchester City
Manchester City
Manchester City
Manchester City
Manchester City
Manchester City
Manchester City
Manchester City
Manchester City
Manchester City
Manchester City
Manchester City
Manchester City
Manchester City
Manchester City
Manchester City
Manchester City
Manchester City
Manchester City
Manchester City
Manchester City
Manchester City
Manchester City
Manchester City
Manchester City
Manchester City
Manchester City
Manchester City
Manchester City
Manchester City
Manchester City
Manchester City
Manchester City
Manchester City
Manchester City
Manchester City
Manchester City
Manchester City
Manchester City
Manchester City
Manchester City
Manchester City
Manchester City
Manchester City
Manchester City
Manchester City
Manchester City
Manchester City
Manchester City
Manchester City
Manchester City
Manchester City
Manchester City
Manchester City
Manchester City
Manchester City
Manchester City
Manchester City
Manchester City
Manchester City
Manchester City
Manchester City
Manchester City
Manchester City
Manchester City
Manchester City
Manchester City
Manchester City
Manchester City
Manchester City
Manchester City
Manchester City
Manchester City
Manchester City
Manchester City
Manchester City
Manchester City
Manchester City
Manchester City
Manchester City
Manchester City
Manchester City
Manchester City
Manchester City
Manchester City
Manchester City
Manchester City
Manchester City
Manchester City
Manchester City
Manchester City
Manchester City
Manchester City
Manchester City
Manchester City
Manchester City
Manchester City
Manchester City
Manchester City
Manchester City
Manchester City
Manchester City
Manchester City
Manchester City
Manchester City
Manchester City
Manchester City
Manchester City
Manchester City
Manchester City
Manchester City
Manchester City
Manchester City
Manchester City
Manchester City
Manchester City
Manchester City
Manchester City
Manchester City
Manchester City
Manchester City
Manchester City
Manchester City
Manchester City
Manchester City
Manchester City
Manchester City
Manchester City
Manchester City
Manchester City
Manchester City
Manchester City
Manchester City
Manchester City
Manchester City
Manchester City
Manchester City
Manchester City
Manchester City
Manchester City
Manchester City
Manchester City
Manchester City
Manchester City
Manchester City
Manchester City
Manchester City
Manchester City
Manchester City
Manchester City
Manchester City
Manchester City
Manchester City
Manchester City
Manchester City
Manchester City
Manchester City
Manchester City
Manchester City
Manchester City
Manchester City
Manchester City
Manchester City
Manchester City
Manchester City
Manchester City
Manchester City
Manchester City
Manchester City
Manchester City
Manchester City
Manchester City
Manchester City
Manchester City
Manchester City
Manchester City
Manchester City
Manchester City
Manchester City
Manchester City
Manchester City
Manchester City
Manchester City
Manchester City
Manchester City
Manchester City
Manchester City
Manchester City
Manchester City
Manchester City
Manchester City
Manchester City
Manchester City
Manchester City
Manchester City
Manchester City
Manchester City
Manchester City
Manchester City
Manchester City
Manchester City
Manchester City
Manchester City
Manchester City
Manchester City
Manchester City
Manchester City
Manchester City
Manchester City
Manchester City
Manchester City
Manchester City
Manchester City
Manchester City
Manchester City
Manchester City
Manchester City
Manchester City
Manchester City
Manchester City
Manchester City
Manchester City
Manchester City
Manchester City
Manchester City
Manchester City
Manchester City
Manchester City
Manchester City
Manchester City
Manchester City
Manchester City
Manchester City
Manchester City
Manchester City
Manchester City
Manchester City
Manchester City
Manchester City
Manchester City
Manchester City
Manchester City
Manchester City
Manchester City
Manchester City
Manchester City
Manchester City
Manchester City
Manchester City
Manchester City
Manchester City
Manchester City
Manchester City
Manchester City
Manchester City
Manchester City
Manchester City
Manchester City
Manchester City
Manchester City
Manchester City
Manchester City
Manchester City
Manchester City
Manchester City
Manchester City
Manchester City
Manchester City
Manchester City
Manchester City
Manchester City
Manchester City
Manchester City
Manchester City
Manchester City
Manchester City
Manchester City
Manchester City
Manchester City
Manchester City
Manchester City
Manchester City
Manchester City
Manchester City
Manchester City
Manchester City
Manchester City
Manchester City
Manchester City
Manchester City
Manchester City
Manchester City
Manchester City
Manchester City
Manchester City
Manchester City
Manchester City
Manchester City
Manchester City
Manchester City
Manchester City
Manchester City
Manchester City
Manchester City
Manchester City
Manchester City
Manchester City
Manchester City
Manchester City
Manchester City
Manchester City
Manchester City
Manchester City
Manchester City
Manchester City
Manchester City
Manchester City
Manchester City
Manchester City
Manchester City
Manchester City
Manchester City
Manchester City
Manchester City
Manchester City
Manchester City
Manchester City
Manchester City
Manchester City
Manchester City
Manchester City
Manchester City
Manchester City
Manchester City
Manchester City
Manchester City
Manchester City
Manchester City
Manchester City
Manchester City
Manchester City
Manchester City
Manchester City
Manchester City
Manchester City
Manchester City
Manchester City
Manchester City
Manchester City
Manchester City
Manchester City
Manchester City
Manchester City
Manchester City
Manchester City
Manchester City
Manchester City
Manchester City
Manchester City
Manchester City
Manchester City
Manchester City
Manchester City
Manchester City
Manchester City
Manchester City
Manchester City
Manchester City
Manchester City
Manchester City
Manchester City
Manchester City
Manchester City
Manchester City
Manchester City
Manchester City
Manchester City
Manchester City
Manchester City
Manchester City
Manchester City
Manchester City
Manchester City
Manchester City
Manchester City
Manchester City
Manchester City
Manchester City
Manchester City
Manchester City
Manchester City
Manchester City
Manchester City
Manchester City
Manchester City
Manchester City
Manchester City
Manchester City
Manchester City
Manchester City
Manchester City
Manchester City
Manchester City
Manchester City
Manchester City
Manchester City
Manchester City
Manchester City
Manchester City
Manchester City
Manchester City
Manchester City
Manchester City
Manchester City
Manchester City
Manchester City
Manchester City
Manchester City
Manchester City
Manchester City
Manchester City
Manchester City
Manchester City
Manchester City
Manchester City
Manchester City
Manchester City
Manchester City
Manchester City
Manchester City
Manchester City
Manchester City
Manchester City
Manchester City
Manchester City
Manchester City
Manchester City
Manchester City
Manchester City
Manchester City
Manchester City
Manchester City
Manchester City
Manchester City
Manchester City
Manchester City
Manchester City
Manchester City
Manchester City
Manchester City
Manchester City
Manchester City
Manchester City
Manchester City
Manchester City
Manchester City
Manchester City
Manchester City
Manchester City
Manchester City
Manchester City
Manchester City
Manchester City
Manchester City
Manchester City
Manchester City
Manchester City
Manchester City
Manchester City
Manchester City
Manchester City
Manchester City
Manchester City
Manchester City
Manchester City
Manchester City
Manchester City
Manchester City
Manchester City
Manchester City
Manchester City
Manchester City
Manchester City
Manchester City
Manchester City
Manchester City
Manchester City
Manchester City
Manchester City
Manchester City
Manchester City
Manchester City
Manchester City
Manchester City
Manchester City
Manchester City
Manchester City
Manchester City
Manchester City
Manchester City
Manchester City
Manchester City
Manchester City
Manchester City
Manchester City
Manchester City
Manchester City
Manchester City
Manchester City
Manchester City
Manchester City
Manchester City
Manchester City
Manchester City
Manchester City
Manchester City
Manchester City
Manchester City
Manchester City
Manchester City
Manchester City
Manchester City
Manchester City
Manchester City
Manchester City
Manchester City
Manchester City
Manchester City
Manchester City
Manchester City
Manchester City
Manchester City
Manchester City
Manchester City
Manchester City
Manchester City
Manchester City
Manchester City
Manchester City
Manchester City
Manchester City
Manchester City
Manchester City
Manchester City
Manchester City
Manchester City
Manchester City
Manchester City
Manchester City
Manchester City
Manchester City
Manchester City
Manchester City
Manchester City
Manchester City
Manchester City
Manchester City
Manchester City
Manchester City
Manchester City
Manchester City
Manchester City
Manchester City
Manchester City
Manchester City
Manchester City
Manchester City
Manchester City
Manchester City
Manchester City
Manchester City
Manchester City
Manchester City
Manchester City
Manchester City
Manchester City
Manchester City
Manchester City
Manchester City
Manchester City
Manchester City
Manchester City
Manchester City
Manchester City
Manchester City
Manchester City
Manchester City
Manchester City
Manchester City
Manchester City
Manchester City
Manchester City
Manchester City
Manchester City
Manchester City
Manchester City
Manchester City
Manchester City
Manchester City
Manchester City
Manchester City
Manchester City
Manchester City
Manchester City
Manchester City
Manchester City
Manchester City
Manchester City
Manchester City
Manchester City
Manchester City
Manchester City
Manchester City
Manchester City
Manchester City
Manchester City
Manchester City
Manchester City
Manchester City
Manchester City
Manchester City
Manchester City
Manchester City
Manchester City
Manchester City
Manchester City
Manchester City
Manchester City
Manchester City
Manchester City
Manchester City
Manchester City
Manchester City
Manchester City
Manchester City
Manchester City
Manchester City
Manchester City
Manchester City
Manchester City
Manchester City
Manchester City
Manchester City
Manchester City
Manchester City
Manchester City
Manchester City
Manchester City
Manchester City
Manchester City
Manchester City
Manchester City
Manchester City
Manchester City
Manchester City
Manchester City
Manchester City
Manchester City
Manchester City
Manchester City
Manchester City
Manchester City
Manchester City
Manchester City
Manchester City
Manchester City
Manchester City
Manchester City
Manchester City
Manchester City
Manchester City
Manchester City
Manchester City
Manchester City
Manchester City
Manchester City
Manchester City
Manchester City
Manchester City
Manchester City
Manchester City
Manchester City
Manchester City
Manchester City
Manchester City
Manchester City
Manchester City
Manchester City
Manchester City
Manchester City
Manchester City
Manchester City
Manchester City
Manchester City
Manchester City
Manchester City
Manchester City
Manchester City
Manchester City
Manchester City
Manchester City
Manchester City
Manchester City
Manchester City
Manchester City
Manchester City
Manchester City
Manchester City
Manchester City
Manchester City
Manchester City
Manchester City
Manchester City
Manchester City
Manchester City
Manchester City
Manchester City
Manchester City
Manchester City
Manchester City
Manchester City
Manchester City
Manchester City
Manchester City
Manchester City
Manchester City
Manchester City
Manchester City
Manchester City
Manchester City
Manchester City
Manchester City
Manchester City
Manchester City
Manchester City
Manchester City
Manchester City
Manchester City
Manchester City
Manchester City
Manchester City
Manchester City
Manchester City
Manchester City
Manchester City
Manchester City
Manchester City
Manchester City
Manchester City
Manchester City
Manchester City
Manchester City
Manchester City
Manchester City
Manchester City
Manchester City
Manchester City
Manchester City
Manchester City
Manchester City
Manchester City
Manchester City
Manchester City
Manchester City
Manchester City
Manchester City
Manchester City
Manchester City
Manchester City
Manchester City
Manchester City
Manchester City
Manchester City
Manchester City
Manchester City
Manchester City
Manchester City
Manchester City
Manchester City
Manchester City
Manchester City
Manchester City
Manchester City
Manchester City
Manchester City
Manchester City
Manchester City
Manchester City
Manchester City
Manchester City
Manchester City
Manchester City
Manchester City
Manchester City
Manchester City
Manchester City
Manchester City
Manchester City
Manchester City
Manchester City
Manchester City
Manchester City
Manchester City
Manchester City
Manchester City
Manchester City
Manchester City
Manchester City
Manchester City
Manchester City
Manchester City
Manchester City
Manchester City
Manchester City
Manchester City
Manchester City
Manchester City
Manchester City
Manchester City
Manchester City
Manchester City
Manchester City
Manchester City
Manchester City
Manchester City
Manchester City
Manchester City
Manchester City
Manchester City
Manchester City
Manchester City