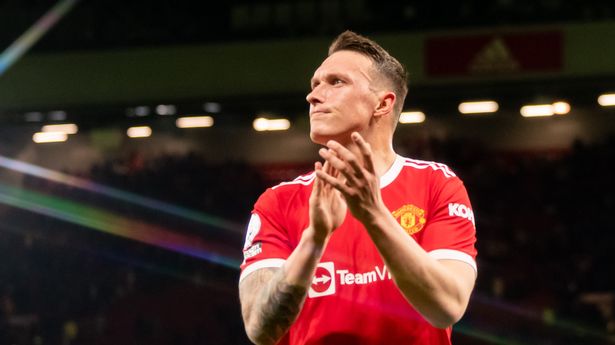 Manchester United defender Phil Jones is set to leave the club at the end of the current campaign
Phil Jones has played for Manchester United since 2011 and has been one of the most serving players
Phil Jones has given his farewell statement to Manchester United fans confirming his departure
Manchester United have confirmed that Phil Jones will be departing the club when his contract expires at the end of the 2023/24 season. The centre-back's 12-year tenure at Old Trafford will come to an end, marking the conclusion of a period filled with highs and lows.
Speaking to club channels, Jones said: "It's been very difficult, the last couple of years. There's no denying that. There is no hiding away from that. My family have been absolutely instrumental in keeping me on the straight and narrow and keeping me focused, to try to get fit and try to play more.
Furthermore, he said, "And, you know, I've missed playing football. I missed it. You grow up playing football and all you want to do is play football. It's all I've known, from such a young age, is to do what you love doing for a living. I've been fortunate enough to do that, albeit not as much as I would have liked.
"I've worked tirelessly hard and literally left no stone unturned. I tried to get back as quick as I could, every time I was out in the last couple of years. I think the highlight for me would have to be the Wolves game [his return from injury last season], when I came back. That was just a moment that I'll never forget. It gives me goosebumps now, thinking about it. I mean I worked so, so hard to get to that stage of fitness.
"That was a huge, huge moment in my career and the fans, that day, were incredible. The love that they showed me for that game, the passion that they showed, was sensational. And I can't thank them enough for that. They've been a constant support throughout my time here."
Jones, who is now 31 years old, has not made any appearances for Manchester United in the current season. His last game was during a 3-0 victory against Brentford in the latter part of the 2021/22 campaign.
He joined Old Trafford in 2011 from Blackburn Rovers and was highly regarded as one of the top defensive prospects in the country. Jones was a part of the most recent Manchester United team to win the Premier League.
Throughout his time at the club, Jones has secured five trophies for the Red Devils, including one Premier League title, one FA Cup, one Europa League, and two Community Shields. He has played in a total of 229 matches. Additionally, Jones has represented England on 27 occasions and participated in three major tournaments, including the 2018 World Cup.
Although Jones is entitled to a testimonial, it was reported in 2019 by The Athletic that he declined the opportunity as he believed only his parents would attend the event.