Phil Jones set on return as Man United defensive crisis looms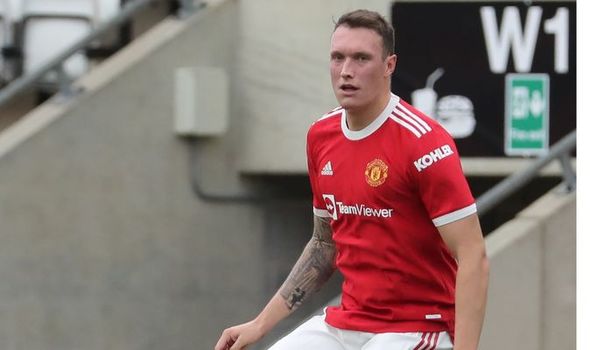 Phil Jones has become the forgotten man at Manchester United.
The central defender has incredibly not played a single minute of football for the Man United senior team for almost two years.
He has played no matches this season and he did not make a single appearance in 2020-21.
His last appearance came midway through the 2019-20 season in a 2-0 home Premier League defeat to Burnley on January 22, 2020.
That season Jones only played 136 minutes of Premier League football.
The defender has suffered numerous injuries during his time at Man Utd, including 454 days on the sidelines with a knee problem between June 2020 and September 2021.
It has been reported that, since recovering from this injury, Jones has been frozen out of the senior team and that he would not be given a chance to play for the club again.
Indeed, Man United has been said to be looking for suitors to buy Jones in January.
However, The Sun claims that Jones may now be able to resurrect his Manchester United career.
Manager Ole Gunnar Solskjaer is reported to have been hugely impressed by Jones' attitude in training.
And with Man United now facing a defensive crisis, with numerous goals being conceded and defenders injured or out of form, Jones is set to be brought back into the fold.
Solskjaer has recently changed his formation from a 4-2-3-1 to a 3-5-2 as he desperately attempts to tighten up a backline that has conceded 15 goals in the last six games.
Naturally, this system requires an extra central defender. But Raphael Varane pulled up with a hamstring injury this week, while Harry Maguire is in his worst form for years. Eric Bailly, himself back from injury recently, struggled against Man City on Saturday.
The England international is currently on the radar of 13 clubs in the coming winter transfer window.
He's expected to leave the club in January and according to The Sun, a massive number of teams are interested.
Among those are Premier League sides Newcastle United and Watford who are looking to avoid relegation.
This season has seen Raphael Varane and Harry Maguire suffer injuries and Solskjaer is worried about being light in defense.
Jones has mainly played U23s football this campaign but made the bench for September's Carabao Cup defeat to West Ham.
Having signed a new contract in 2019, his current contract will run down in 2023.
Just like any other player, Phil Jones has often been a victim of criticism, especially coming from his former players such as Rio Ferdinand.
At one time Rio Ferdinand slammed the former England international for taking up a role in the youth's team a thing that did not go well with Jones;
In response Jones said; "I must be an easy target," he said. "Every footballer has a tag and unfortunately mine is 'Let's have a laugh at him' But and I say this in the nicest possible way I know who'll have the last laugh.
"I'm proud of my career and when it finishes and I'm enjoying my life and by the way I'm super fortunate that I'll be able to do that because footballers are fortunate [the keyboard warriors] will still be in their mum's spare bedroom, sipping Diet Pepsi that's flat, eating a Pot Noodle, sitting in their boxers, tweeting."
So, Solskjaer is ready to bring Jones back into the team. Could the 29-year-old resurrect and save his career?