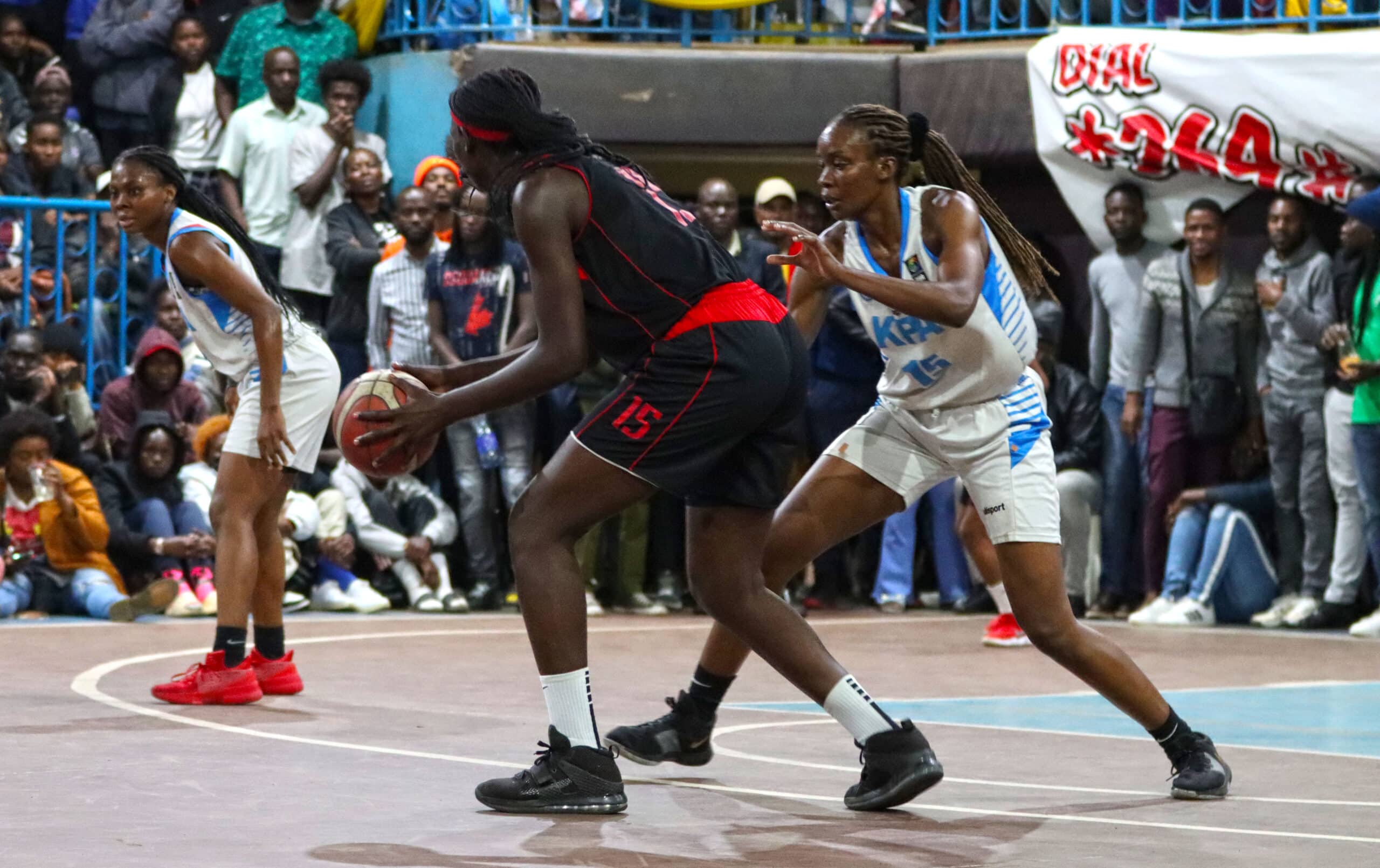 KPA lead 1-0 in the best of five series
Equity rallied to beat KPA in Game Two and tie the series 1-1
Games three, four and five will be played in Mombasa next weekend
KPA's teams picked contrasting results in the Kenya Basketball Federation (KBF) Premier League play-offs this Saturday, with the women's team taking a 1-0 series lead over Zetech University while their men's team lost to Equity in Game Two, to tie the best-of-five series at 1-1, KPA Having won game one on Friday.
In the women's duel, KPA rose from a slow start to completely obliterate the university girls, hitting them by a 30-point margin, final scores standing at 68-38.
KPA's Nigerian import Ifunaya Okoro who joined the team at the start of the second leg continued to assert her dominance, hitting a game high 20 points in the victory. Belinda Aluoch also recorded double figures, sinking in 11 points with her prowess on either board being her biggest asset.
"We did very well despite how we started, but I always knew the girls were up to the task. Zetech is a very good side and we should keep working and ensure that we are even better concentrated in Game Two," said Anthony Ojukwu, the KPA head coach.
Zetech with a good start
Zetech had a good start to the game and led 14-13 at the end of the first quarter, the duo of Mary Lisa and Chantal Kiyobae being integral in their runs.
However in the second quarter, KPA's coach Ojukwu introduced Hilda Indasi, a change that was specifically designed to deal with Lisa.
She had been Zetech's driving force carrying the ball forward and Indasi was tasked with guarding her and ensuring she didn't see the ball or when she did' couldn't play on her strong right side.
KPA managed to slowly creep back and had a six point lead at the break, with a score of 30-24.
With Lisa completely unable to influence the game Zetech didn't have many options and KPA managed to extend the score further.
Equity level men's series 
Later on in the men's game, Equity levelled the best of five series at 1-1 after edging out the dockers by half a basket, winning 70-69. They had earlier on Friday lost Game One 62-53, but the score ensured they travel to Mombasa at an even rate.
Equity had four players with double figures, Victor Bosire having a game high 16, Faheem Juma with 15 while James Mwangi and Titus Musembi both had 11.
KPA's best scorer was Job Byron who sunk in 15 points.
"In the second half we changed a bit of our play and we also talked to the players to ensure we were better on the rebound because we had lost so many balls on the board in the first half. We managed to do that well and now we hope we can carry this form to Mombasa," said Equity's coach Carrey Odhiambo.
The match was marred with drama and KPA's Victor Odendo and Equity's Shem Omuta were ejected with 3:32 to play in the first quarter for a brawl.
KPA with a good command of the game 
KPA had commanded the game well and led 20-11 at the end of the first quarter, and ensured the gap remained the same at half time with a 45-36 score.
IN the third quarter however, Equity began their rally and they reduced the gap to a single point at the end of quarter three, scores at 54-53.
In the third quarter, Equity were completely dominant and had a 10-point lead with 4:14 to play, scores at 68-58 before KPA rallied for an 11-point scoring run against Equity's two, but it wasn't enough to take the game away from them.