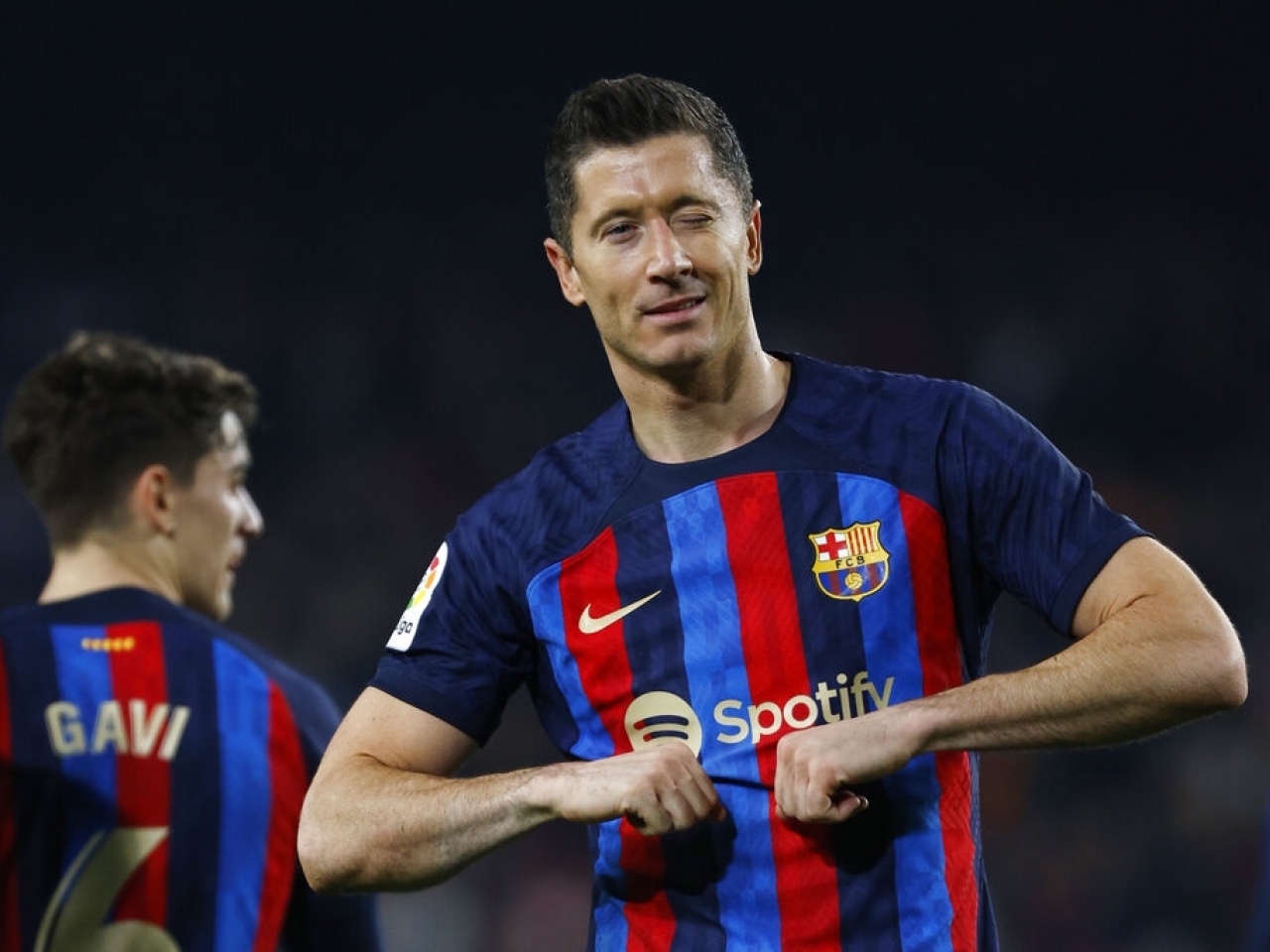 Barcelona hosted Cadiz in La Liga at the Camp Nou on Sunday evening
Barcelona headed to the match seeking to extend their five-point lead against Real Madrid to eight
Robert Lewandowski was on target as Barcelona secured all the three points at the home soil
Barcelona defeated Cadiz 2-0 to regain an eight-point lead over Real Madrid thanks to a goal from Robert Lewandowski, who had scored just twice in LaLiga since October.
When two goals scored late in the first half devastated a Cadiz team that had competed throughout much of the Camp Nou match and had two goals from Roger disallowed, the 34-year-old added to Sergi Roberto's opening score.
This was Barcelona's seventh straight league victory, the third time they have had such a run under the guidance of their former player, and it was their 17th shutout in La Liga this season, moving Xavi's team closer to the championship.
It also made it a brace for the season for Barcelona, who had previously defeated the team currently in a relegation struggle, lying just two points outside the bottom three, 4-0 in September.
When Santiago Arzamendia found Roger with a beautiful pass over the top in the 19th minute using the outside of his left boot, Cadiz believed they had achieved a breakthrough. To the relief of Barcelona, the striker's excellent finish was marred by an offside foot.
Lewandowski had little opportunity to score due to poor support until the 41st minute when a cross from Ferran Torres on the right appeared to be headed in by him at the far post. But when under duress, he was unable to establish a clear connection.
Two minutes later, Barcelona scored using the same combination. Isaac Carcelen cleared Lewandowski's stooping header from Torres' clipped cross, but it only went as far as Sergi Roberto, who slammed it back into the net from eight yards away.
Lewandowski scored Barcelona's second goal in stoppage time with a precise low shot from 16 yards, bringing his league-leading total to 15.
Early in the second half, the ex-Bayern Munich striker poked a shot against the top of the crossbar. Then, Cadiz's Roger had a second goal disallowed after expertly finishing from a corner, and teammate Fali was given a yellow card for pushing goalkeeper Marc-Andre ter Stegen.
Barcelona make easy work of Cadiz
The visitors may have had cause for resentment, and Cadiz continued to make plays. Ter Stegen made impressive saves on substitutes Chris Ramos and Fede San Emeterio late in the game, and Anthony Lozano then headed against the left post. They were not to have their night.
With how much they contributed to this game, it would have been difficult to grudge the visitors a point. Although the first goal that was incorrectly disallowed was successfully overturned, it was close enough for Barcelona to be concerned, and Cadiz may possibly have issues about the second goal that they had scratched off.
Before travelling to Almeria in the La Liga on Sunday, Barcelona plays Manchester United at Old Trafford on Thursday in the second leg of their Europa League play-off. Next Saturday, Cadiz will take on Rayo Vallecano.