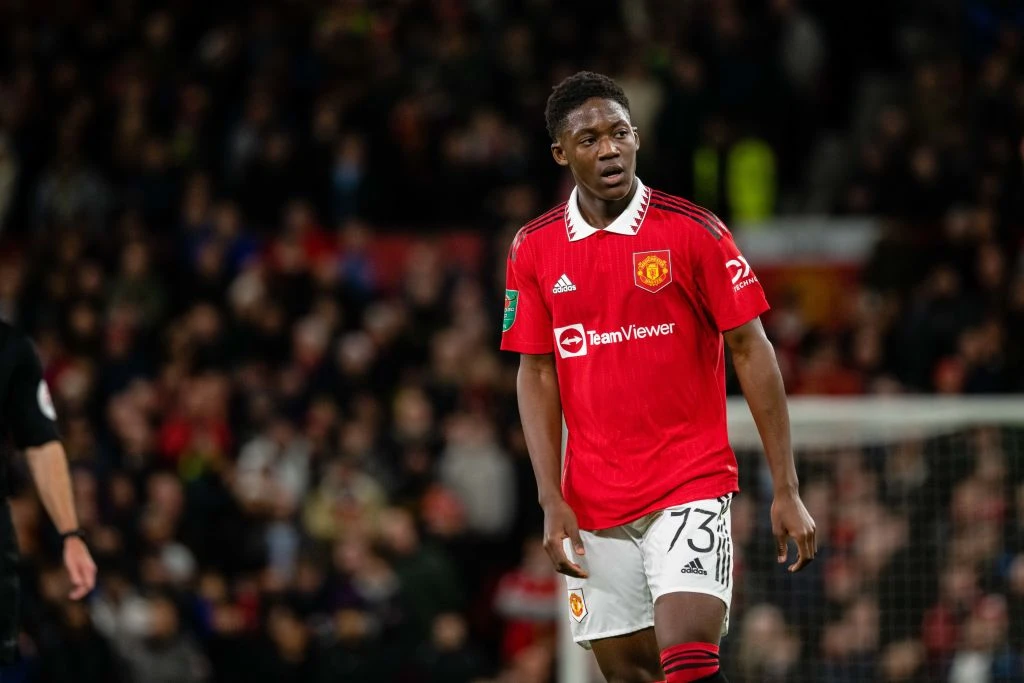 Kobbie Mainoo, who is regarded as one of the top young English midfielders at his age, plays for Manchester United
He entered for the final 10 minutes of his Premier League debut against Leicester City
SportsLeo looks at the young English star in the making
In his first game for the senior team against Charlton, 17-year-old Kobbie Mainoo, who is regarded as one of the top young English potentials at his age, started in the Manchester United midfield.
With Manchester United leading 3-0, he entered for the final 10 minutes of his Premier League debut against Leicester City.
SportsLeo looks at the young English star in the making.
When did he join United?
Mainoo, 17, joined Manchester United as a young player, moving through the clubs' academy before making his U-18 debut in 2021 at the age of just 15. At age 16, he was a U-23 player.
Born in 2005, the Stockport native and England youth international has trained regularly with the first team this season. He has occasionally appeared as an unused substitute, including twice in the Premier League against Newcastle and Wolves. In May 2022, he signed his first professional contract with Manchester United.
He made his club debut when he was chosen to start the EFL Cup quarterfinal game against Charlton Athletic on January 10, 2023. On February 19 against Leicester City, he made his first Premier League appearance a month later, coming off the bench for the game's final 10 minutes plus stoppage time.
Scout's verdict on his style
Due to his athleticism, vision, and technical skill, Mainoo is a box-to-box central midfielder who scouts highly praise. In the middle of the pitch, he can play either the No. 6 or the No. 8 position.
He has been compared to Paul Pogba because of his versatility and diverse skill set. Like Pogba, he uses the dribble to get past defenders in the middle before selecting passes for teammates to advance the ball and create attacking moves.
His roots
Kobbie Mainoo, who was born in Stockport, England, has frequently played for England at the youth international level.
The young player has scored a goal in five appearances since making his England U-17 debut in October 2021. In September 2022, he participated in two friendlies for the England U-18 team against the Netherlands and Belgium.
However, if he were to make a one-time switch, Mainoo would be qualified to represent Ghana.
Why did Ten Hag choose to play him?
Following the return of domestic football after the World Cup in 2022, Ten Hag decided to rotate his team for the game against Charlton.
With Mainoo joining Anthony Elanga and Alejandro Garnacho in the starting lineup, the Dutchman has added plenty of youth while also giving fringe players like Tom Heaton, Harry Maguire, and Scott McTominay some playing time.
The manager's decision to start Mainoo is a big vote of confidence in the kid, but it seems the manager has been thinking about him for a while. The teen was on the substitutes' bench for Manchester United's Premier League matches against Newcastle in October and Wolves on New Year's Eve, but he did not play.
Kobbie's performances
On January 10, 2023, the young player faced Charlton Athletic in the EFL Cup quarterfinals and made his Manchester United first-team debut.
He played for 60 minutes before being substituted by Casemiro, and at that point, United was up 1-0. Ultimately, the Red Devils won 3-0 to advance to the semifinals.
Mainoo performed admirably, enjoying considerable freedom in the middle of the field while impacting both offence and defence. He made 35 touches of the ball, seven turnovers, and completed 23 of his 27 passes.
Kobbie made his English Premier League debut on February 19 against Leicester City, entering for the final 10 minutes plus stoppage time.
He came onto the field to replace Marcel Sabitzer, who had been acquired during the January transfer window, and the score was already 3-0 in favour of Manchester United.
After coming on, he immediately got involved in the action, occupying the top of the penalty area as United worked an attack with only a few minutes left. He almost created a good look on goal, but his chance was blocked.
In his 10-minute debut, he received 11 touches overall, completed seven of eight passes, attempted one dribble but failed, and blocked one shot from Leicester City.