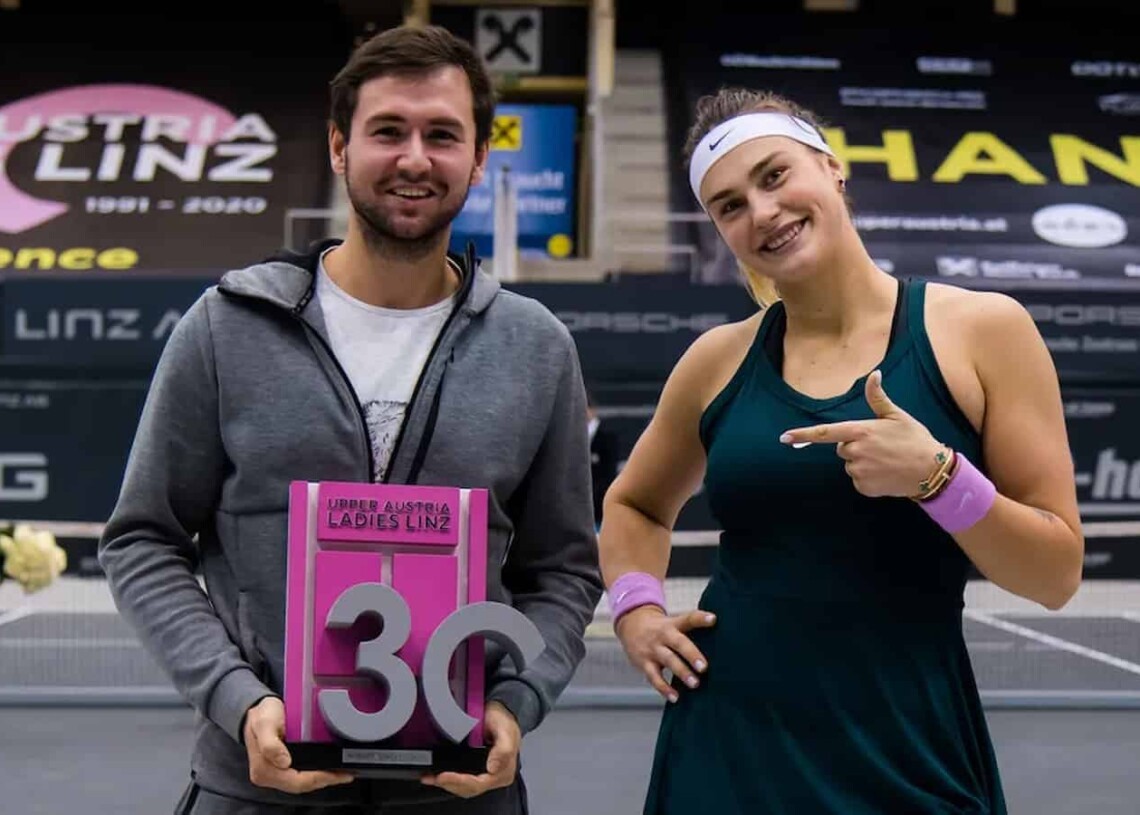 Aryna Sabalenka made history after winning the 2023 Australian Open
Her coach Anton Dubrov wanted to quit in 2022 following a bad season
She, however, managed to convince her to stay
Aryna Sabalenka made history after winning the 2023 Australian Open, just after convincing her coach Anton Dubrov not to leave in 2022.
The Belarusian tennis player said Dubrov wanted to quit because she wasn't performing as well in 2022 as he expected. However, she convinced him to stay, saying he wasn't to blame for her performance in the WTA Tour 2022.
"There was a moment last year when he said 'I think I'm done, I can't give you anything else' and I was like 'No, it's not you, we just have to work through these tough moments & we'll come back stronger," she recalled emotionally after winning her first slam according to Nine's Wide World of Sports.
Dubrov broke down immediately after Sabalenka won, greatly touching the Belarusian who faced off with Kazakh Elena Rybakina.
At the beginning of the 2022 season, Sabalenka was having trouble with her game, mainly her serve.
Dubrov very bluntly and clearly informed Sabalenka in February that he might not be the best coach for her. But Sabalenka insisted on sticking with Dubrov because she thought he was the best trainer for her.
Sabalenka recalls Dublov telling her to get another coach who would offer her more because he clearly couldn't offer her anything more. However, she knew the problem wasn't her coach but her and her hardest task was finding out what exactly was wrong.
Looking at the Melbourne's success, she is happy that she continued working with Dublov, which amplifies the power of teamwork.
"I'm really happy that we keep working together. We went through so many things together. I think it's even sweeter that we get it together as a team. It was a long journey for us. We are here with the Grand Slam title, which is really amazing," Sabalenka told the press two days after her victory.
After losing the first set, Sabalenka took control of the match to win 4-6 6-3 6-4 and became the first singles player to win a major while competing under a neutral flag. Her victory pushed her to world No.2 in ranking.
Rybakina got off to a stronger start, defeating Sabalenka in the third game after she had led 40-0. She held her own comfortably until the eighth game when the Belarusian strung together a string of solid returns and received her reward.
When Rybakina served for the set, Sabalenka, who had previously won all 20 sets she had played this season, produced a terrible service game, double-faulting twice. Rybakina won the set 6-4 by holding to love and breaking Sabalenka's streak.
At the start of the second set, the Kazakh born in Russia pushed hard for a break, but Sabalenka resisted, saving two break points in the first game.
By outhitting Rybakina more than two to one in winners and breaking to take the lead 3-1, the Belarusian gradually shifted the match in her favour.
The Kazakh fought valiantly to hold it at one break, fending off three break points in the sixth game and two set points at 5-2.
The momentum now was with Sabalenka, and she raised her level again in the early stages of the decider, pushing ever closer to the lines but rarely beyond them in what was unquestionably the best performance of her life. Sabalenka kept her composure to serve it out, winning the set 6-3 with a second serve ace to send it to a decider.
At 2-2 after a long game, Rybakina resisted a breakpoint, but two games later, as Sabalenka neared the finish line, her defences broke.