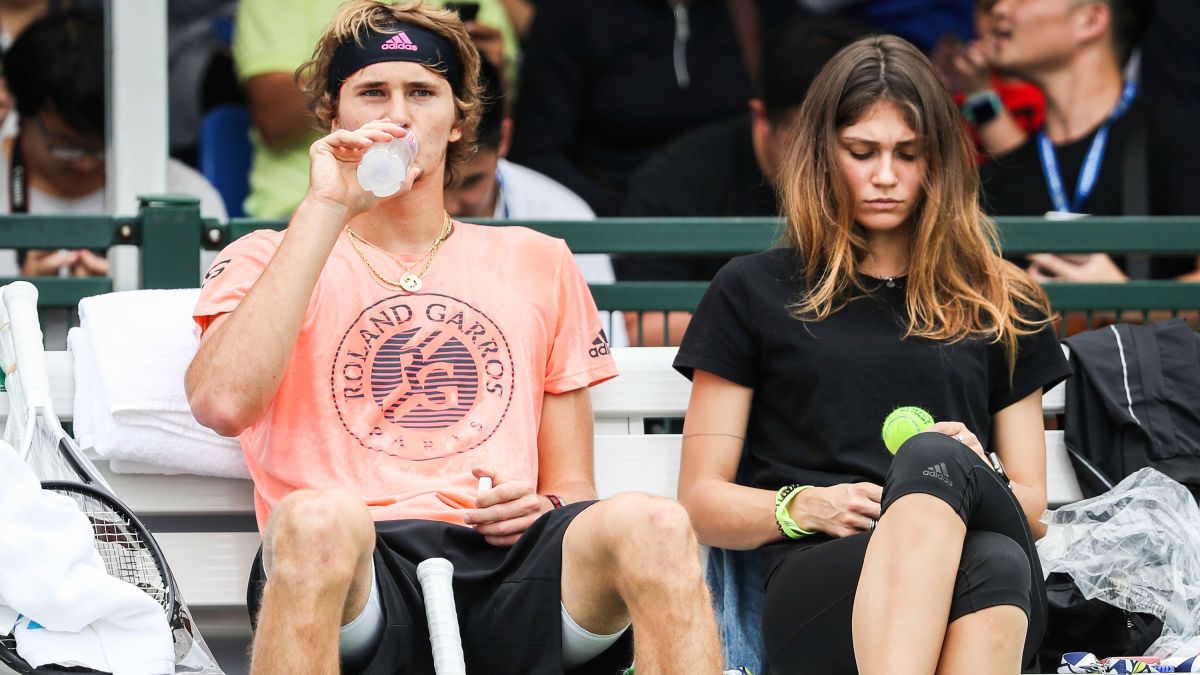 Alexander Zverev can now breathe a sigh of relief
His girlfriend Olya Sharypova accused him of domestic abuse
However, the ATP couldn't find enough evidence on this
German tennis player Alexander Zverev can breathe a sigh of relief following investigations into domestic abuse claims on his girlfriend Olya Sharypova.
According to the ATP investigation Sharypova, had insufficient proof to support her charges.
She accused the world No.14 in 2020 of physical and psychological abuse throughout their relationship, which he denied. In its decision, ATP said it will-re-evaluate the decision if new evidence on the allegations comes up.
ATP Tour said it contracted the services of Lake Forest Group, a private investigation firm, to look into the claims further.
Additionally, it spoke with 24 other persons, including players, family members, and friends, and conducted detailed interviews with both Sharypova and Zverev.
Speaking after ATP's decision, Zverev said that the investigations were pretty painful for him and he is glad that he got justice. He said that he was always innocent which is why he welcomed the ATP to investigate the domestic abuse claims.
Zverev was even happier that ATP gave the matter the attention it deserved.
"This decision marks a third neutral, third-party arbiter who has reviewed all relevant information and made a clear and informed decision on this matter in my favour. In addition to the ATP's independent investigation, I have also initiated court proceedings in Germany and Russia, both of which I have won," part of post in Instagram read.
"I am grateful that this is finally resolved and my priority now is recovering from injury and concentrating on what I love most in this world – tennis," he said.
During the 15-month inquiry, text messages, audio recordings, and photographs were examined, along with data voluntarily taken from Zverev's electronic devices by a third-party forensic expert.
The investigation was unable to corroborate the allegations of abuse according to the ATP because of a lack of trustworthy evidence and eyewitness testimony, and inconsistent comments from Sharypova, Zverev, and other interviewees.
Before suffering a major ankle injury in a match against Rafael Nadal at the French Open last June, Zverev, a two-time champion of the season-ending Tour Finals, had climbed to a career-high position of number two.
He took time off for the remainder of the season to heal and came back to the 2023 Australian Open.
After Sharypova brought forward additional allegations of abuse in 2021, Zverev filed a lawsuit against her and an internet publisher. Additionally, he supported the ATP's introduction of a domestic violence policy.
The incident, according to ATP Chief Executive Officer Massimo Calvelli, showed the necessity for the ATP Tour to be more sensitive on safeguarding problems.
Calvelli noted that a rigorous investigation procedure and lots of resources were needed because of the sensitivity and complexity of the claims.
Additionally, it forced ATP to seek out specialised detectives, which was uncharted territory for ATP. It was then then that it the men's tennis governing body ordered a different independent safeguarding report in handling the matter conclusively.
With the verdict, Zverev is now focusing on getting back to the top spot now held by Novak Djokovic following his 10th Australian Open victory.