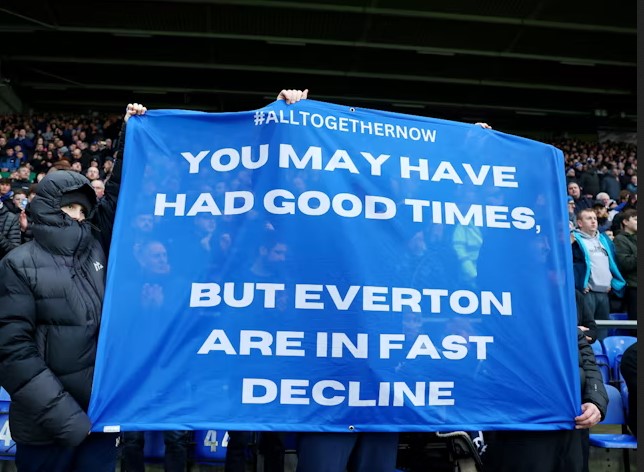 Everton relieved manager Frank Lampard of his duties on Monday
The club sits at the joint bottom in the Premier League table
What happened at Goodison Park?
Frank Lampard was relieved of his duties as manager of Everton on Monday afternoon, with the club sitting joint-bottom of the Premier League.
What has happened at Goodison Park?
Where do the Toffees go from here, as a club in crisis, with relegation looming and the relationship between the board and fans now virtually irreparable?
First, it is essential to note that Everton's problem is multifaceted. While most of their recent managers and players have not been up to it, after so many years of continued failure, the focus must now shift to the board.
It all starts from the top
Farhad Moshiri took over the club in 2016, much to the delight of Evertonians, who expected a wealthy investor to bring them the same instant success that Chelsea and Manchester City had after their respective takeovers.
After not winning the title since 1987, or any trophy since 1995, it was exciting to think that they could build on the steady but solid years of David Moyes and the up-and-down tenure of Roberto Martinez.
While Everton performed reasonably well in the following seasons, it became clear very quickly that there was no long-term strategy in place. A reckless, scattergun approach to spending money, buying players, and awarding contracts were unsustainable.
Everton has had three men appointed as Director of Football since Moshiri arrived, and despite all having previous club experience, none of them has worked out.
Steve Walsh was in charge of bringing Riyad Mahrez and N'Golo Kante to Leicester City, Marcel Brands was the driving force behind PSV Eindhoven's consistent excellent recruitment policy between 2010 and 2018, and current DoF Kevin Thelwell previously worked for the Red Bull sports group with a good reputation for scouting and improving young talent.
However, Walsh was one of the men responsible for the disastrous 2017 summer transfer window. Everton spent over £150 million before hiring Sam Allardyce to save them from relegation just three months later.
However, since leaving, both Walsh and Brands have claimed that they were essentially ignored by the board and, in particular, the owner, Moshiri.
Brands was filmed saying, "is it only the players?" to an angry supporter after a 4-1 defeat to Liverpool at Goodison Park last season, which can be interpreted as Brands saying the board should also be blamed. His subsequent actions show that he had clearly fallen out and disagreed with them.
Just splashing money around
The lack of communication from the board to the fans and among the board members irritates Everton supporters the most.
Everton spent £65 million – plus big salaries – in the shambolic 2017 transfer window to sign Wayne Rooney, Gylfi Sigurdsson, and Davy Klaassen.
Three different people at the club clearly desired the three separate players: manager Ronald Koeman wanted Klaassen, board member Bill Kenwright wanted Rooney, and DoF Walsh wanted Sigurdsson.
All three players played in the same position, and they still hadn't signed a striker to replace the departing Romelu Lukaku that summer, indicating that there was no plan for how to spend their newfound fortunes wisely.
Fast forward four years, Everton was so financially constrained that they could only spend £1.7m in a single summer transfer window. This season, they had to sell Richarlison to fund any vital incomings.
After giving players like Cenk Tosun, Sandro Ramirez, Michael Keane, Abdoulaye Doucoure, and the injury-prone Yerry Mina four to five-year contracts worth more than £100,000 per week, they are now struggling to offload many of them when it is clear they have no future at the club.
That brings us to the final major issue: the current playing roster.
Lampard's record was not excellent, with only 35 points from 38 Premier League games, but this team was full of regular internationals who were not performing for one reason or another.
Choruses of 'you are not fit to wear the shirt' rang around Goodison Park for the first time in modern memory following the recent defeat to Southampton, possibly implying that Everton fans believe this group of players is uninterested in the club's demise.
Current squad issues
Even players with limited footballing ability were once adored in these parts due to the passion, fight, and determination they displayed to compensate for their other deficiencies. However, this is now an Everton team that is outfought and outplayed by almost every Premier League side.
Replacing Richarlison essentially with Dwight McNeil and Dominic Calvert-form Lewin's nosediving off a cliff means Everton has no offensive threat and is a straight side to defend against, allowing opponents to focus their attention on their own offensive work before games.
The most damning statistic is that the other four teams in the bottom five have only won five games in the last few months, but four of those have come against Everton.
Lampard was embraced because of how much he cared about the fans and how desperate he was to succeed for the club's sake. Still, in the modern game, more is required, and having a board full of 'local Evertonians,' as Moshiri recently put it in a written letter to some Everton fan groups, is also insufficient.
Manchester City and Chelsea did not win numerous trophies because they had 'locals' on their boards; instead, they hired professional experts who understood how to run a football club efficiently.
Their unwillingness to relinquish power, particularly Kenwright, means they will still be in charge of appointing a new manager, and they will have the option of focusing on a short-term fix or try build for the future.