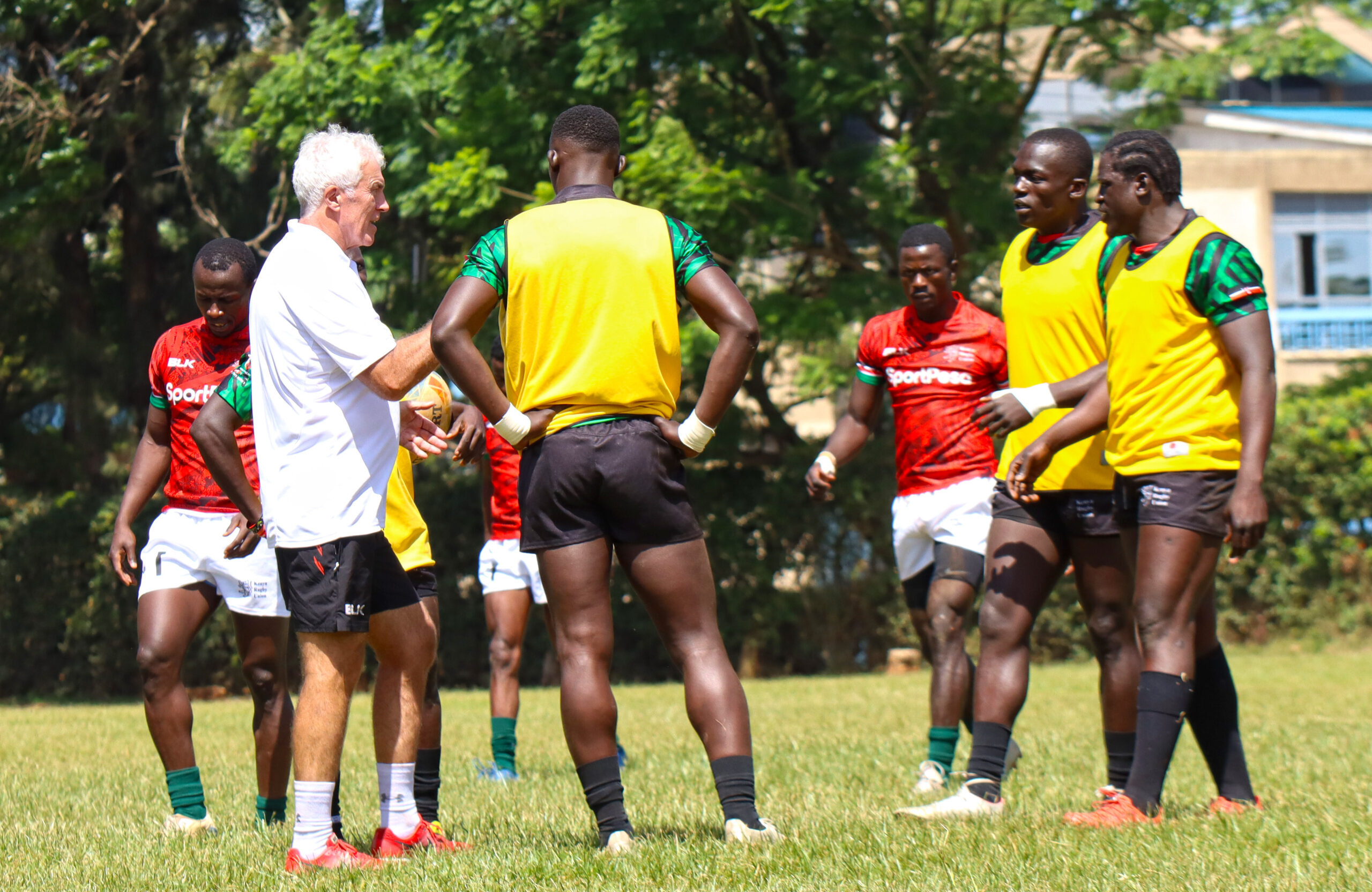 Alvin Otieno returns after missing the start of the season
Coach McGrath has named two debutants
Shujaa have only picked eight points in three tournaments
Shujaa head coach Damian McGrath has named two debutants in his squad that travels to Sydney and Hamilton for the Australia and New Zealand Sevens at the end of the month.
Menengai Oilers centre John Okoth, who has also played for the Simbas and Daystar Falcons' youngster Floyd Wabwire have made the Shujaa team for the first time ever.
Alvin Otieno, nicknamed Buffa, makes a return to the team after missing the first three tournaments as he was out on a short pro-stint in Canada, while Brian tanga of Kabras Sugar also makes a return to the national team.
The team will miss the services of Billy Odhiambo who has not been given an all clear after suffering a second concussion in six months, while Daniel Taabu and Johnstone Olindi have been left out due to competition for places.
"It's good to have the experience of Alvin and Tanga back in the squad. Whilst both are a little short of sevens fitness, they bring a lot of experience and a little bit of an x-factor which is welcome," said coach McGrath as he named the team.
Otieno elated to be back
Otieno said he was elated to have made the team on his return. "Of course I am excited to be back with the boys after a short stint out. I am looking forward to the next two tournaments and hopefully I can help the team do better."
Speaking on the two debutants, coach McGrath said he was impressed with their work ethic in training and though they are not the finished product yet, he is confident they have what it takes to be regulars with the team.
"In terms of John Okoth and Floyd, it's very exciting for the future of Kenya Sevens. John is well known to Kenya rugby followers through his exploits with the Simbas. He is a big, powerful, skillful player who will offset the loss of Vincent Onyala to a great degree."
"Johnnie's not quite sevens fit but we know that he can come and do a job in short bursts and we know as the season goes on he's going to get better."
"For Floyd, this is a chance to give him a taste of senior rugby, he's trained so well. He's come from nowhere on the National Sevens Circuit…he wasn't picked out by the selectors but he was someone who caught my eye and he deserves this opportunity as he's shone very well in training. He is a long way from the finished article but I think he is going to be a fixture in the sevens group for a while to come."
Shujaa in tough pool for New Zealand Sevens 
With Shujaa placed in Pool A for the Hamilton 7s in New Zealand alongside Samoa, Fiji and France, McGrath expects a tough tournament but hopes they can at leats make the Cup quarters.
"Hamilton's going to be tough. As always, when you don't do well in the tournament before, the draw is very rarely kind to you. So it would in Hamilton we've got what's been described as the group of death. We've got Samoa, Fiji and France who are three of the real big hitters, so it's going to be a tough ask of us in the group," he said.
The team departs on Friday.
Shujaa squad:
Nelson Oyoo (Nakuru, Captain), Willy Ambaka, Herman Humwa (Kenya Harlequin), Kevin Wekesa (Kabras Sugar), Denis Abukuse (Menengai Oilers), Alvin Otieno (KCB), George Ooro (Strathmore Leos), Edmund Anya (KCB), Tony Omondi (Mwamba), Ronnie Omondi (Mwamba), Brian Tanga (Kabras Sugar), John Okoth (Menengai Oilers, debut), Floyd Wabwire (Daystar Falcons, debut)
Itinerary
New Zealand 7s, 21-22 January, Hamilton, New Zealand
Australia 7s, 27-29 January, Sydney, Australia