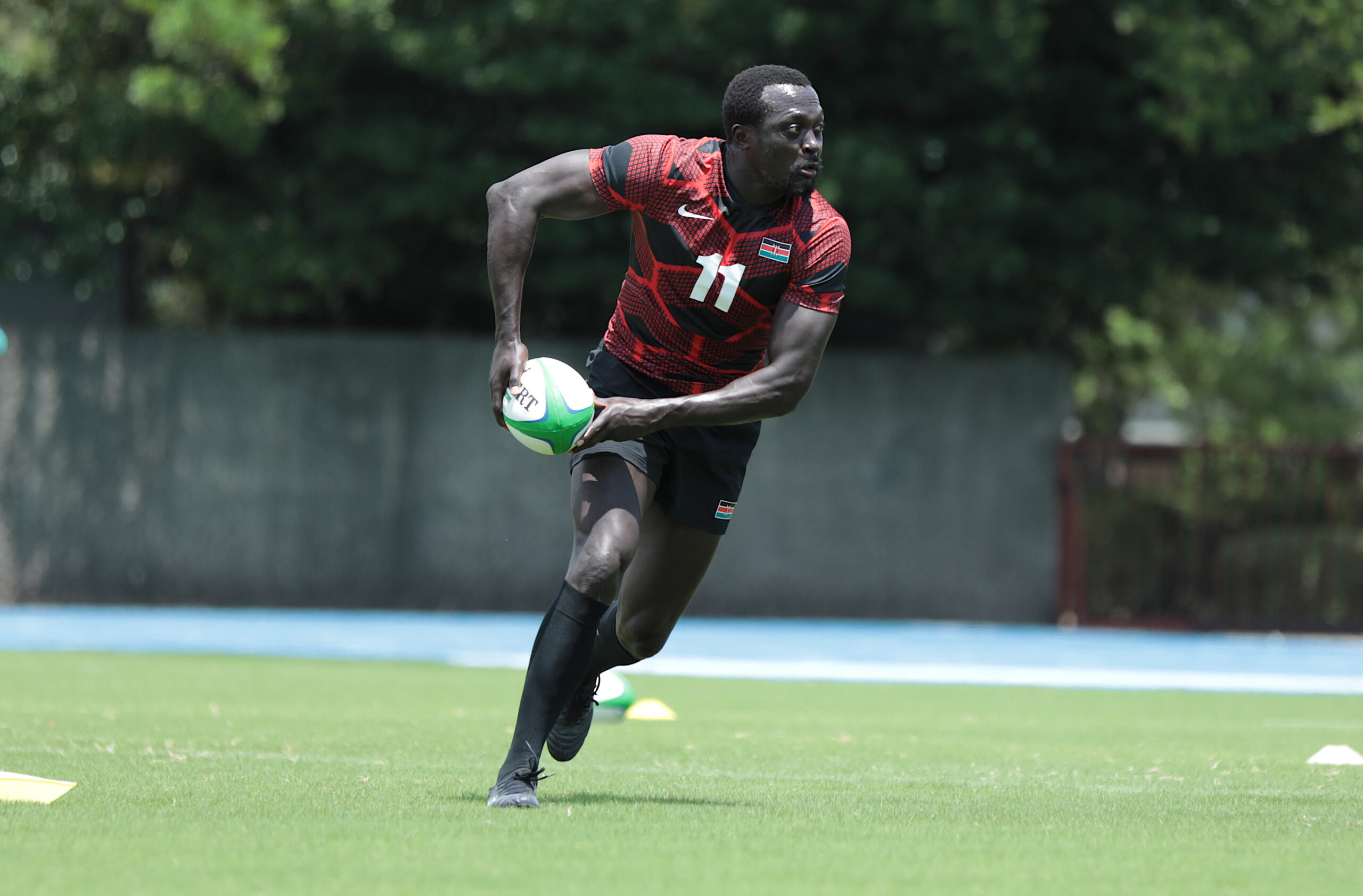 Collins Injera is the second all-time top try scorer in World Sevens history
He has primarily played for Mwamba locally
His last national team assignment was with the 15s in the World Cup qualifiers
World Rugby Sevens legend and Kenyan star Collins Injera has announced he has retired from rugby after a stellar and accolade-filled career.
Injera made the announcement on Tuesday morning in a statement.
"Everything must come to an end, sometime. I have always said that I will know it's time, because my body will tell me. And for the past few months it has really 'spoken' to me so, finally, I have decided to listen to it, "said Injera.
His last assignment with the national team was with the Kenya Simbas last year in their jiourney for qualification to the 2023 Rugby World Cup.
He played in the Africa Cup qualifiers, but missed the repechage due to injury. He is the younger brother of Humphrey Kayange, who also retired from the gamne four years ago.
Career spanning 17 years 
The speedstar, nicknamed Papa Locole by his peers made his Shujaa debut in 2006 and has driven a career for 17 years. He went on to score 279 tries in the World Rugby Sevens Series, including 42 to be crowned the World Rugby Sevens Series 2008/2009 top try scorer and 2009 Kenyan sportsman of the year (SOYA).
Injera, an alumnus of Vihiga High School, first played his local club rugby for Ulinzi before moving to Mwamba, also featured at the 2016 and 2020 Olympics and was part of the 2016 Singapore Sevens winning squad.
"As hard as this is for me, after 17 years of literal blood, sweat and tears, it's time to step away from this great game that has given me so much more than I could ever ask for. Thank you, Lord, for giving me the strength, opportunities, and protection to be able to play the game I really love for this long," said Injera.
The Kenyan international also paid tribute to his family and team mates, saying, "To my wife Chebet and my kids; Chloe, Clyde, and Carl, thank you very much for all the love, support and understanding you have given me all these years. Those days, weeks, and sometimes months that you have endured without my presence as I was busy chasing my dream across the globe are finally over. It's now time for me to spend much needed quality time with you. Thank you, mum, dad and Linda, for all the prayers, advice, and support. My brothers, Tall and Mike, we did it!"
"We managed to play together both locally and internationally."
Thank teammates, coaches and management 
"To all my teammates, coaches, management and opponents, thank you all for the memories we have created both on and off the field.We have shared some very high and low moments together. Thank you for being part of my journey and helping me achieve my dreams."
Commenting on life after rugby, Injera said, "For my next chapter I will continue with my humanitarian work and will be joining global satellite business (and UN Sustainable Development Goals Quality Education Partner), Avanti Communications, in an exciting new role to support its East African operations."
Kenya Rugby Union Director of Rugby and former Simbas Head Coach Thomas Odundo paid tribute to Injera, saying, " Collins has been a great servant of the game, scaling heights I don't think even he imagined.  I first played Collins in possibly some of the hardest matches any Kenyan has played – against the Southern Spears.  The trip was an eye opener for many of us, both coaches and players.  I believe he took the learnings from that trip to become what he is today. He was always a fast learner and adapted quickly."
"I wish him the best in his future endeavours and would genuinely like to see him remain in the game for a long time to come, possibly in other roles."
Collins Injera Milestones
Adelaide 7s Cup Final 2009
IRB Sevens Player of the Year Nominee 2008/9
IRB Sevens Top Try Scorer 2008/9
SOYA Awards Sportsman of the Year 2009
Order of the Grand Warrior of Kenya (OGW) 2009
Singapore 7s Cup Winners 2016
Vancouver 7s Cup Final 2018
Hong Kong 7s Cup Final 2018
Rugby World Cup 7s 2009, 2013, 2018, 2022
Commonwealth Games 2010, 2014,2018
Olympic Games 2016,2020