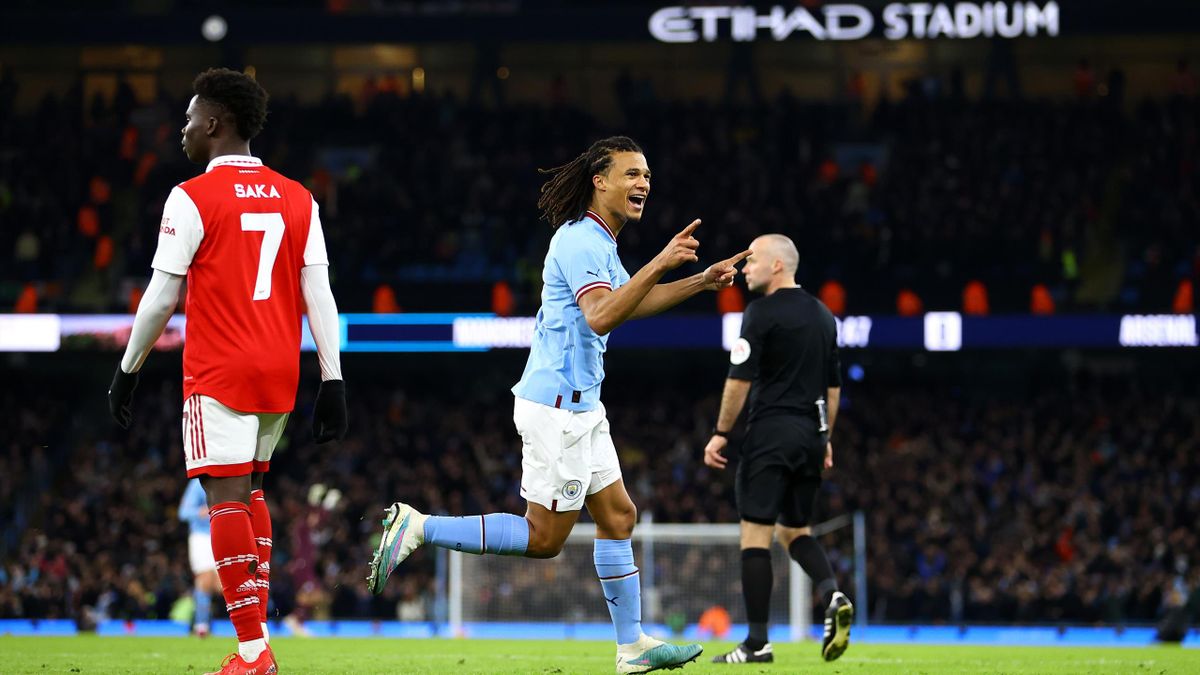 Manchester City hosted Arsenal at the Etihad in the FA Cuop fourth round
The clash saw the top two of the Premier League match up in the domestic cup
Manchester City defeated Arsenal thanks to a sole goal from defender Nathan Ake
As Pep Guardiola defeated Arsenal 1-0 in the FA Cup at the Etihad Stadium, Nathan Ake emerged as Manchester City's surprise champion in his latest conflict with former protégé Mikel Arteta.
On Friday, defender Ake made the difference in a match between surprise Premier League leaders Arsenal and a second-place City team that is still hanging onto their advantage in the top division.
With a quick sidefooted shot that went into the bottom-right corner and was beyond Matt Turner's reach, he provided the game-changing goal in the 64th minute.
This match serves as a preview of the top two's upcoming Premier League encounters, which are scheduled for February and April.
Although Stefan Ortega saved Takehiro Tomiyasu's powerful shot from just inside the penalty area in the fifth minute, Guardiola's City had a solid start.
Erling Haaland attempted to loop an overhead kick past Turner, who had sprinted off his line to make an interception, but Tomiyasu was there to block it at the other end.
Leandro Trossard, Arsenal's new winger, took on City right-back Rico Lewis and unleashed a left-footed shot into the far corner, but Ortega made a smart stop to keep it out.
Just before halftime, John Stones exited the game with what appeared to be a hamstring injury for City, while Kevin De Bruyne curled a shot from just beyond the penalty area a yard wide of the left post.
Turner reacted quickly to deflect a low cross from De Bruyne that was intended to set up Haaland for a tap-in early in the second half.
Just before the hour mark, City deployed Kyle Walker and Julian Alvarez and started to look more professional. A mere 10 seconds before Ake put City in front with a calm finish, Alvarez came close by hitting the right post.
Martin Odegaard, the team's captain, was one of the players brought on by Arteta from the Arsenal bench, but the Gunners were unable to force a rematch.
Domestic Cups out of Gunners' hand
Arsenal entered this match on a high after victories against Tottenham and Manchester United, but they made significant alterations that revealed Arteta's priorities. City also experienced significant changes, which is a sign of the times, given how unimportant the FA Cup is in comparison to the league these days.
How will it affect Arsenal? We'll find out in due time. With 14 victories over Arsenal in their last 17 matches across all competitions under Guardiola (D1 L2), City has now matched its record for victories against a single opponent since the former Barcelona manager took over in 2016. (also 14 against Burnley).
Both losses occurred in the FA Cup, but Arsenal was unable to complete a hat trick of victories in this competition. Guardiola has a career-high 18 victories over the Gunners, including contests played prior to his transfer to City.
This served as a bit of a warm-up for the impending league encounters, but you can be sure that won't be the case when they next meet. The two managers held back a bit.
City are without a game until Sunday week, when they travel to face Tottenham in the Premier League. Arsenal are next in action on Saturday, heading back north to tackle Everton.