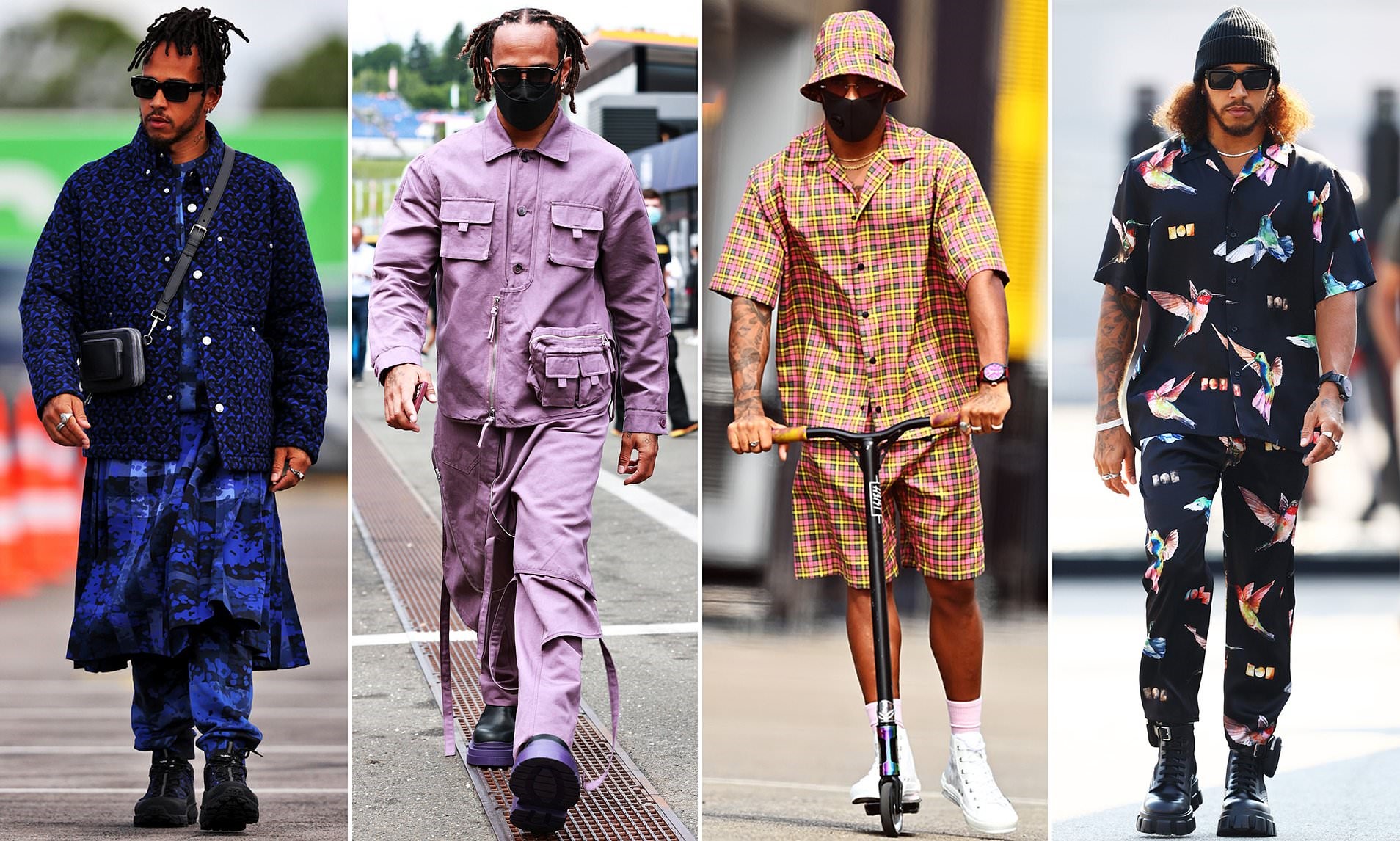 British racing driver Lewis Hamilton fashion style is an absolute head-turner
He has a huge reputation in the international fashion stage
Charles Leclerc is amazed by Hamilton's fashion boldness
British racing driver Lewis Hamilton fashion style is an absolute head-turner. Even with his success at Mercedes AMG-Petronas, he has a huge reputation on the international fashion stage.
You will bump into him often at fashion events and photoshoots. He's known for his unique sense of style and is considered a fashion icon. He also collaborated with some brands and designers like Tommy Hilfiger and Puma.
Charles Leclerc, a driver for Ferrari, admires Hamilton's distinctive sense of style and has praised the seven-time F1 world champion for his courage and excellent taste.
Leclerc further states that Hamilton has a lot of guts to flash the circuit's weirdest looks, making him a unique fashion guru.
WHAT CLOTHES DOES LEWIS HAMILTON WEAR?
Lewis Hamilton fashion style is eclectic and unique. He wears a wide variety of clothing items. These are some of his bold fashion statements.
Suits, often in bold colours like red or blue and designed by high-end fashion brands like Alexander McQueen, Valentino, and Dior
Streetwear, such as hoodies, sweatpants, and sneakers, often by brands like Off-White, Gucci, and Balenciaga
T-shirts and polos, often featuring bold graphics or prints
Leather jackets, often paired with other casual pieces like jeans or cargo pants
Sunglasses, many with interesting and unique frames
Jewellery, including rings, bracelets, and chains
Hat and caps, be it bucket hat or baseball cap
Keep in mind that Hamilton's fashion style is ever-evolving. One of his fashion reputations is he wears different clothes on different occasions.
HOW TO DRESS LIKE LEWIS HAMILTON?
If you're interested in emulating Lewis Hamilton fashion style, there are a few key elements you can incorporate into your own wardrobe as follows.
START WITH A MIX OF HIGH-END DESIGNER PIECES AND STREETWEAR
This combination of luxury and casual is one of the hallmarks of Hamilton's style and can be a great way to add some edge to your own outfits.
EXPERIMENT WITH BOLD COLORS AND PRINTS
Hamilton is not afraid of making a statement with his clothing choices, so don't be afraid to try something a little out of the ordinary regarding colour and pattern.
INCORPORATE SOME OF THE STREETWEAR PIECES
Tracksuits, hoodies, and sneakers are some of the common streetwear pieces  Hamilton wears.  Adding these to your wardrobe can give you a sporty and relaxed look.
ACCESSORIZE WITH JEWELRY AND SUNGLASSES
Jewellery, especially chains, bracelets, and sunglasses are also an essential part of Hamilton's style, so be sure to include some statement pieces in your outfits.
EXPERIMENT WITH DIFFERENT TYPES OF OUTERWEAR
Hamilton is often seen wearing leather jackets, bomber jackets, and parkas; these can add an extra layer of style to any outfit.
As with any fashion inspiration, take inspiration and make it your own. Make sure you're comfortable with your outfit and have fun with it.
IS LEWIS HAMILTON A FASHION ICON?
Lewis Hamilton fashion style is iconic, and he built a considerable fan base in the fashion world, just like in Formula One. He is known for his unique and eclectic sense of style, which often combines high-end designer pieces with streetwear and casual wear.
The seven-time F1 champion rocks different brands, such as the following:
Alexander McQueen
Off-White
Dior
Givenchy
Valentino
Gucci
He also frequently wears exceptional jewellery. His many tattoos blend with his many outfits.
Hamilton spots a lot of sunglasses, many with exciting and unique frames. His confident, daring and consistent fashion sense makes him a trendsetter and an inspiration to scores of people.
More important, is his urge for sustainable fashion, which increasing popular.  His influence on fashion is evident from the attention and coverage his fashion choices receive in popular media, making him a true fashion icon.
Does Lewis Hamilton Have A Stylist?
Lewis Hamilton fashion style is courtesy of his stylist, Rachel Robillard. She has been working with him for a long time and is responsible for dressing him for various events, appearances, and photoshoots.
Robillard flanks Hamilton in many fashion events. She helps him maintain and enhance the looks that complement his image as a Formula One driver and a fashion icon.