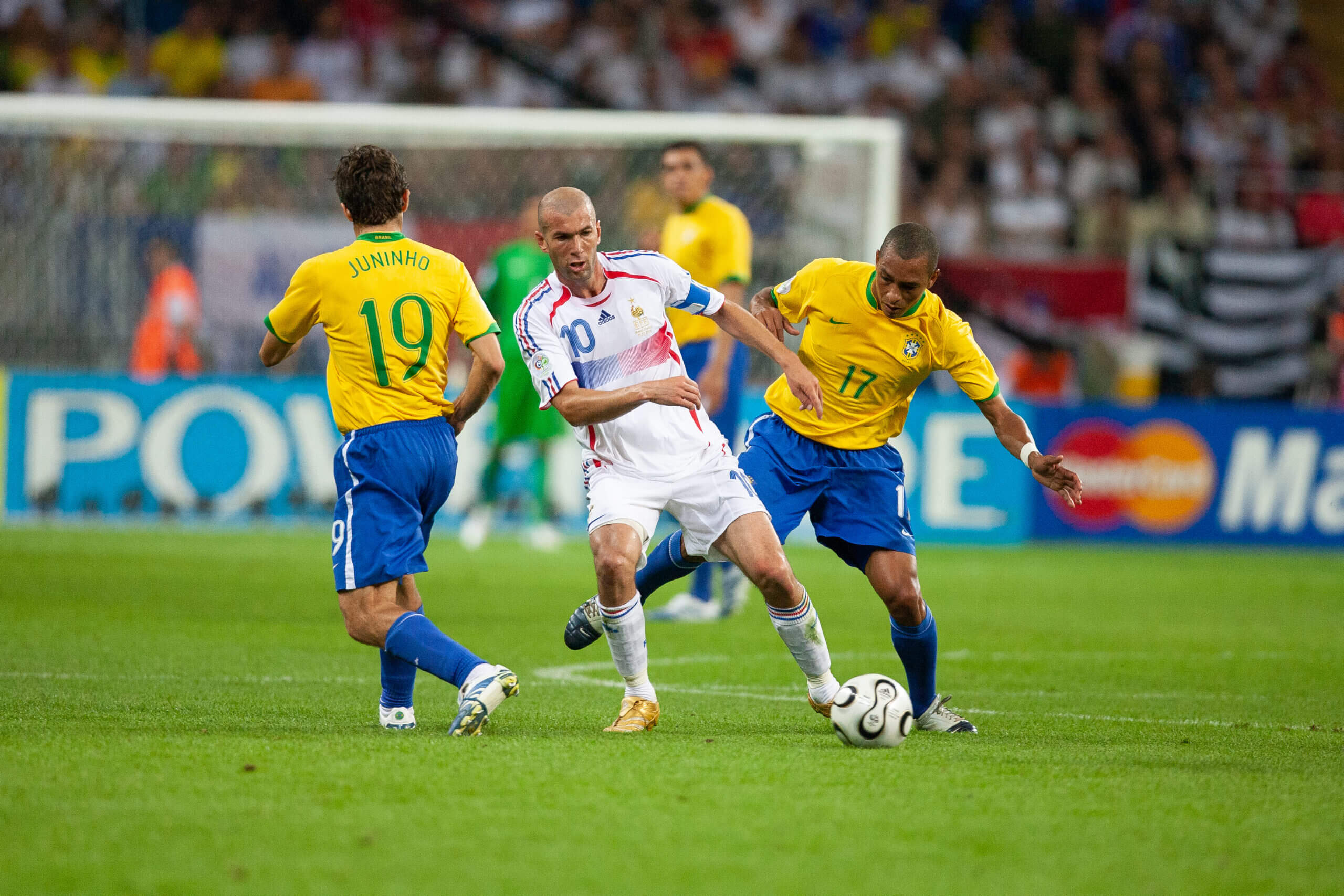 The beautiful game's history is littered with iconic figures who defined eras and occasions
The greatest testament to any player's legacy is being remembered for their signature skill
Here are five legendary footballers and their unique signature moves
The beautiful game's history is littered with legendary figures who defined eras and occasions. Still, perhaps the greatest testament to any player's legacy is being remembered for their signature skill.
In the confines of a team sport, creative ingenuity is all the more admired. This group of iconic players was never afraid to express themselves with extraordinary pieces of individualism.
Here are five legendary footballers and their unique signature moves:
Zinedine Zidane – Roulette
He was the greatest footballer of his generation, with unrivalled touch and technique throughout a storied career of skill and success.
The roulette, also known as the pirouette and the Marseille turn, has been performed by several leading names, including Garrincha and Diego Maradona, but perhaps never with the artistic grace of Zinedine Zidane.
Images of Zidane spinning away from challenges are a microcosm of the player's magic, a playmaker for whom time seemed to stand still whenever he received possession.
Zidane was the star amongst both France and Real Madrid stars, creating moment after moment of majestic magic, including his fabled signature spin, and was the protagonist for club and country.
Ronaldo(R9) – Step-over
Ronaldo Nazario perfected the step-over, one of modern football's most commonly used skills.
Many consider the original carnation of what would become a famous footballing name to be the most significant number nine to have graced the game, an implausibly complete footballer whose bullish strength and balletic balance captivated in full flight like few others.
Defenders were at his mercy when a teenage Ronaldo set foot in Europe, with backline after backline failing to stop the exhilarating Brazilian and his incredible whirlwind of speed and skill.
Ronaldo's extensive repertoire included a variety of tricks, but none were as well-known as the step-over. The image of the striker feigning one way before flashing the other is one of the most defining of 1990s Football, with the flawless execution of the technique perplexing many defenders- especially a goalkeeper.
Juninho – Knuckleball free-kick
Juninho Pernambucano took more free kicks than any other player.
Knuckleball is now a common technique, with names like Cristiano Ronaldo, Gareth Bale, and Didier Drogba among those who have fired free-kicks with a lethal and deceiving dip. Still, Juninho was the innovative master of the modern phenomenon.
Juninho's best years were spent with Lyon, winning seven consecutive Ligue 1 titles while delighting crowds with his dead-ball skills. The Brazilian's brilliance was almost witchcraft, as he struck a ball that did not spin, causing it to swerve and shake, leaving opposing goalkeepers grasping at thin air.
Juninho claims his technique was influenced by past greats of Brazilian Football, a strike of a football that seemed to defy gravity and science and one that the playmaker has firmly established as his own.
Johan Cryuff – Cruyff turn
Johan Cruyff's impact on Football is likely to be indelible. He was a pioneer of Total Football and a pivotal figure in the histories of Dutch Football and Barcelona.
The three-time Ballon d'Or winner is also the creator of arguably Football's most famously named skill, Cruyff turn shooting, which rose to prominence during a 1974 World Cup match between the Netherlands and Sweden.
The move began with Cruyff facing his own goal and tightly marked before faking a pass and dragging the ball behind his standing leg to spin 180 degrees and confuse the defender.
The Cruyff turn is another indelible mark left on Football by one of the greatest players of all time. It is so simple yet almost impossible to stop.
Ronaldinho – Elastico
Ronaldinho's brief reign as Football's best player saw the Brazilian humiliate defenders in trademark style, all while smiling.
Ronaldinho's joyous demeanour was palpable whenever he took the field; he relished his role as an on-field entertainer, his showboating demeanour endearing him to fans worldwide.
Under-the-wall free-kicks and no-look passes are among the skills that the former Ballon d'Or winner helped popularize, but it is the elastico that he will be remembered for.
Dribbling at breakneck speed and with spellbinding skill, Ronaldinho would flip the ball one way with the outside of his foot, then bring it back in one movement with the inside of the same foot, leaving opposing players befuddled.
A gifted genius whose sense of humour and wit inspired a generation.