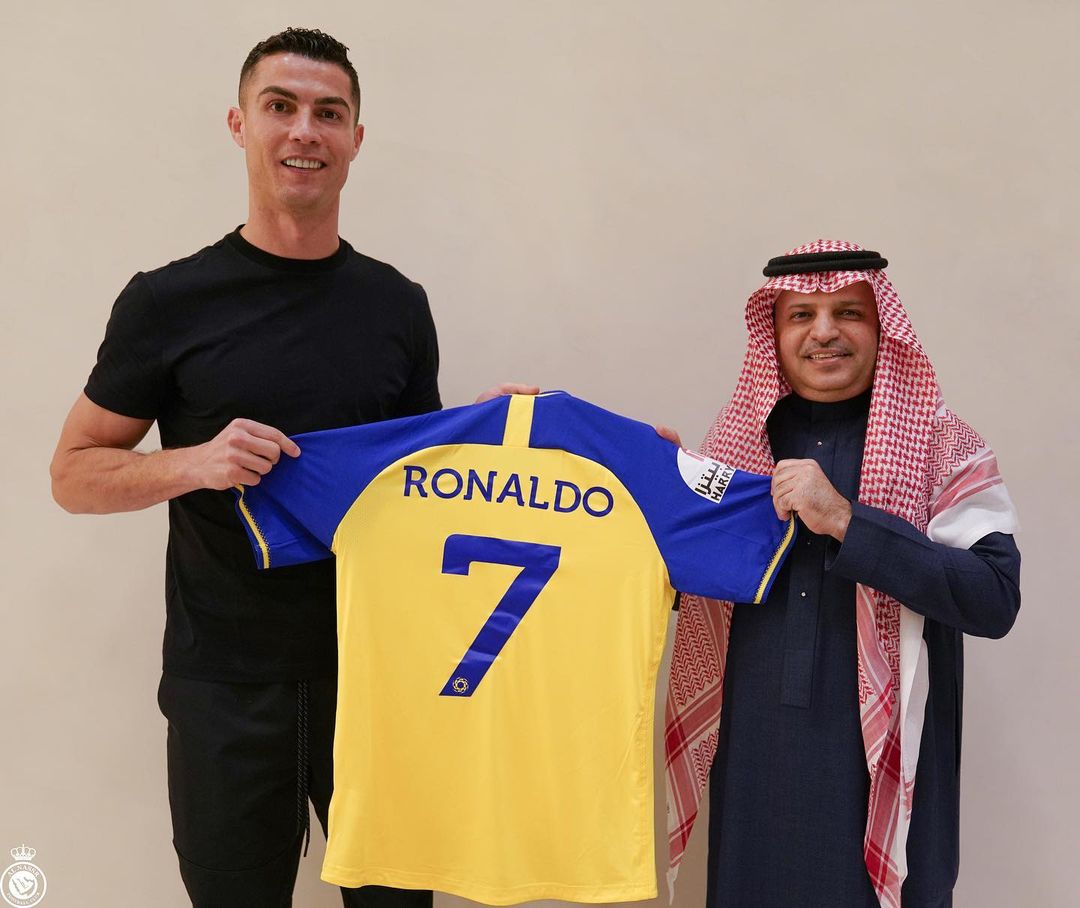 FA banned Ronaldo for two games
He was also fined £50,000 for kicking a fan's phone
He later apologised over the incident
Al-Nassr head coach Rudi Garcia has announced that Cristiano Ronaldo will play his first game on January 22 against Ettifaq to allow a lapse of his FA suspension.
The Saudi club introduced the Portuguese forward last week, but he is currently on suspension after kicking a fan's phone during the Manchester United vs Everton match in April.
FA banned him for two matches which saw him miss last the first two matches that Al-Nassr played since his unveiling a week ago.
The Football Association also fined Ronaldo £50,000 on top of the two-game suspension over the incident that occurred at Goodison Park in April 2022.
Social media users shared a video of Ronaldo shoving a little boy's phone out of his hand as he walked down the tunnel after Manchester United's 1-0 loss to Everton.
Ronaldo did express regret for the "outburst" on his personal social media pages and made the owner of the phone an offer to allow the young fan to watch a match at Old Trafford "as a gesture of fair play and sportsmanship."
Merseyside Police also issued a warning to the 37-year-old former Manchester United forward.
With an end to his FA suspension, Ronaldo will play against Paris St. Germain. On January 19, Lionel Messi's club will play Al Nassr and Al Hilal in Riyadh.
Garcia told L'Equipe that Ronaldo would play this match.  This match will mark his debut for Al Nassr in the Saudi Pro League.
Garcia hopes that Cristiano Ronaldo will enjoy playing with all his heart in the Saudi Arabian pro league.
Speaking on the sidelines of Dakar Rally currently going down in Saudi, Garcia said his wish is to see Ronaldo happy while playing for the Saudi team.
He cited that the last year was incredibly hard for Ronaldo because he had a long-running tiff with his former club Manchester United and his national team as well during the FIFA 2022 World Cup.
Given such history, he wants Ronaldo to take time and immerse himself in the goodness of playing football.
"The only thing I wish for Ronaldo is that he rediscovers the pleasure of playing and smiles again because in recent months between Manchester United, the national team and then at a personal level, he hasn't had easy moments," reports This Day Live.
Ronaldo, a five-time winner of the Ballon d'Or, signed a contract with the Saudi club through 2025 in a deal for reportedly €200 million. The former star of Juventus and Real Madrid, whose contract with Manchester United was terminated following a contentious disagreement, will play his final days of international football here.
Ronaldo's presence at Al-Nassr, a 1955-founded club, rekindled allegations that Saudi Arabia was once more engaging in "sports washing," a term used to divert attention from the country's human rights record.
Now a week since his signing, the club's Instagram following has risen from 500K followers to 11 million followers. Ronaldo completed his medical prior to the unveiling on Tuesday. The Portuguese star uploaded a snapshot to his Instagram account with the message, "Medical done!"