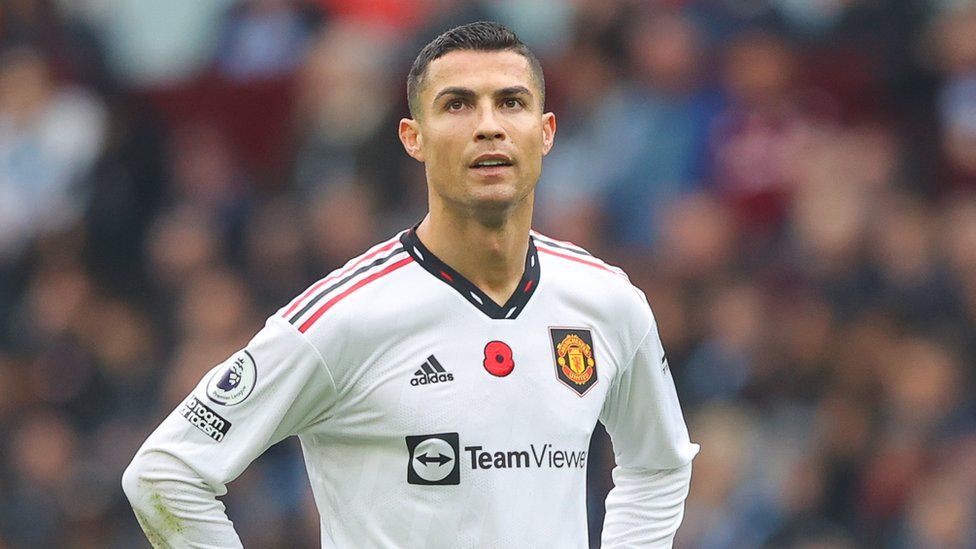 Cristiano Ronaldo has been fined and handed a Premier League ban by the Football Association ( FA)
Ronaldo who just left Manchester United has been fined a fee of  £50,000 – $59,700 by FA
The striker has also been handed a Premier League ban following his incident with a fan at Goodison Park in April
The Football Association has punished Cristiano Ronaldo for an incident at Goodison Park in April by fining him £50,000 and suspending him for two matches.
Following Manchester United's 1-0 loss to Everton, video showed Cristiano Ronaldo shoving a little boy's phone out of his grasp as he walked down the tunnel surfaced on social media. The decision and a written statement outlining the judgment will be made public by the FA later today.
Ronaldo, who left Manchester United on Tuesday by mutual consent, has been charged with improper behavior. If found guilty, he will now be suspended for two Premier League games if he joins another team in the English top division, with Newcastle being a rumored option.
The 37-year-old forward has also received a warning from Merseyside Police. He is scheduled to feature in Portugal's World Cup opener against Ghana on Thursday.
Ronaldo did apologize via his own social media accounts for what he called a "outburst" and offered to let the young supporter witness a game at Old Trafford "as a gesture of fair play and sportsmanship" to the owner of the phone.
Ronaldo wrote on his Instagram: "It's never easy to deal with emotions in difficult moments such as the one we are facing. Nevertheless, we always have to be respectful, patient and set the example for all the youngsters who love the beautiful game.
"I would like to apologise for my outburst and, if possible, I would like to invite this supporter to watch a game at Old Trafford as a sign of fair-play and sportsmanship."
Mother of the 14-year-old supporter Sarah Kelly has refused to accept Ronaldo's apology for the altercation.
Ronaldo has been on the headlines the past two weeks. The 37-year-old attacked the team and declared that he had "no regard" for manager Erik ten Hag in a contentious interview, which led to the decision to terminate his Manchester United contract.
"The club thanks him for his immense contribution across two spells at Old Trafford," said a Manchester United statement seen by SportsLeo.
They wished "him and his family well for the future" and added "everyone at Manchester United remains focused on continuing the team's progress under Erik ten Hag and working together to deliver success on the pitch".
On his side, Ronaldo punished a statement confirming he is leaving the Premier League side, "Following conversations with Manchester United we have mutually agreed to end our contract early," said a statement from the forward.
"I love Manchester United and I love the fans, that will never ever change. However, it feels like the right time for me to seek a new challenge.
"I wish the team every success for the remainder of the season and for the future."