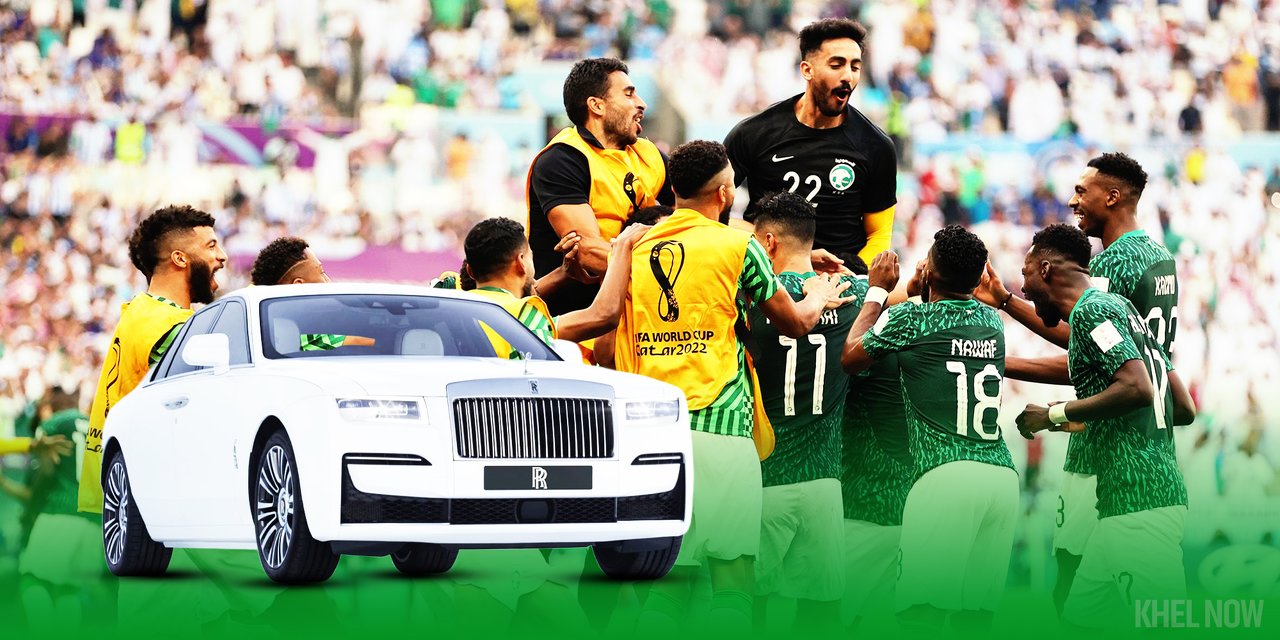 Herve Renard, the head coach of Saudi Arabia's national team denied these reports
A Pakistani dentist was behind this lie
Saudi Arabia is proud of her matches  in Qatar
Herve Renard, the head coach of Saudi Arabia's national team The Green Falcons has refuted claims that his players will get a brand new Rolls Royce from the Royal Family.
Earlier reports suggested that Saudi Crown Prince Mohammed bin Salman Al Saud would gift each player a Rolls Royce after their epic victory against Argentina.
Recently, it has come to light that this was just a rumour propagated on Twitter by a Pakistani dentist who is also a social media star.
Renard publicly refuted this rumour citing there was no such offer by Prince Mohammed bin Salman Al Saud.
"There is nothing true about this. We have a very serious federation and ministry of sport, and it is not the time to get something at this moment," the Green Falcons coach told the press.
The team's striker Saleh Al-Shehri seconded Renard's sentiments, adding that they were all out to serve their country.
Saudi's victory over Argentina with top players such as Lionel Messi shook the pre-tournament favourites in a dramatic fashion. Malay Mail reported that the Crown Prince saw them as heroes for posting a 2-1 win against Messi's team.
Prince Mohammed bin Salman announced a public holiday to celebrate the national team's first victory. Such a holiday means endless feasting by Saudi citizens on rice, mutton and chicken.
According to numerous accounts that picked the Pakistani's story, Bin Salman promised the team a Rolls-Royce for each player. The price of the opulent Rolls Royce Phantom starts at £363,600 ($439,628).
For Bin Salman, who reportedly has an $8 billion net worth, that amount would be equivalent to £9.4 million ($11,365,530). The V12 sports automobile, which has 48 valves, and direct gasoline injection, are worth about €500,000. Its maximum output is 460 horsepower (338 kW) and 720 Nm (530 lb-ft) of torque.
The lowest-ranked team at the World Cup – position 51 by FIFA ranking – Saudi Arabia, defeated Argentina in their Group C opening, snapping a 36-game winning streak. Saudi Arabia is currently rated 51st in the world, according to FIFA.
In one of the greatest World Cup upsets ever, goals from Saleh Al Shehri and Salem Al Dawsari occurred after Lionel Messi's opening strike.
However, on Saturday, Group C was wide open after the team lost to Poland 2-0. Poland got a chance to get to the World Cup 2022 knockout rounds after defeating Saudi Arabia in their second group game.
Before Robert Lewandowski ultimately scored his first-ever World Cup goal to secure the victory over Saudi Arabia, Piotr Zielinski put Saudi Arabia on the board first.
Zielinski scored Poland's first goal with a deft finish against the flow of play in the 39th minute. This earned the Polish team four points against Saudi's three points.
Poland is now focusing on their challenging final group match against Argentina, where a win or a draw would guarantee them a spot in the round of 16, while a loss might result in a variety of potential scenarios.