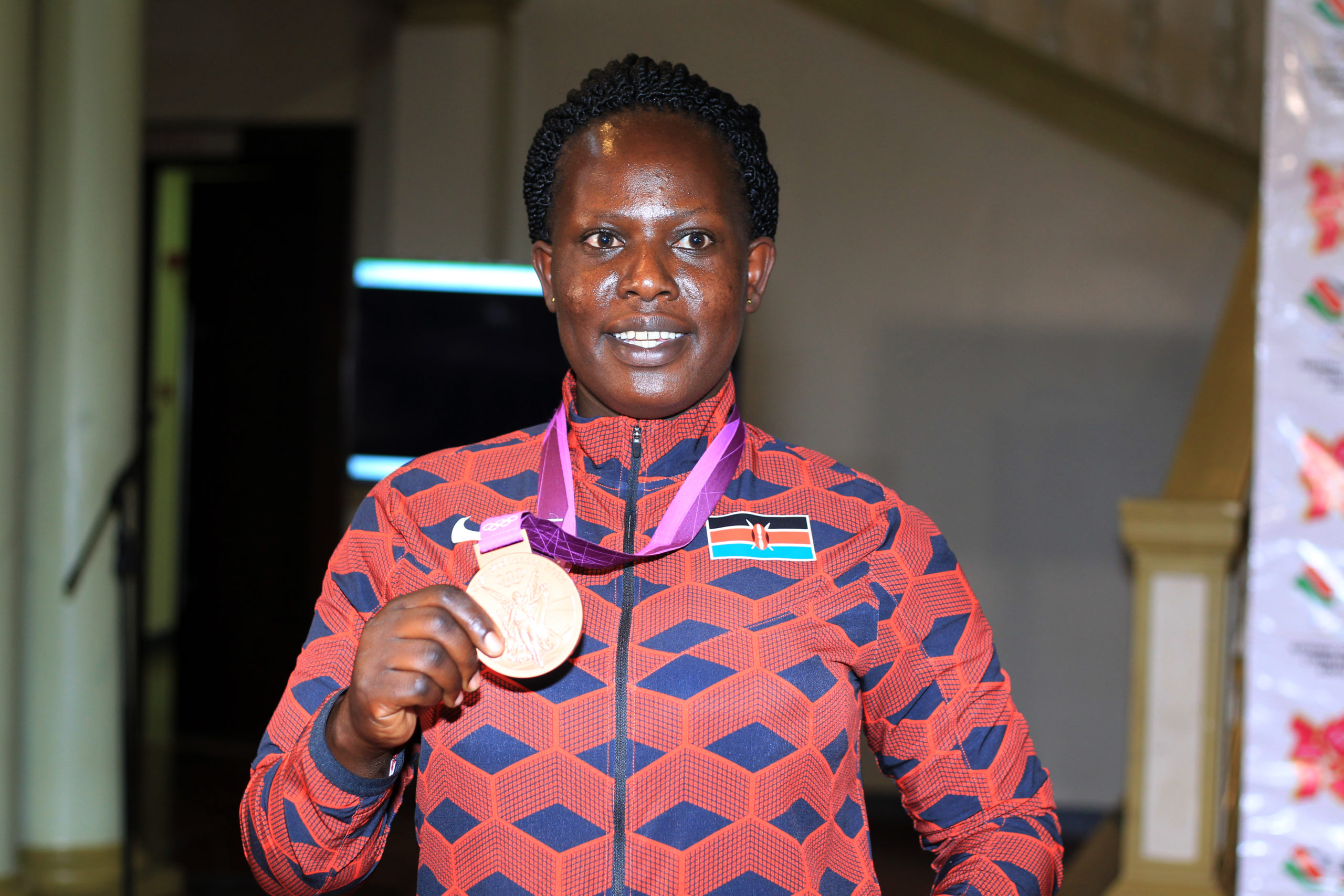 Pamela Jelimo latest news is hearty
She receiving a bronze medal 10 years after the 2012 London Olympics Games
Russian Mariya Savinova who won the race was then indicted for doping
Pamela Jelimo latest news is hearty after receiving a bronze medal 10 years after the 2012 London Olympics Games where she came in third.
This rolled out after Russian Mariya Savinova, who won the race, had her gold medal taken away for doping. Jelimo was placed fourth in 1 minute, 57.59 seconds but now qualifies for a third spot.
PAMELA JELIMO OLYMPIC MEDAL
With her accomplishments in the 800m at the 2008 Summer Olympics in Beijing, Jelimo became the first Kenyan woman to win an Olympic gold medal. The bronze medal adds to her victories in athletics, although she took a back seat in the sport.
She won the world indoor 800m title in 2012 and the 2008 Africa 800m. Pamela Jelimo latest news is that The National Olympic Committee of Kenya (NOC-K) officially presented her with the 2012 London Olympic Games bronze medal.
It came two days after turning 32. NOC-K president Paul Tergat, and the legendary Kipchoge Keino, a member of the International Olympic Committee (IOC) presided over the presenting ceremony.
Caster Semenya of South Africa and Ekaterina Poistogova, a Russian, scaled to gold and silver, respectively, after Savinova's indictment. Poistogova posted a record time of 1:57.23, and Semenya did 1:57.53.
OTHER KENYAN ATHLETES RECOGNITION IN 2012 LONDON OLYMPIC GAMES
Besides Pamela Jelimo latest news, Janeth Jepkosgei, the 2007 World 800m champion from Kenya, finished eighth in the event in 2:00.19. Hellen Obiri, who finished eighth in the women's 1,500m in the same Olympics, will both earn certificates.
A second Russian, Elena Arzhakova, who placed sixth in the same race in 1:59.21, was also disqualified for doping. Jepkosgei, who had finished eighth in the race in 2:00.19, was promoted to sixth as a result of Savinova and Arzhakova's disqualifications.
DOPING INVESTIGATIONS
The Independent Commission Investigation of the World Anti-Doping Agency (WADA) requested a lifetime doping ban for Savinova, who had won gold, and Poistogova, who had won bronze, on November 9, 2015.
Savinova's stripping of the gold medal came in February 2017, while Poistogova's two-year suspension, retroactive to October 2014, was announced in 2017. But her performance in London was unaffected.
In the women's 800m final, Alysia Johnson Montao (1:57.93) of the United States and Francine Niyonsaba (1:59.63) of Burundi came in fourth and fifth, respectively.
Aslakr Alptekin and Gamze Bulut, two Turkish athletes who placed first and second were among four athletes indicted for doping. Others are Belarusian Natallia Kareiva, who placed fifth, and Russian Yekaterina Kostetskaya, who placed sixth.
Those scaled to gold, silver, and bronze, respectively, were Maryam Yusuf Jamal (Bahrain), Tatyana Tomashova (Russia), and Abeba Aregawi (Ethiopia).
Aregwai was then suspended in 2016 for doping after switching allegiance to Sweden. After several years, Kenya is now the second country to receive Olympic medals or certificates.
PAMELA JELIMO NET WORTH
With Pamela Jelimo latest news, most of her fans can't help but ask about her wealth. Well, she is the Golden League Jackpot's first Kenyan winner in 2008. Despite having mostly vanished from the athletics scene, she still owns the 800m world junior record and the 800m senior African record.
Pamela has not made her precise net worth publicly known, like many other clandestine star athletes. She does, however, have a net worth that is reportedly between $1 million and $5 million.
A Police Officer by career, she never quit the service, even with her fame. She never left her employment at the National Police Service, despite her success and fortune. Jelimo is currently stationed at the Kenya Police Training College, which is based in Kiganjo, Nyeri County.
WHO IS PETER KIPROTICH MURREY TO PAMELA JELIMO?
Peter Kiprotich Murrey is Jelimo's ex-husband. He is a former Olympian who is bitter about his separation from his wife.
In a past interview with The Standard, Kiprotich says what was once a blazing union came tumbling down due to fame and money. He claims that celebrity status and wealth are to blame for their divorce.
Their once straightforward and contented marriage became extremely difficult and full of unnecessary and spiteful acquaintances who ruined everything.
"We moved from an almost invisible couple to this famous and wealthy couple by Kenyan standards. Suddenly, we had too many friends and advisers, most of whom we had not associated with at all before the money and fame," he recalls.