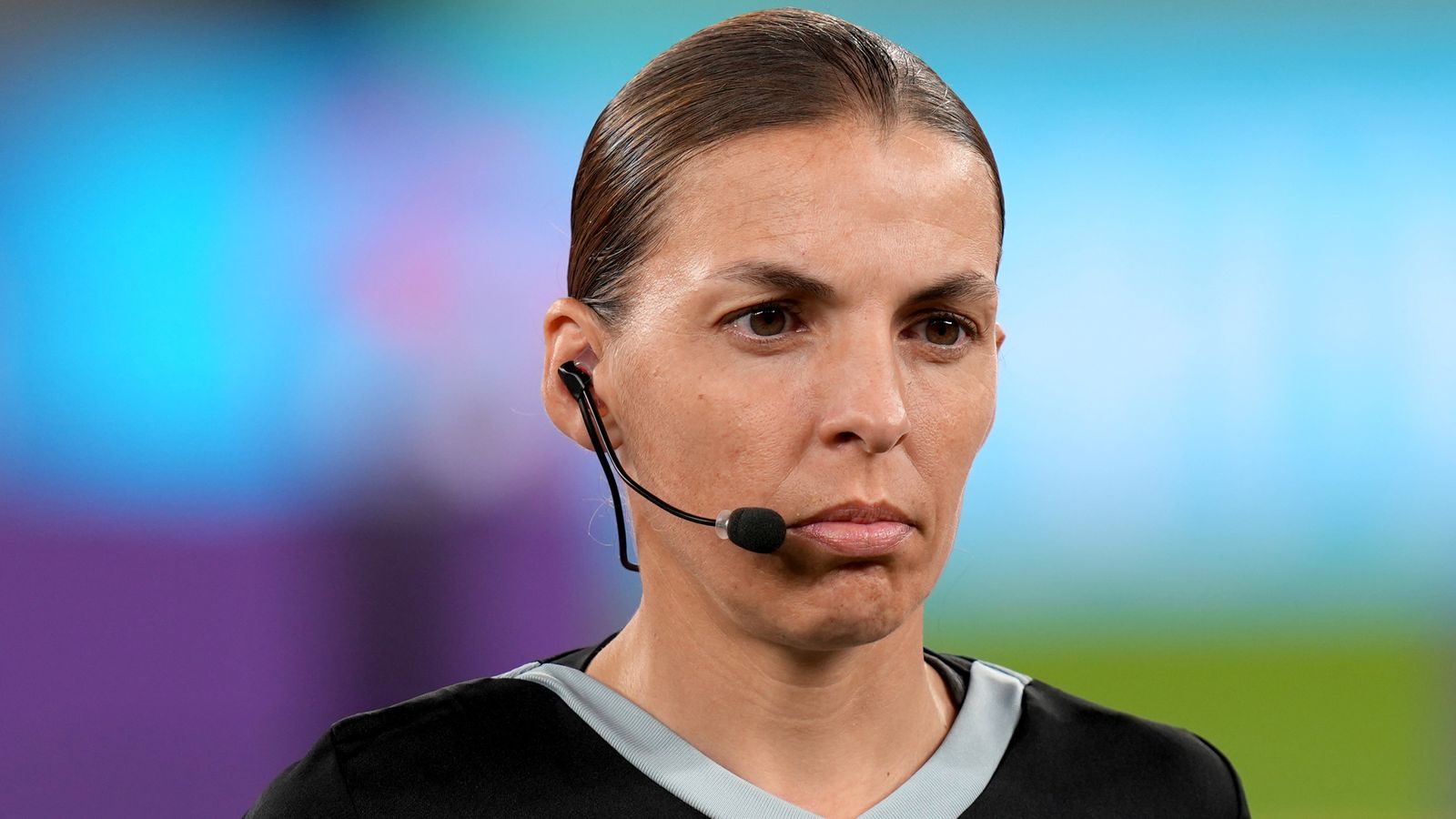 Stephanie Frappart will become the first female referee in a men's World Cup game. Frappart
She has officiated in the men's Champions League, Ligue 1 and World Cup qualifying.
 Stephanie captains an all-female refereeing crew for the Group E showdown between Costa Rica and Germany.
Stephanie Frappart will be the first woman to officiate in a men's World Cup when Costa Rica plays Germany on Thursday; an all-female referee team will take charge of a men's World Cup game for the first time.
When she was named as the fourth official for Mexico's game against Poland last Tuesday, the Frenchwoman became the tournament's first female official.
Poland and Mexico played out a goalless World Cup draw at a raucous Stadium 974, with Robert Lewandowski missing a penalty.
Six women referees will take the field for the first time in a FIFA Men's World Cup in Qatar, serving as both centre main referees and assistant referees.
In the football world, these women have been trailblazers, proving themselves as some of the top officials in the world regardless of gender over the last four to eight years. Referees who have officiated at FIFA Women's World Cup Finals, Olympic tournaments, FIFA Club World Cups, FIFA Youth World Cups, confederation finals and major tournaments, and even the top division and finals of both men's and women's professional soccer in their respective countries.
The All-Female Team
Frappart's team will include Brazilian Neuza Back, and Mexican Karen Diaz Medina for the Group E clash at Al Bayt Stadium on Thursday.
Kathryn Nesbitt of the United States has also been called up as an assistant.
"We know the pressure," Frappart said before the tournament, "but I don't believe we'll change. Be calm, focused, and concentrated, and don't think about the media or anything else other than the game."
The Frenchwoman, 38, also expressed hope that the inclusion of female referees in Qatar "would make things happen" on a larger scale.
"Having women referees in that country is a strong signal from FIFA and the authorities," she added.
FIFA has named three female referees to their list of 36 officials. Salima Mukansanga of Rwanda and Yoshimi Yamashita of Japan are also in Qatar.
In March of last year, Frappart became the first female referee to take charge of a men's World Cup Qualifier when the Netherlands defeated Latvia 2-0 in Amsterdam.
Past Assignments
She became the first female official to take charge of a men's Champions League match between Juventus and Dynamo Kyiv in December 2020.
Frappart also officiated the 2019 Super Cup final between Liverpool and Chelsea and the 2019 Women's World Cup final between the United States and the Netherlands.
On Thursday, Frappart will be joined by Brazilian Neuza Back and Mexican Karen Diaz Medina at Al Bayt Stadium.
When asked if she has ever received comments from players, managers, or fans because she is a woman, Frappart replied: "Since the beginning, I've had the support of teams, clubs, and players. I've always felt welcome in the stadium, so I'm like another referee on the field. I was always welcomed, and I believe I will be welcomed again."
Germany takes on Costa Rica on Thursday evening, knowing that only a win will put them in the round of 16.
Hansi Flick's team is at the bottom of Group E. Die Mannschaft trail second-placed Japan and Costa Rica by two points. Spain leads the group with four points after two games.