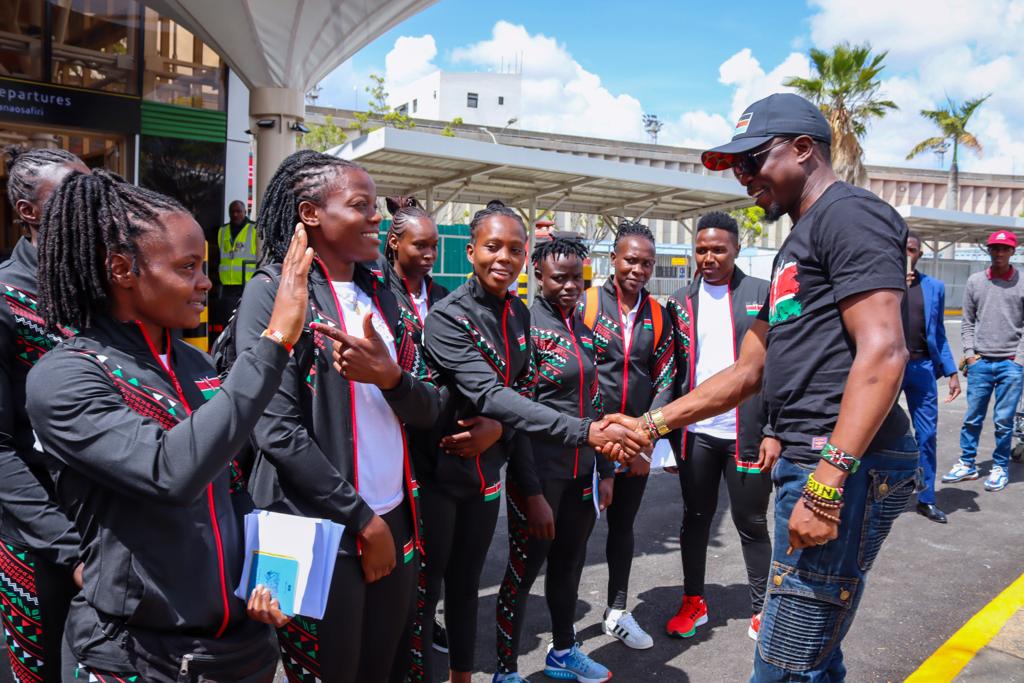 The Union has been rocked with a series of player unrests
The Sevens team took to social media to ask for financial help
The Lionesses almost missed the Dubai Sevens
Sports Cabinet Secretary Ababu Namwamba has swung in a warning to the Kenya Rugby Union to manage rugby better after coming out to bail the Kenya Lionesses who were staring at the possibility of missing the Dubai Sevens due to lack of funds.
The women's team were set to miss out on the invitational tournament after the Union failed to secure flight tickets and allowances, but the Ministry came to the team's rescue, bailing them out financially.
"I have earlier today seen off the Kenya National Women Rugby Team at JKIA who departed for the International Dubai 7s. The Lionesses had been left behind by the men team, Shujaas. Allowances for both teams are being paid direct to them. Kenya Rugby Union must manage rugby better," the CS said, as he saw off the team at the Jomo Kenyatta International Airport.
Namwamba further promised that all their allowances will be settled, and that the Government will ensure they are well catered for, even in future tournaments.
Fly the Kenyan flag high 
"Go to the tournament and focus on only one thing, to fly the Kenyan Flag high. Be assured that all your allowances will be paid to you directly." He said.
The Lionesses Commended the CS for making the trip possible.
"We are grateful as a team for the effort that you have made to ensure that we travel and participate in the tournament. This is really a special moment for us, and we promise you good performance from the tournament." Said the Captain.
The minister had a meeting with the team early this week, just after the senior men's team, Shujaa, went to social media to fundraise to help the team get allowances for the Dubai and Cape Town legs of the World Rugby Sevens Series.
This attracted the minister's attention, and he ended up finding more rot in the management of rugby in the country. According to sources, the Shujaas have gone three months without pay and have no contracts for the new season while the Lionesses are unpaid in five months.
Staff unpaid for three months
At the Union, staff has not been paid for the last three months.
During the meeting, Namwamba expressed his disappointment at how the players were treated, saying they deserve better.
"I have had a very candid meeting with the union. I have read the riot act to them. It is good that you (media) have asked them to apologize to the players because they have not treated the players well. They (KRU) owe them more than an apology. They have to make it up to the players," Namwamba said.
He added; "One question I have posed to the union is why rugby is struggling to secure sponsorship. It is such a premium brand and should not be struggling to get sponsors. We will help them get sponsors and one of the things we will do is to convene a sponsors' roundtable, which I will host."