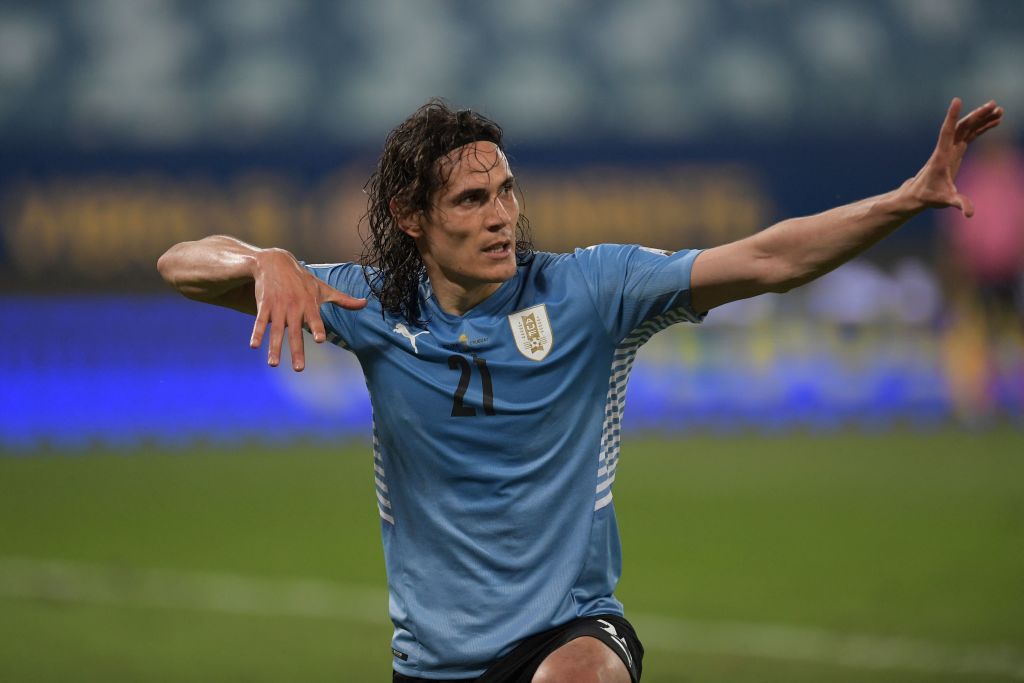 Edinson Cavani is a footballer who plays for Valencia and the Uruguay national team. 

Known for his goalscoring ability, Cavani is one of the best strikers of his generation. 

Edinson Cavani has an estimated net worth of $40 million. 
Edinson Cavani biography brings you facts about his life story before fame, on and off-pitch activities, as well as family life.  
Edinson Cavani is a professional footballer who plays for La Liga club Valencia and the Uruguay national team.
Cavani is undoubtedly one of the best strikers of his generation. He is known for his clinical finishing, heading ability and intelligent movement off the ball. 
Nicknamed El Matador, which means The Bullfighter, Cavani has played for notable European teams in his career.
Apart from winning several individual awards, Cavani has also won numerous trophies with the different clubs he has played for. 
While representing the Uruguay national team, the 35-year-old has made 133 appearances and scored 58 goals. He is in Uruguay's squad that will play in this year's World Cup tournament in Qatar. 
Edinson Cavani Biography 
Full Name                           Edinson Roberto Cavani Gomez 
Date of Birth                      February 14, 1987 
Age                                       35 
Place of Birth                     Salto, Uruguay 
Height                                  1.84 m (6 ft 0 in) 
Nationality                         Uruguayan 
Occupation                         Footballer 
Marital Status                    Divorced 
Early Life 
Edinson Cavani biography has it that he was born on February 14, 1987, in Salto, Uruguay. His parents are Luis Cavani and Berta Gomez. 
Cavani is the last born in a family of three male children. Young Edinson Cavani idolised Argentine striker Gabriel Batistuta. 
El Matador began playing football at a very young age in his neighbourhood. He played against older boys, who mostly roughed him up. 
Edinson Cavani joined Danubio academy in Montevideo, where he developed through the ranks. Due to his impressive performance, the club offered him an official youth contract. 
Career 
Edinson Cavani made his debut for Danubio in 2005 and continued to impress as he did at the academy. As a result, several top teams like Juventus and AC Milan began showing interest in him. 
However, it was Palermo who won the race as Cavani joined the club in the January transfer window of 2007. 
Palermo 
Edinson Cavani made his debut for Palermo on March 11 against Fiorentina, coming on as a second-half substitute when his side was trailing 1-0. He scored the equaliser to help his side secure a 1-1 draw. 
The Uruguayan international was a key player in Palermo's squad during the 2008-09 and 2009-10 seasons. His impressive performance saw him earn a move to Napoli. 
Napoli 
Edinson Cavani joined Napoli on loan in July 2010 and scored twice in his first start for the club. At the end of the 2010-11 season, El Matador had recorded 26 goals in 35 appearances across all competitions. 
Napoli signed Cavani on a permanent deal before the start of the 2011-12 season for a total fee of 17 million euros. The Uruguayan international established himself as the most lethal attacker in Serie A as he helped Napoli win the Coppa Italia. 
Paris Saint-Germain 
Edinson Cavani joined PSG in July 2013 for 64 million euros, the sixth-largest transfer fee at that time. 
Well, the amount PSG paid for the talented striker was worth it, as he became one of the club's best players for the next seven years. 
By the time Cavani left PSG, he had helped them win six Ligue 1 titles, four Coupes de France and five Coupes de la Ligue. He is PSG's all-time top goalscorer.
Manchester United 
Edinson Cavani joined Manchester United in October 2020 and was handed the number 7 shirt. In his debut season, he scored 17 goals and helped the Red Devils reach the finals of the Europa League. 
After struggling with injuries, he left the club at the end of the 2021-22 season. 
Valencia 
El Matador secured a free transfer to La Liga side Valencia on August 29, 2022. 
Personal Life 
Edinson Cavani biography would be incomplete without talking about his personal life.
The 35-year-old comes from a footballing family. His elder brothers, Walter Guglielmone and Christian Cavani, are professional footballers. 
Edinson Cavani is fluent in French, Italian and Spanish. He holds Italian citizenship and is a devout Christian. 
Cavani was married to Maria Yarrus between 2007 and 2013. The couple had two sons, Bautista and Lucas. 
He is currently in a relationship with Jocelyn Burgardt, and they have a daughter. 
FAQs 
What is Cavani's net worth? 
$40 million. 
What is Cavani's transfer value? 
Approximately $5 million. 
Who is Cavani's girlfriend? 
Jocelyn Burgardt. 
What is Cavani's salary at Valencia? 
80,000 euros per week. 
What is Cavani's height? 
1.84 m.