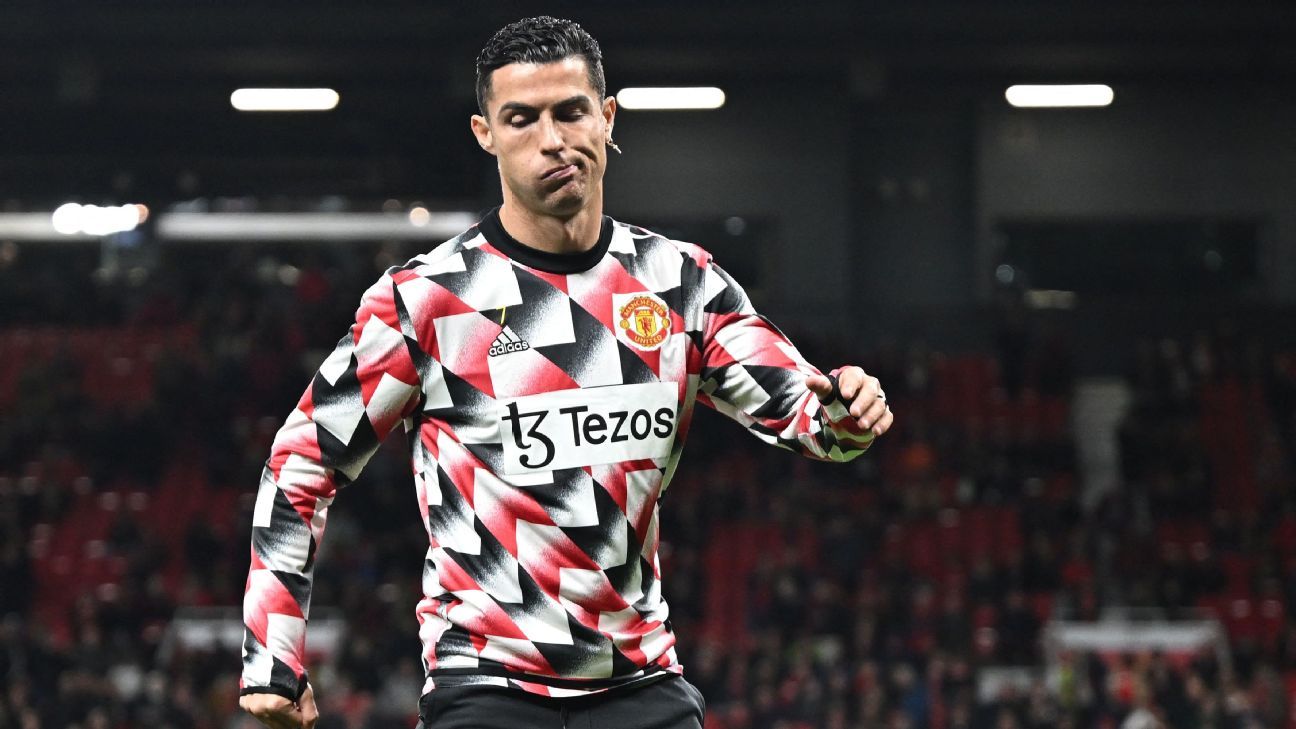 Manchester United manager Erik ten Hag is done with Cristiano Ronaldo
He remains firm in his decision on doing away with Ronaldo at Old Trafford
Ronaldo seems unbothered, nevertheless by all this
Manchester United manager Erik ten Hag is done with Cristiano Ronaldo and doesn't want him to play ever again for the club.
This follows Ronaldo's Sunday night interview with Piers Morgan on TalkTV and later published by The Sun. The Portugal international said Ten Hag doesn't respect him, and he can't respect a football manager who doesn't respect him.
"I don't have respect for him because he doesn't show respect for me. If you don't have respect for me, I'm never gonna have respect for you," said the Old Trafford player.
Last month, when Manchester United defeated Tottenham 2-0, the team's striker refused to come off the bench, prompting Ten Hag to be fine and force Ronaldo to practise alone.
In the end, Ronaldo expressed regret and resumed playing for the first team the following week, but he is still angry at Ten Hag. He was benched, and the manager said this decision came from top ranks in the club who cited that United is bigger than a single player.
ESPN now states that Ten Hag advised Manchester United management that Cristiano Ronaldo should not play for the club again following his most recent transgression.
The Manchester United manager had a meeting with co-chairman Joel Glazer, chief executive Richard Arnold, and football director John Murtough on Monday. After this meeting, the Red Devils said they were seeking legal advice on how to handle the situation.
Nonetheless, Ten Hag said that Ronaldo went too far in his criticism of the club. He said that he would be pleased to see the club cancel his contract.
The timing of the striker's outburst, with portions of the interview becoming public just hours after Alejandro Garnacho scored the game-winning goal against Fulham, has sources telling ESPN that a number of senior players are incensed.
Despite his conviction that a fit and motivated Ronaldo can benefit his team," Ten Hag implores club managers that he is not willing to compromise unity within the squad to accommodate the Portugal international.
Ronaldo deeply criticized United on its leadership, drawing reference to Ole Gunner Solksjaer's sacking and replacing him with Ralph Rangnick on an interim basis.
Ronaldo told Morgan that it beats logic how Rangnick, a sporting director, became an interim manager before Ten Hag came in because it hurt the club's performance. The Man United striker accused the Glaziers Family of running the club like a marketplace.
Kaveh Solhekol, a SkySports reporter now predicts doom for Ronaldo at Old Trafford. He says that with the jibing interview, he is unlikely to play for the club.
Further, Solhekol feels that Ten Hag's problem is no longer the club's problem. It has grown to such a size that owners and other top club officials must handle it.
This explosive interview birthed two factions, one supporting Ronaldo while the other castigates him for 'thinking is bigger than the club'.