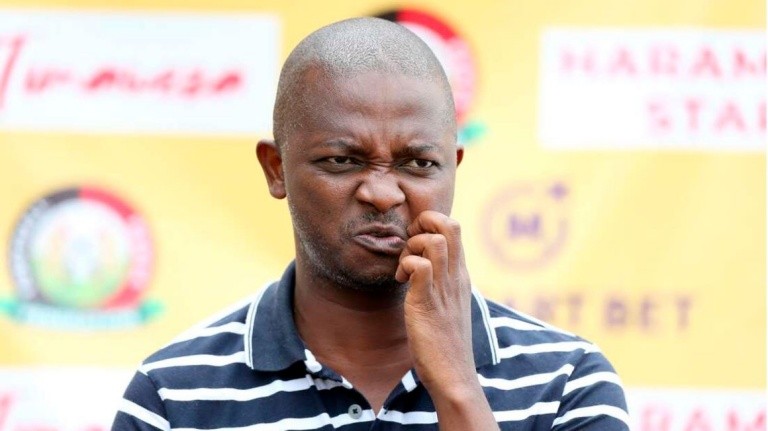 Kenya has been suspended by FIFA since February
The leagues are yet to start three months since initial dates
New Sports CS Ababu has met with FKF officials
Kenyan football is at crossroads, with the management of the game in confusion after the actions of former Cabinet Secretary Amina Mohamed to disband the Federation in November of 2021.
She formed a Caretaker Committee, which later morphed into a Transition Committee when its constitutional six-month term ended. But now, the state of football is in confusion, with no 'legitimate office bearers' after the last term of the Transition team ended mid this month.
Kenya has missed out on several football events since Amina's actions threw the country into international football cold.
The senior men's team Harambee Stars are out of the 2023 Africa Cup of Nations qualifiers and also missed qualification matches for next year's Africa Nations Championship (CHAN).
Starlets miss out on WAFCON qualification
The women's team Harambee Starlets missed qualifiers for the Women's Africa Cup of Nations while the Under-17, Under-20 and Under-23 teams have all missed qualification matches for African tournaments.
At the same time, Vihiga Queens, who won last season's Women's Premier League did not play the qualifiers for the Women's Champions League which begins on Sunday in Morocco while Tusker FC, winners of the FKF Premier League have not played in the Champions League due to the suspension.
Kenya Police FC who had travelled to Rwanda for pre-season training were also barred from playing friendly matches against local teams due to the suspension.
Now, all eyes are on new CS Ababu Namwamba to unlock the stalemate and return Kenyan football to normalcy. He had an initial first meeting with FKF boss Nick Mwendwa last week on his first day in office as a precursor to more talks.
"The meeting went well and there is another scheduled for this week after which we will probably find the way forward. He (Ababu) is very keen to come up with a solution," a source close to the Federation told Sports Leo.
Ababu in contact with FIFA
Namwamba said he has already been in contact with FIFA and they have started talks to lift Kenya's suspension. FIFA, in their last letter to Kenya in March, said the only way to lift the suspension was if the elected officials are allowed back into office.
FKF boss Nick Mwendwa currently has a case in court over alleged misappropriation of funds. The case has been thrown out twice before due to lack of evidence and most likely, it will take the same route again.
The leagues are yet to start due to the confusion as to who is managing the game.
And now, clubs are looking towards Namwamba to provide a solution.
Two weeks ago CEOs of FKF Premier League clubs met and boycotted the league organized by the Transition team and said that probably the league would start mid-next month. The meeting was attended by FKF CEO Barry Otieno, a clearest sign that normalcy will return.
But, there has been a sense of uneasiness with clubs in prolonged pre-seasons, but they are hopeful that Namwamba will come up with white smoke and offer a solution.