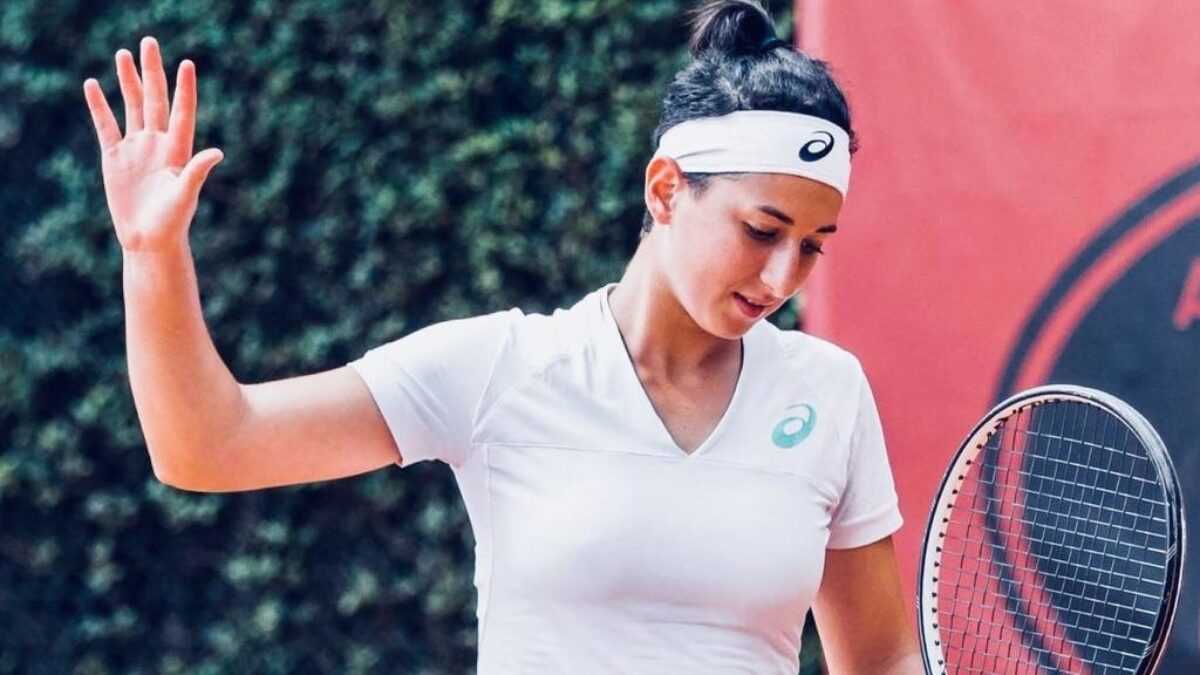 Ines Ibbou, a tennis player from Algeria has a different feel of tennis
Since she is ranked world No 502, she has no sponsors
She foots all her travel expenses and buying playing apparatus such as rackets
Ines Ibbou, a tennis player from Algeria has a different feel of tennis, unlike her peers ranked top 200 in the world.
Currently ranked at world No.502, she doesn't know how to enjoy tennis spoils because, at her ranking, she doesn't get much. One thing she is perfect in is austerity by default.
Thus, life is drastically different on the other side of the planet as the best women's tennis players assemble in Fort Worth for the WTA Finals next week. There is $5 million in prize money
Ibbou competes on the International Tennis Federation (ITF) tour, where the payouts are significantly less than those in the Grand Slams.
For her, she knows that every expense must be carefully spent, a craft she is good in at just 23.
INES IBBOU CATERS FOR ALL HER TRAVEL EXPENSES
Ibbou told BBC Sport Africa that a week on tour might rapidly involve 1500 to 2000 euros ($1490-1990) of expenses. That's just for myself, without a coach or anyone else.
That includes air tickets that are now extremely expensive. One flight alone can cost up to 400–500 euros in tickets. Then there is the lodging, food, extras, and strings which they have to foot.
In contrast, she says players who make good sums of money are those ranked top 10 and not more than top 200. Being ranked above 200, you hardly make ends meet, she admits.
So, going forward, her ultimate goal is to compete at the highest level and rank among the top 200 players worldwide. Her life could change if she gets to this point.
ROOM SHARING TO CUT COST
In August, a tournament in the Canary Islands brought attention to the difficulties Ibbou endures as world No 502. This is despite winning her first tennis title at the age of 14.
If she had won, she would have received $60,000 in prize money as opposed to first-round losers at Wimbledon and the US Open, who receive $57,500 and $80,000, respectively.
Ibbou declared after her second-round exit that it becomes difficult to make a life in events like these. She travelled for 48 hours to Canary Islands after a while of looking for the lowest flight ticket.
She reveals that she competed against each other in a tiny hotel room that she shared with another tennis player. It benefits her when sharing a room because she only pays half of the cost of the room.
NO SPONSORS
Top-level tennis players have access to a variety of racquets thanks to sponsors.  They frequently switch between them during matches as they get ready to return serves and occasionally shatter them when things don't go their way.
Ibbou, however, only has four in her kitbag which she personally bought to keep her tennis dream alive. She has owned these rackets for two years now, and she can't afford to change them for every event.
Without sponsors, she has had to rely on the generosity of strangers to get by. The Algerian tennis player recalls participating in a tournament at Horb, Germany.
It's a tiny community in the middle of nowhere, but she never forgets how one woman came through for her; she welcomed and hosted her at her home for four days.
This generous German woman fed her for free, and it saved her so much.
VISA COMPLEXITY AND GENDER INEQUALITY
Beyond the sponsorship challenges, she says African players face inequality and visa issues. Africa does not host any ITF or WTA-sanctioned tennis tournaments, unlike Europe, where there are a dozen events each year.
For African players, the cost of travel goes up because the cost of tickets to Europe is insanely high. Further, visa processing is another impediment.
"When I am in France, I am supposed to live there to be able to get a visa – but I don't have a residence in France which means I am supposed to go back to Algeria to get a visa, which can take a long time to process.
"I can wait for an answer for two or three weeks. Sometimes people got involved to help me get a visa but it was always a hassle or very last-minute. It's hard for me to plan a schedule for the whole year," she admits.
WHAT ITF SAYS ABOUT AFRICAN TENNIS PLAYERS
ITF regional officer for Africa Amine Ben Makhlouf acknowledges that promising players from the region have additional difficulties. Makhlouf tells BBC Sport that logistics is a big issue for African players because they have to move around Europe from Africa all expensive year.
African tennis federations also lack the financial muscle to help their players. It costs at least $150,000 to support one player per year. Nevertheless, he is working hard to change this narrative.