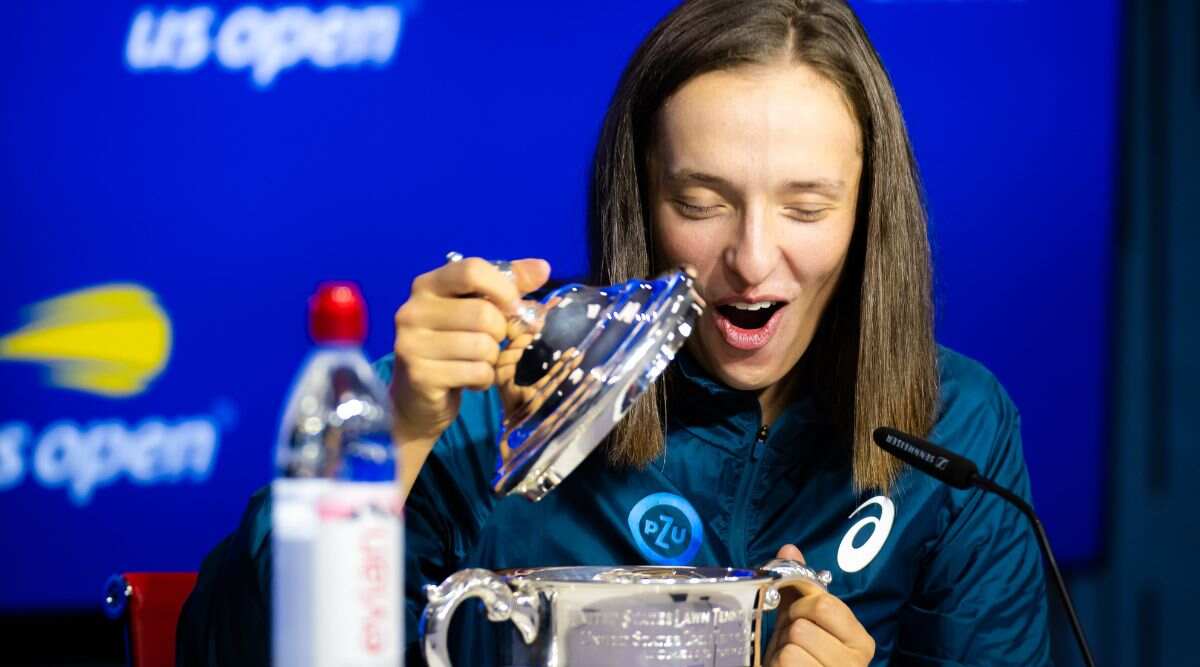 Iga Swiatek favourite food pushes her to do better on the court
She is a light eater but her meal plan is simple but tasty
Swiatek won her first Grand Slam in 2020 when she was only 19 years old
She is the world No.1 and is here to stay. But do you know Iga Swiatek favourite food pushes her to do better on the court?
What's more surprising is that she is a light eater – it's to be expected. Women are generally light feeders compared to men. The Polish tennis star has a fine tale of rising to the top all of a sudden.
Here is a little background about her journey to stardom before we get to her favourite food. She won the French Open in a dominant fashion in 2020, catapulting her to the top of the tennis world. Since then, she has solidified her place among the top 10 players.
In addition, she is one of the rare teens to suddenly ascend to the top of WTA tennis in recent years. The Pole has maintained the top spot in WTA rankings having won two major Grand Slams and multiple Masters 1000 Events.
Her 2022 is by far the best in the circuit. After bagging the US Open, she sealed her status as the new kid on the block.  A big wonder is Iga Swiatek favourite food and here it is.
She enjoys some broccoli and lettuce, seeds, cucumber, and cottage cheese for early lunch. For her mid-afternoon snack, she takes a tropical smoothie.
This is her favourite and she never forgets to say how good she feels after taking it. For dinner or whenever she needs to bump up her protein intake, chicken with rice is always her first choice.
The majority of the time, she eats chicken and rice before a game because she has to keep it light so she can play at her best.
WHAT IS IGA SWIATEK KNOWN FOR?
Followings Ashleigh Barty's retirement in March after winning the 2022 Australian Open Grand Slam, Swiatek quickly took her place. She became the first Pole in history to hold the top spot on the WTA Tour.
It was a result of amassing victories Qatar, Rome, Indian Wells to the 2022 French Open and later the US Open. This brought her slam victories to three. She is now famous for her unstoppable momentum that bagged her victories in 2022.
The Polish player's rise to fame at the age of 21 has been nothing short of exhilarating. Her ascent to the top entered turbo mode after winning the French Open unseeded in 2020 at the age of 19.
This made her the youngest women's singles champion at Roland Garros since Monica Seles in 1992. With Iga Swiatek favourite food in the picture, the Pole believes that only the sky is the limit, and she can achieve anything under the sun.
She becomes the eighth woman to win a third major title before reaching the age of 22. Swiatek tells Vogue that in comparison to right before the competition the US Open, her expectations were high. She knew she had a good chance given her incredible first half of the season. The world No.1 knew she could rely on her skills and had this winning streak all over her.
It was incredibly odd, but it also gave her the impression that she had to give every match her best shot and it paid off.
HOW MUCH DOES IGA SWIATEK MAKE A YEAR?
Swiatek's 2022 season is so far her best on the WTA Tour bagging her $6,551,635 in total prize money. The bulk of it comes from winning two major Grand Slams in 2022 and a series of Masters 1000 Events.
Her overall earnings from tennis since her first Grand Slam victory in 2020 at Roland Garros is $11,411,188.  With this, some fans say Iga Swiatek favourite food could change given her huge prize wins but it's something she laughs off.
WHAT GRIP DOES SWIATEK USE?
With her stellar performance, 21-year-old Swiatek uses the western grip. It's an extreme variation of the forehand grip, although she hits the ball through the court so well that it's difficult to tell.
Her tennis swings earned her three slams making her the first of a few tennis players to win three majors before hitting 22 years.