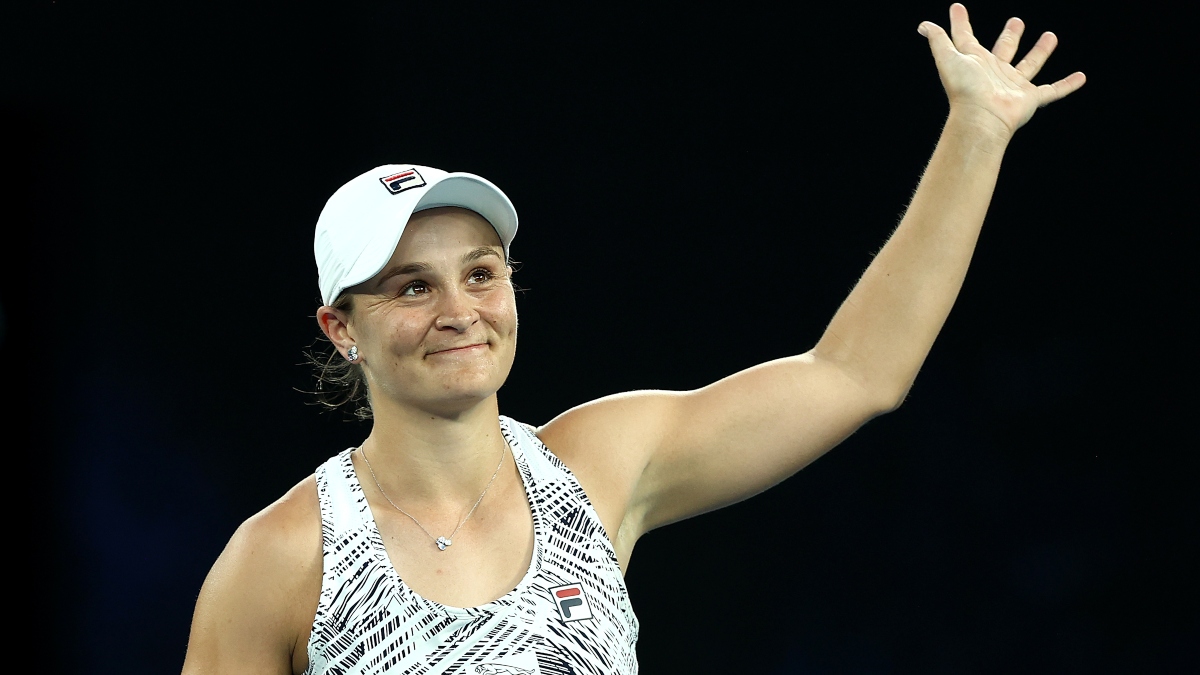 Ashleigh Barty announced her retirement on Wednesday after winning the Australian Open 2022
This is the second time she is leaving tennis.
She first quit tennis in 2014 and joined cricket but she returned in 2016.
Ashleigh Barty announced her retirement on Wednesday from professional tennis after starting her 2022 season by winning the Australian Open.
Barty called in time at only 25 years. She retires having won the French Open in 2019 and the reigning Australian Open, and Wimbledon champion.
She has three Grand Slams on her tennis success story. Barty says that she is leaving to pursue other interests in life.
Barty says she did not know how to do it but was time to come.
WHY IS ASHLEIGH BARTY RETIRING?
Here is her statement from a social media video post she did with Casey Dellacqua, her former doubles partner.
"The time is right now for me to step away and chase other dreams and to put the racquets down.
I wasn't quite sure of how I was gonna do this. It's hard to say. I am so happy and I'm so ready. I just know at the moment in my heart for me as a person this is right.
I kind of wasn't sure how I was going to do this. But I think so many times in my life, both my professional and personal, you've been there for me. I just couldn't think there's no right way, there's no wrong way, it's just my way.
This is perfect for me to share it with you, to talk to you about it with my team, the loved ones that I will be retiring from tennis. That's the first time I've actually said it out loud. It's hard to say, but I'm so happy and I'm so ready and I just know at the moment in my heart for me as a person, this is right."
IS THIS THE FIRST TIME ASHLEIGH BARTY IS RETIRING?
Like many other athletes was hugely affected by a streak of losses and walked away in 2014.
According to her sisters, Barty had always been a person who would withdraw inside herself. However, no one was more surprised than her father Robert Barty when the once-promising tennis prodigy announced her retirement.
And before long Barty was battling manic depression, something Robert had experienced.
He was worried that he might have passed it on to his daughter. For two years, Barty was on antidepressants and saw a therapist learn how to communicate more openly.
In a surprising twist of events, she turned to cricket.
Andy Richards, the Brisbane Heat's cricket coach, overheard her joking about taking up the sport and gave her a call while she was away.
They would later have a cup of coffee and went to play some golf. Brisbane told New York Daily News that Barty was frustrated with many mistimings. But it was during Barty's 18-month stint with the Brisbane Heat that she found healing, normalcy, and growth.
She was able to reclaim some of her teen years that she had previously missed. A beer with the females was something she had never done before, so she decided to join them.
She discovered what it was like to have friends and teammates, Richards recalls of her experience.
WHEN DID ASHLEIGH BARTY RETURN TO TENNIS?
Barty and Joyce would then train tennis students in their leisure time, and Barty would make vague references to creating her own tennis school. All this time, she was off the court living her life after 'retirement'.
Her father says he never thought she would go back to tennis until one day when she surprised them all in 2016. They returned home to find four boxes of tennis balls waiting for them.
Barty won the French Open in straight sets only three years after quitting tennis, becoming the second-highest-ranked woman in the world, 48 years after her tennis hero Goolagong did the same.
HOW WAS AUSTRALIAN OPEN FINALS FOR ASHLEIGH BARTY?
Barty upset Grand Slam final debutante Danielle Collins 6-3 7-6 to become the first home winner since 1978.
Speaking after the match, Barty said that the love she got from fans was overwhelming.  She adds that she is happy for having a chance to share the joy of the whole match with people who are all about love.
I've said numerous times I'm so lucky tonight to have numerous people here that love and support me.
"I'm a fortunate and lucky girl to have so much love in my corner, we started together right from the start. We did it all together, nobody has changed from our team. I love you to death," she said.
"As an Aussie the most important part of this tournament is being able to share it with so many people and the crowd, you have been nothing short of exceptional."
Thanking the crowd, Barty said it was the best-ever she has had and it gives her a lot of joy. She remarks that it is her fans who motivated her to play such a stellar game in the Australian Open finals of the Women's singles.
Playing such a game was a dream come true for Barty; it makes her proud to be an Australian.