Hellen Obiri, the marathoner Kenyan military officer known globally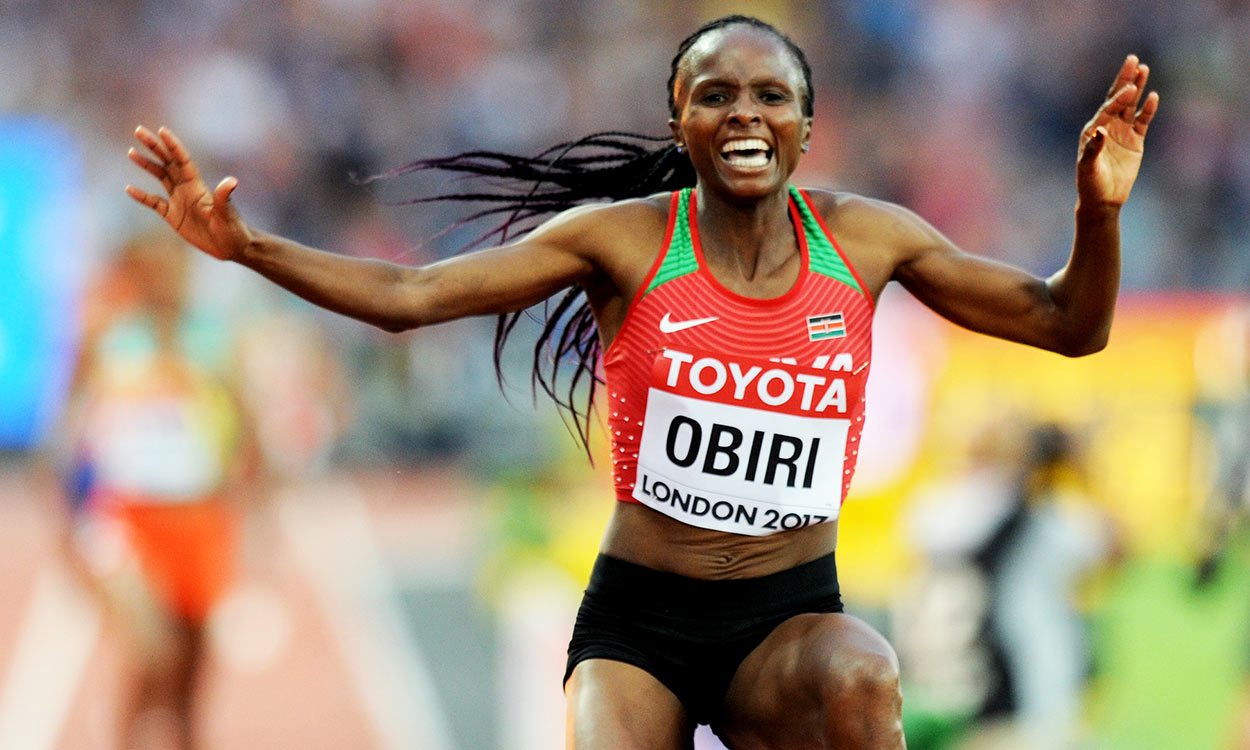 Beneath the resilient face of an indomitable athlete lies a deep story of a powerful woman
Hellen gained widespread attention after she triumphed at the Military World Games in Rio de Janeiro
She is married and is a mother of one
When you hear the name Hellen Obiri, a sense of pride knocks you off for a moment. You appreciate Kenya's innate power in athletics.
Beneath the resilient face of an indomitable athlete lies a deep story of a powerful woman. Obiri has a diverse set of roles. She's an accomplished runner on both the middle and long distances, as well as a businesswoman and active member of the Kenya Defense Forces (KDF).
In 2011, Hellen gained widespread attention after she triumphed at the Military World Games in Rio de Janeiro. She took home a bronze medal. In 2017, she won and successfully defended the 5000-meter world championship she set in 2016.
The world now knows her and the power she wields in middle and long-distance track events.
HELLEN OBIRI BIOGRAPHY
The Kenyan athlete was born on December 13th, 1989, in a tiny village of Boginchoncho in the highlands of Kisii County. That makes her 33 years old.
She is the fourth born in a family of six siblings. Ekeonga Primary School marked her journey in education and later joined Nairobi's Riruta Central Secondary School.
It is while in Riruta that her love for marathon grew but she never bothered much about her prowess in the field. She decided to focus more on her studies until the day she joined the military.
The runner has fond memories of her father Isaac Obiri for his support and guidance. Many don't know her beyond the tracks but we tell you who she is.
| | |
| --- | --- |
| Full Name | Hellen Onsando Obiri |
| Place of Birth | Kisii County |
| Date of birth | 13 December 1989 |
| Nationality | Kenyan |
| Age | 33 |
| Marital Status | Married |
| Career | KDF officer/Long-distance runner |
| No of children | One |
| Height | 5'3 |
HELLEN OBIRI CAREER
Obiri's career started with her first major competition, the 2010 Kenya Armed Forces Cross Country Championships. She came in 32nd and this sparked a desire to shine.
After putting in some time in training, she returned to the same race the following year and finished 5th. Her coach Noah Ngeny suggested she concentrate on the middle-distance events and this booked her a third spot at the 2011 World Championships in Daegu. Although she ran her fastest ever at the competition, she did not place high enough to go to the final round.
She won the world indoor 3000m title in 2012 and it became the turning point in her career. Here are her stats.
5000-metre Rio and Tokyo Olympics silver medalist
Double 5000m world champion in (2017, 2019)
2013 Bronze medalist in 1500 metres
2012 World Indoor Championships in 3000m
1500 m gold at Marrakech 2014 African Championships
Gold medal in 5000m gold at London 2017 World Championships
Gold medal in 5000m at Gold Coast 2018 Commonwealth Games
Gold medal in 5000m at Asaba 2018 African Championships
Gold medal in 5000m at Doha 2019 World Championships
Silver medal in 5000m silver at Tokyo 2021 Olympic Games
Silver medal in 10000m at Eugene 2022 World Championships
Gold medal in Half marathon at 2022 Istanbul Half Marathon
2022 silver medalist in 10,000m
HELLEN OBIRI KDF
Hellen Obiri enlisted with Kenya Defense Forces (KDF) in 2009. Her natural marathon spirit put her on a pedestal as she won many races while in training and after training.
She was sent to Laikipia Airbase after her nine-month training in Eldoret military training academy. Following her stellar performance at the Tokyo 2020 Olympic Games, she earned a promotion to the rank of Senior Sergeant.
HELLEN OBIRI NET WORTH
Obiri has a fruitful career as a middle-distance and long-distance runner which comes with a financial boost. If you are a supporter of hers, you must be curious about the amount of money she has earned to this point in her career.
She is pretty cagey about such matters, her personal life too but she her wealth portfolio is around $1 and $5 million. Much of it comes from prize money she took home in the last decade.
Her salary as a member of disciplined forces has a share too. In addition to that, Helen Obiri rakes in a large amount of money via endorsement deals, product sponsorships, and her farming enterprises.
With her continuation in athletics, she continues to build her wealth portfolio.