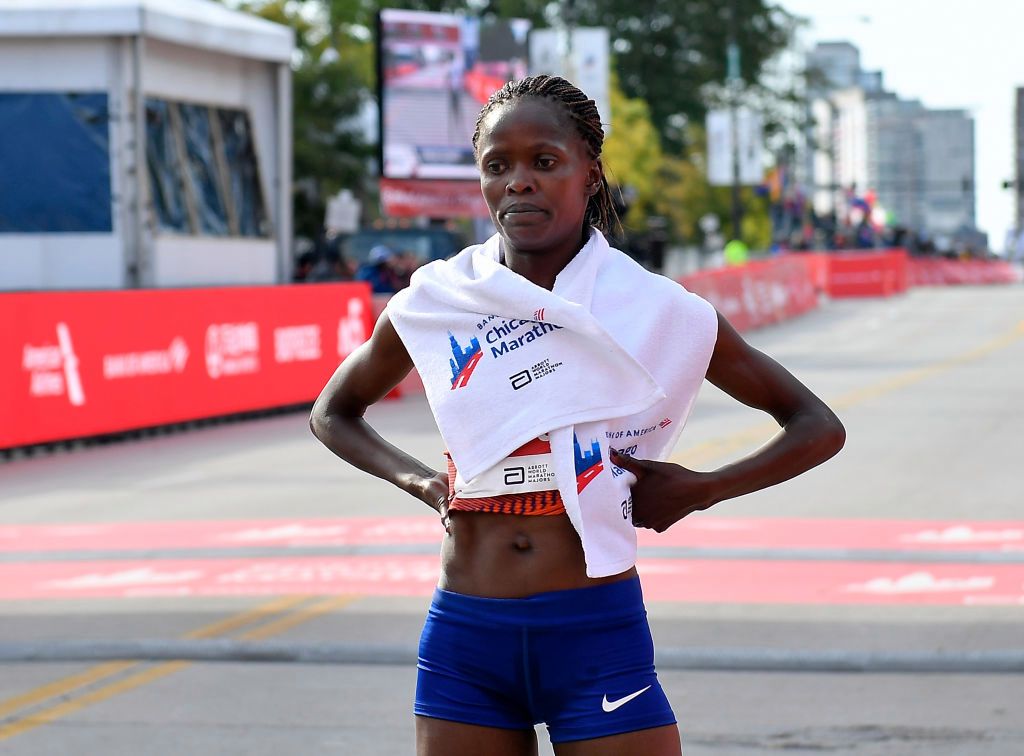 Kosgei announced she has not recovered from a hamstring injury
She says she will get back to action next year
Mo Farah has also pulled out of the men's race
Marathon world record holder Brigid Kosgei has pulled out of Sunday's London Marathon due to a hamstring injury, putting to an end her immediate hopes for a third title in the British capital.
Kosgei made the announcement in a statement, saying she is seeking further treatment on the persistent injury that has hampered her preparations for the event.
"We've decided it's best that I withdraw from this year's race and get further treatment on my injuries in order to enter 2023 stronger than ever. Good luck to all the runners at the London Marathon," Kosgei said, in a statement on her social media accounts.
Struggling for months
She added; "I have been struggling over the past month with an issue in the hamstring of my right leg. My training has been up and down and not the way I would like to prepare to be in top condition for the London Marathon."
The world record holder has struggled over the last one year and laboured to finish fourth in last year's event. She has previously won the London Marathon in 2019 and 2020, having finished second in 2018.
She had shown promise of the return to good form in March when she won the women's Tokyo Marathon, but the recurring injury has slowed down her hope of finishing the year with another title in London.
She had run a good race in Tokyo, clocking 2:16:20, which was a World Leading time then, and she also set a course record at the event, just as did Eliud Kipchoge in winning the men's event.
Her departure will now leave Joyciline Jepkosgei as Kenya's biggest hope for the title, but she will also be joined by the USA based Mary Ngugi and Joan Chelimo who are equally able to battle for the crown on Sunday.
Mo Farah also pulls out
Meanwhile, British athletics star Mo Farah has also pulled out of the men's race with injury. The four-time Olympic champion and six-time world champion had been training well and won The Big Half in London earlier this month, setting up a perfect start towards a possible conquest of the full 42km.
"I've been training really hard over the past few months and I'd got myself back into good shape and was feeling pretty optimistic about being able to put in a good performance at the TCS London Marathon," Farah said in a statement.
He added; "However, over the past 10 days I've been feeling pain and tightness in my right hip. I've had extensive physio and treatment and done everything I can to be on the start line but it hasn't improved enough to compete on Sunday."
While Farah has enjoyed stellar success during his time racing on track, he has found it harder cracking the road running terrain and had hoped London would give him the perfect bounce.