Paul Scholes praises Casemiro's role in United midfield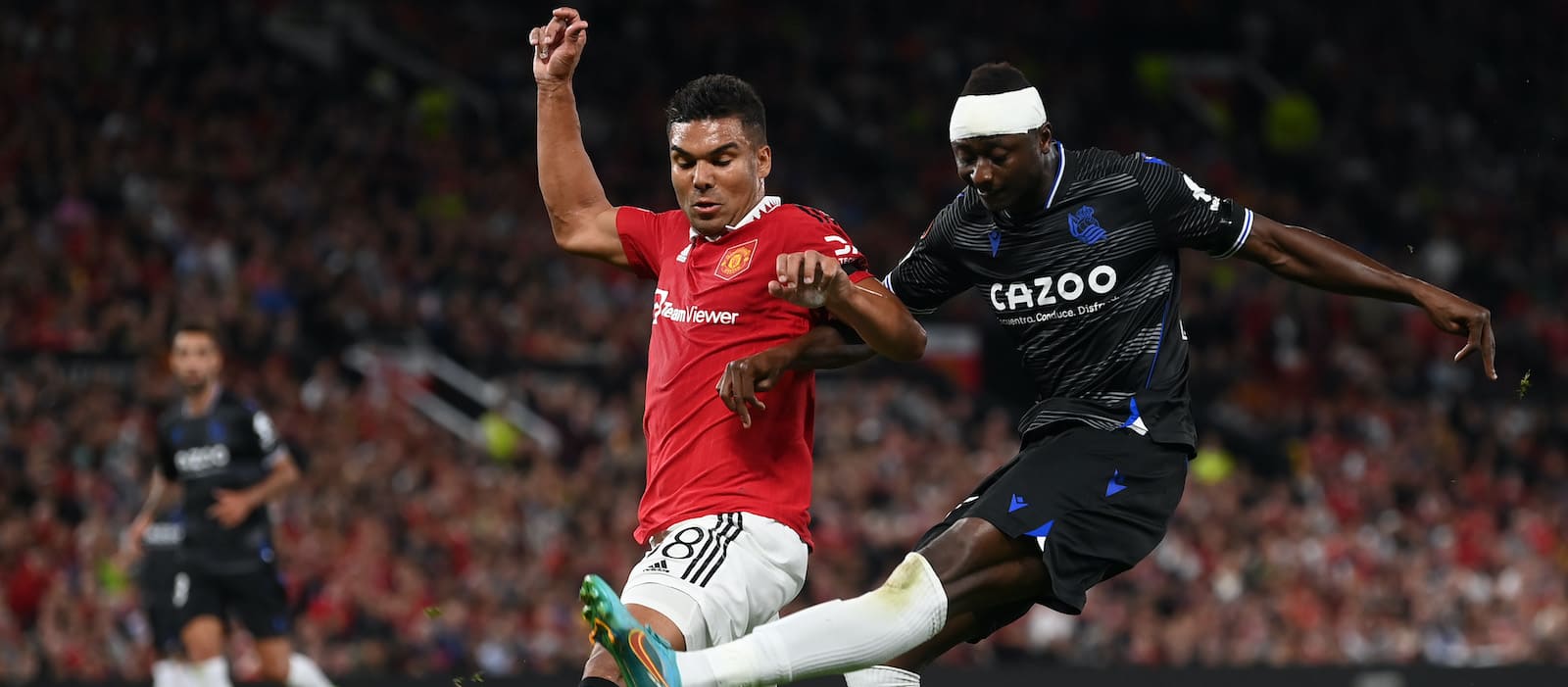 Casemiro has started only one game for Man United with other games coming off the bench.
Paul Scholes was in full praise of the midfielder's progressive abilities after United's 2-0 win over Sheriff Tiraspol 
Erik Ten Hag has not been convinced yet by the midfielder's abilities and has regularly deployed Mctominay ahead of him
Manchester United legend Paul Scholes admittedly has praised Casemiro for his new role in the Manchester United Midfield.
Casemiro arrived at Old Trafford from Real Madrid for a fee of around £60 million in August few days before the closure of the summer transfer window.
The Brazilian midfielder has not been a regular starter at Old Trafford and mostly he has come off the bench. In their Europa League game against Sheriff Tiraspol, Casemiro was introduced in the second half replacing Mctominay and his performance surprised Paul Scholes.
The Brazilian has found it hard breaking into Erik Ten Hag's first team squad with the Dutch coach preferring Mctominay alongside Eriksen however his continued great display could see him edge over Mctominay in the coming games.
Manchester United Legend appearing on BT Sport on the night of the Europa League said that he was unsure of the Brazilian's ability to progress the ball but after watching his second-half performance he admitted that he was a special midfield player for Man United.
Manchester United won 2-0 against Sheriff Tiraspol in Moldova with goals from Jadon Sancho and Cristiano Ronaldo cementing United's first win in this competition after suffering a controversial defeat at Old Trafford against Real Sociedad.
In a post-match analysis Paul Scholes said Casemiro surprised him, ' I love this pass around the corner. He surprised me a little bit with his forward passing.
Paul Scholes said that in Casemiro Manchester United has more than a winner and a new character in the midfield with the ability to produce long-range passes while keeping the midfield intact.
'I didn't think Casemiro had that in his locker while at Real Madrid, it was Luka Modric and Toni Kross mainly who did the long passes,' He said at the show.
The Manchester United legend feels that the five-time Champions League winner has more quality than Mctominay and soon will break into the team.
"I think he will eventually, with the quality he's got, work his way into the team," Scholes said.
Casemiro formed an integral part of Real Madrid's midfield. He alongside Luka Modric and Toni Kroos was unbeatable and took Real Madrid to glory in both the League and the Champions League.
Manchester United's next match will be after the international break as they face free-scoring Manchester City in a league game at the Etihad Stadium at the start of October.
Manchester United commanded the game with 68% ball possession against Sheriff's 32%. After coming off the bench in the second half Casemiro registered massive numbers and was a defense rock.
Out of 6 tackles the Brazilian delved into, Casemiro won four and registered 3 interceptions.
In two weeks when Manchester United plays Manchester City, Erik Ten Hag will once again be pooled in a confusion point of who to start between Mctominay and Casemiro.
Mctominay performance improved drastically with the arrival of Eriksen who has been picking the man of the match performances almost every week.