Grace Sugut, Eliud Kipchoge's wife fasted for seven days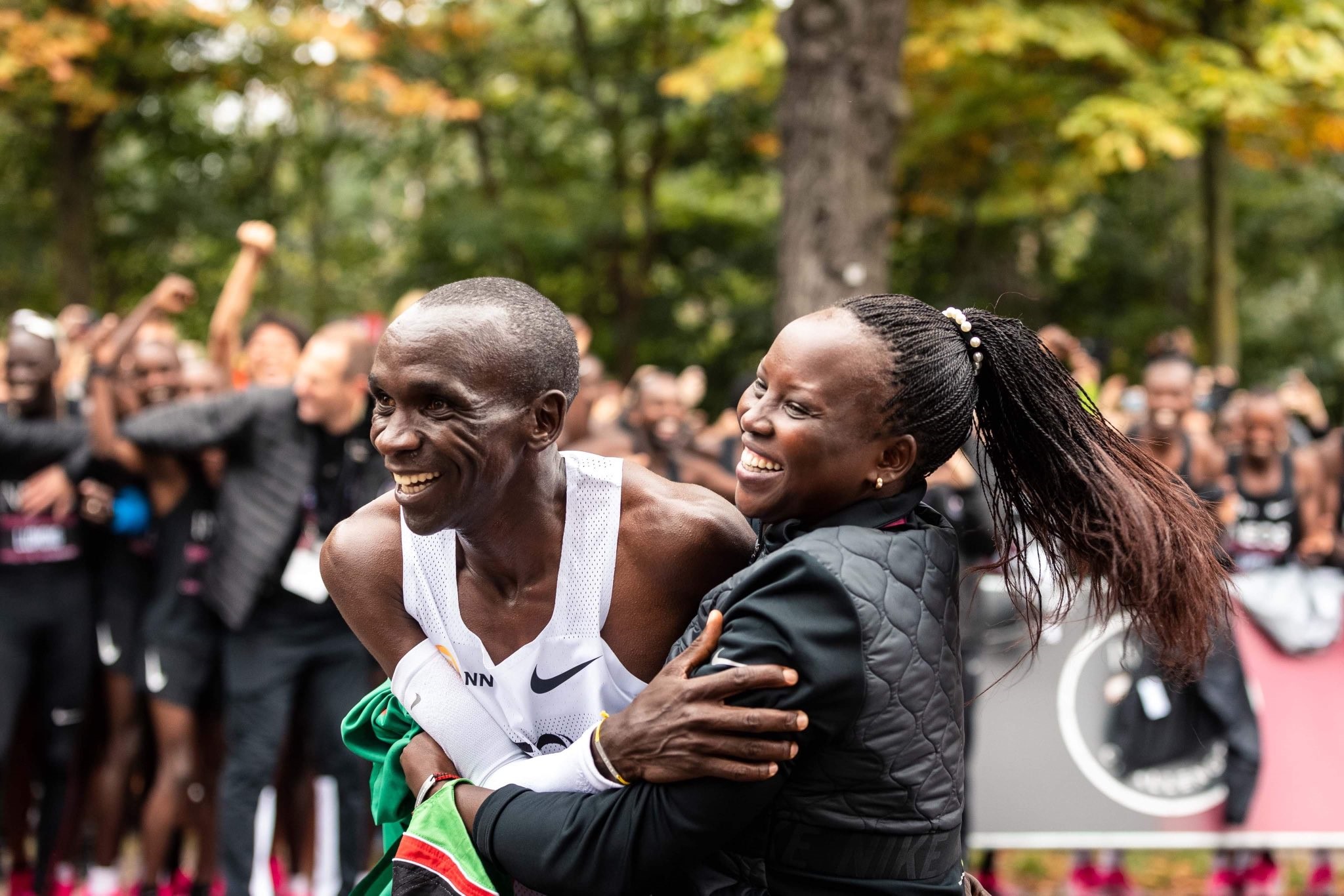 Grace Sugut Kipchoge has opened up on her fasting journey
She did this for her husband's sake
Eventually, Kipchoge shattered his Berlin Marathon record by 30 seconds
Moments after double Olympic Marathon champion Eliud Kipchoge broke own record at Berlin Marathon 2022, his wife Grace Sugut Kipchoge has opened up on her fasting journey.
Grace says she went on a seven-day fast ahead of the Sunday, September 25 marathon. She believed in her husband breaking his record.
At their Elgon View estate in Eldoret, she keenly followed the race on television flanked by her three children and relatives. All this time, she had a conviction that all would be well given her prayers and Kipchoge's training.
Speaking to Nation, she elatedly congratulated her husband for this major fete while opening up on her spiritual intervention.
"I was in prayer mood for the last one week and I fasted for a miracle to happen. I'm happy that victory has come home," said she.
Grace also mentioned that their three children Lynn, Griffin, and Gordon are thrilled to see their father conquer odds. He is inspiring them to keep doing well in school.
On Sunday, Kipchoge recorded a time of 2:01:09 to win the Berlin Marathon, 30 seconds faster than his previous record.
He first put a record of 2:01:39 in the 2018 Berlin Marathon and was hellbent on crushing it.
Kipchoge in a post-marathon interview said his original goal time was closer to 60:50 or 60:40. However, his legs felt strong, so he decided to go for two hours instead.
The first half of the race was quite fast, but the second half was very difficult, he stated. Unfortunately, the rapid pace at which he was running shot down thereby depleting muscle energy forcing him to slow down.
Kipchoge started the race off fast and furious, finishing the first five kilometres in 14 minutes and fourteen seconds. This time was more than enough to prove that he was going to break the world record.
Having passed the 10-kilometre mark in 28 minutes and 23 seconds he was upbeat about making new history. Defending champion Guye Adola and compatriot Andamlak Belihu were on his tail but he gave them a distance.
The Rift Valley-born marathoner bagged US$ 113,000 (13.7 million) for setting a new record. It took him four years with lots of resilience to shatter this 2018 record.
Kipchoge earned himself $22,600 (Ksh 2.74 million), plus bonuses of $33,900 (Ksh 4.11million). Further, for finishing in under 2:02:30 he got $56,500 (Ksh 6.86 million).
He credits his success to proper training, teamwork and optimism that he would make it. Weeks before the marathon, he opened up on his struggles at times to get the strength to stay afloat.
Nevertheless, he understands it is in human nature. Kipchoge said he draws motivation from the countless people moved to action by his illustrious career and inspirational words.
"I struggle with motivation, but I try all the time to get inspired by fans' messages around the world," Kipchoge a webinar hosted by NN Running Team.
He remarked that his marathon career is full of obstacles, and a part of his training is all about overcoming it all. His documentary, The Last Milestone lifts the lid on the challenges he goes through to stay on top.