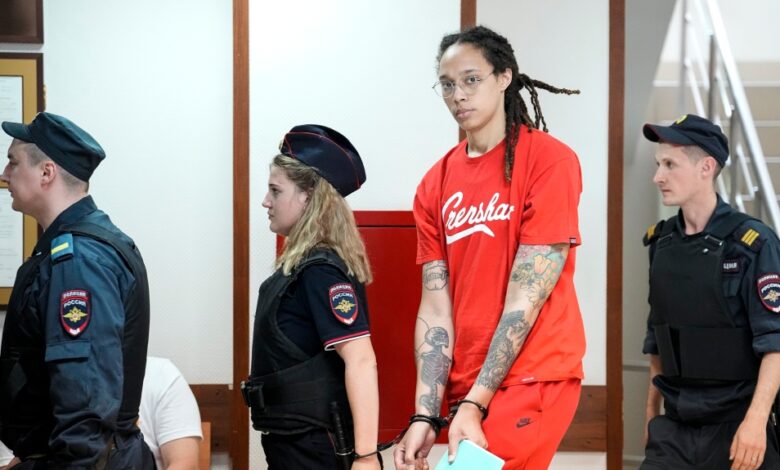 US Basketball player Brittney Griner has been sentenced to nine years in jail by a Russian court.

The WNBA star was detained at the airport in Russia after she was found with drugs

The Judge stated that she had determined that Griner had knowingly broken the law.
On Thursday, a Russian court handed WNBA star Brittney Griner a sentence of nine years in jail, marking the expected completion of her trial and likely paving the way for negotiations regarding a prisoner exchange to go more quickly.
According to sources close to the athlete, Griner had been mentally preparing himself for a severe punishment before his detention on February 17 for smuggling cannabis into the country.
However, she and her supporters have been aware that Russia will not move through with a trade that could send her home until after her trial has been finished.
Griner entered a guilty plea on July 7, even though the case was still ongoing under Russian law. It was widely believed that a guilty verdict would be reached.
At the time of sentence, Judge Anna Sotnikova stated that she had determined that Griner had knowingly broken the law. The judge also fined Griner one million roubles, which is equivalent to approximately $16,700.
According to Sotnikova, the time that Griner has spent in detention since her arrest in February will count against the total amount of time she is sentenced to spend.
Griner showed very little emotion when the judge read the punishment to her, and she listened to the verdict with a blank expression.
ALSO READ: WNBA players say playing for Russian teams is profitable but lonely
The penalty of nine years came quite close to the maximum of ten years that Griner had faced due to the allegations, and the prosecutors had asked for a term of nine and a half years.
Griner's defence attorneys have stated that they intend to appeal. The legal team for Griner stated that the court had disregarded all of the evidence submitted by the defence team and Griner's admission of guilt.
After the fact, defence attorney Maria Blagovolina stated to the press that Griner was not guilty "very angry and stressed out. It s difficult for her to speak. She is going through a challenging period right now."
According to Russian legislation, Griner has ten days to file an appeal. Her attorneys have stated they anticipate a hearing in the Moscow regional court the following week.
When asked if Griner may petition for a pardon from Russian President Vladimir Putin, Blagovolina stated that they would consider every possibility; nevertheless, the lawyers said that they were not a part of any conversations concerning a prisoner swap.
U.S. Vice President Joe Biden made a statement in response to the verdict, in which he referred to Griner as being "wrongfully detained" and urged for her release. 
"Today, American citizen Brittney Griner received a prison sentence that is one more reminder of what the world already knew: Russia is wrongfully detaining Brittney," Biden said. "It's unacceptable, and I call on Russia to release her immediately."
Outside the courthouse, the chargé d'affaires of the United States Embassy, Elizabeth Rood, referred to the verdict as "a miscarriage of justice.
WNBA and NBA Commissioners issued a joint statement in which they referred to the verdict and sentence handed down on Thursday as "unjustified and unfortunate."