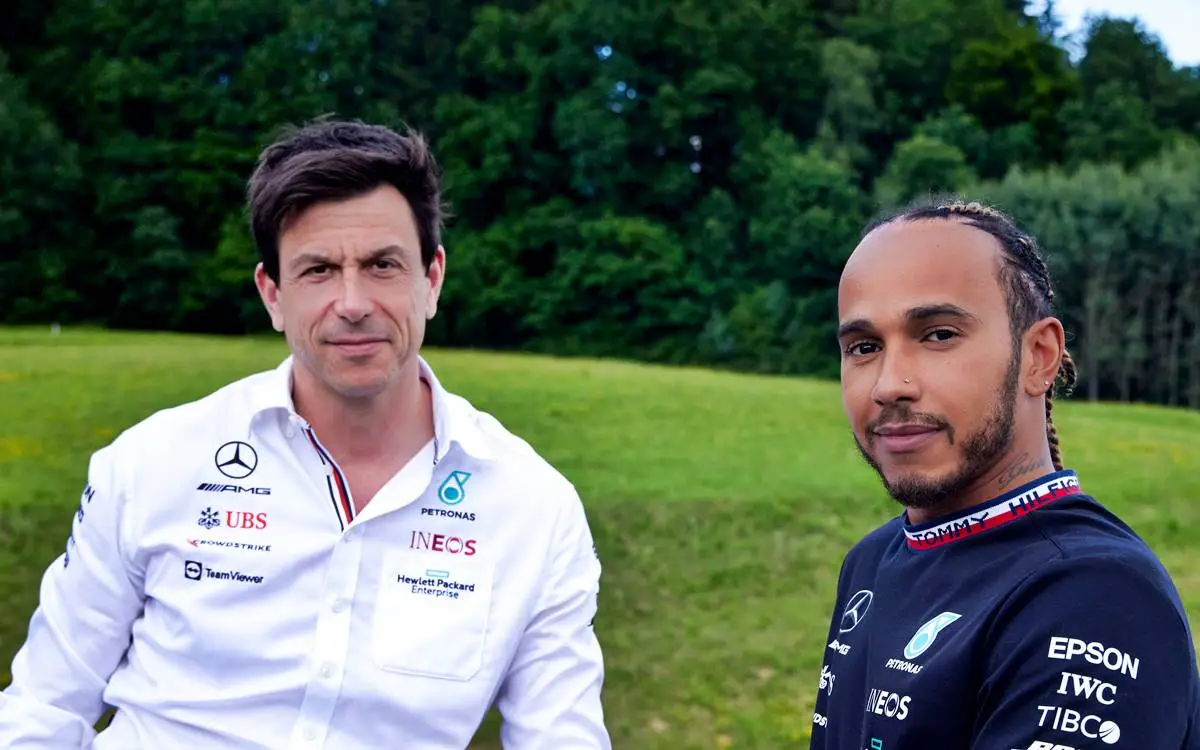 This season, both Lewis Hamilton and Mercedes have had a difficult time competing with Red Bull and Ferrari

Rumours have been circulating that the seven-time Formula One Champion may Retire

However, Hamilton made it clear some time back that he is anywhere near retirement

Toto Wolff has denied the claims that Red Bull driver Sergio Perez will replace Hamilton at Mercedes
Toto Wolff has stated that Lewis Hamilton will not be replaced at Mercedes by Sergio Perez.
This comes as Toto Wolff has set a retirement timetable for Hamilton, who has won seven world championships. Wolff asserts that Mercedes has "never talked" to Perez or any other driver about taking over Hamilton's driving duties.
Toto Wolff denies of contacting Sergio Perez for Hamilton Replacement
"It's a complete bullsh*t," I never called Sergio, he's a good guy and I respect him. But I never talked to him and I was not in contact with any other driver.
 Hamilton's chances of winning an eighth World Championship title were taken away from him during the final Grand Prix race in Abu Dhabi at the end of the 2021 season in a highly contentious manner.
 There were strong rumours that the Mercedes driver would not compete in the 2022 season.
These rumours were finally put to rest in February when a defiant Lewis Hamilton participated in the launch of the Mercedes W13.
Nevertheless, retirement rumours surfaced once it became clear that Mercedes would not be a contender for the title in 2022.
Mercedes have no plans to replace Hamilton
Wolff has stated that he and Mercedes do not have plans to replace Hamilton. Even though the media and fans alike have been compiling shortlists of drivers who might take Hamilton's place if he decides to leave at the end of this season or the next.
Wolff has stated that he and Mercedes are not making such plans.
Hamilton is allowed to race for Mercedes for more years
The Austrian leader stated that he and Hamilton discussed Hamilton's future in Formula One and came to the conclusion that the British driver may continue racing for up to ten years.
When asked whether the rumours were true that Mercedes were looking for Hamilton's replacement at the beginning of the season, Wolff gave this judgement after being prompted by the question.
After Mercedes' poor start to the season, some analysts predicted that Lewis Hamilton might consider retiring from the Formula One.
The f1 star says he is fully commited to Mercedes
However, Hamilton promptly responded to the rumours and emphasised that he was fully committed to Mercedes. He stated that quitting was not in his DNA and that he had no plans to leave the team.
Wolff has also indicated that he discussed Hamilton's future in Formula One with the British driver and hinted that he might win additional titles while driving for Silver Arrows.
When one is used to competing for titles year after year, even, a seemingly insignificant decline in performance can be enough to demoralise a driver who has been accustomed to being in the thick of things.
However, Wolff stated that the seven-time formula one champion's motivation to get Mercedes back to the top of Formula 1's stage has stayed strong. He added that Hamilton has remained a great role model for the rest of the team to follow.
Wolff also stated that Hamilton had remained an excellent role model for the rest of the team.