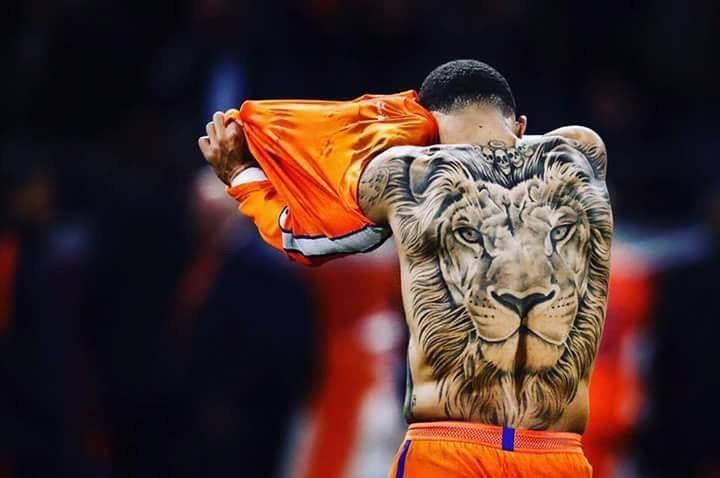 Over the years, soccer players have gotten some of the most amazing tattoos

Most players now regularly get tattoos to show their dedication to the game.

Often, some get them to commemorate significant events or people in their lives.

The tattoos are interesting since most of them have a backstory

.
Today, football is much more than a game as a result of footballers' tatoos and other things. It is one of the most popular sports in the world, if not the most popular. Fans come from all over the world.
So, soccer players are well-known celebrities with massive fan bases, and people are very interested in how they live their lives.
People look at their hairstyles, accessories, cars, and clothing choices. Players' tattoos are another thing that gets a lot of attention.
The tattoos could be of many different things, such as animals, gods, mythical creatures, or trophies they've won.
Many football stars even have tattoo artists, and getting inked after a big win is not unusual.
Here are some of the soccer world's most well-known tattoos.
Lionel Messi eye and baby's hand tatoo
Lionel Messi has a number of tattoos on his body, some of which include the hands of his first kid, Thiago, grasping a football on his left leg.
He also has the face of Jesus Christ tattooed on his right hand, among other tattoos. On the other hand, the front of his body is almost completely clean, except for a kiss symbol that circles his upper crotch.
This tattoo is a representation of the eternal love that he has for his wife, Antonela Roccuzzo. They have known one other since they were children, and the stunning Argentine woman has been integral to Messi's path.
She has evolved into Messi's closest confidante and supporter, as well as his life partner and the mother of his children.
Messi is the fifth on our list of footballers' with most amazing tatoos.
Sergio Ramos
It is challenging to locate a spot on Sergio Ramos' body that is unblemished. On his body, he has 42 tattoos, including representations of his significant accomplishments.
Nevertheless, there is a particularly noteworthy one on his left tricep. The design of the tattoo is an image of a hexagram, which is a star with six points and is depicted in the background of a cloudy night sky.
 Knowledge, life understanding, wisdom, loyalty and love are the six qualities that are represented by the six-star sign.
Ramos got this one, especially for his grandmother, who once gave the player's mother a pendant with the same design as a gift. Ramos got this one inked in her honour. 
Memphis depay's lion tatoo
Memphis Depay also referred to as the "king of tattoos," has a design of a lion that covers the entirety of his back area. Because they symbolise power, pride, strength, courage, wisdom, royalty, and self-confidence, lions have gained much popularity as tattoo subjects.
Depay is under the impression that his tattoo represents the resilience of his spirit.
The Dutch superstar has gone through many difficult situations, but he has never given up and has kept moving forwards. This is the mindset of a Lion, and he has embraced it by tattooing the concept all over his body.
The tattoo that Memphis Depay has earned him a spot on the list of the top 10 footballers' tattoos.
Zlatan Ibrahimovic
It is only natural that the timeless warrior Zlatan Ibrahimovic would cover his entire chest with many remarkable tattoos, given his reputation.
The one that stands out the most among them is the tattoo of a fierce lion on his back. This is in keeping with his bigger image.
Or is Zlatan referring to his "inner lion" in this image?
Nicolas Otamendi
Otamendi's tatoo is one of the most amazing footballers' tatoos. Nicolas Otamendi is an Argentine defender who is covered in tattoos, including a portrait of his grandfather's face and many more.
The tattoos on his back, though, are immediately noticeable from a distance. On his upper back, he has tattoos of three well-known Movie characters: Tommy Shelby from the Peaky Blinders, Ragnar from Vikings and Walter White from Breaking Bad.
The Benfica defender has characters from his favourite TV shows tattooed on his back, so it's no surprise that he enjoys listening to audiobooks of such shows.
The centre defender has been tattooing since he was 14 and claimed it had become an integral part of his identity.