Eliud Kipchoge opens up on motivation struggles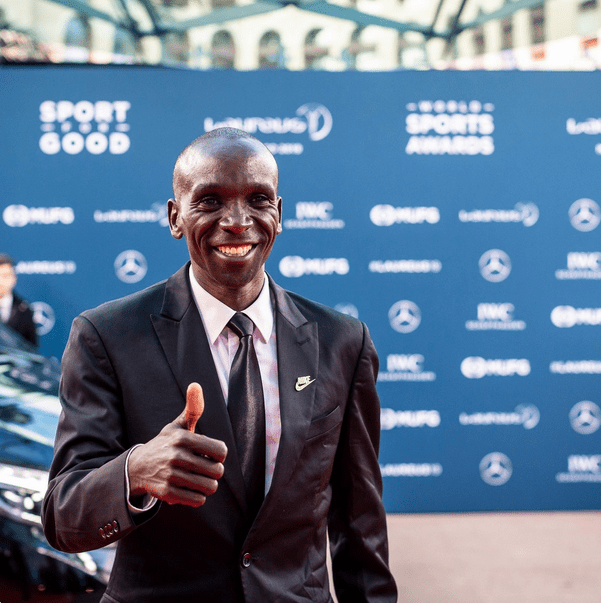 Kipchoge, just like any other athlete, feels demotivated at times
But he has an admirable technique for staying in focus
He knows how to stay focused amid distractions
Even the most resolute runners like Eliud Kipchoge, they wake up sometimes without any motivation, and he's confessed that much.
He says that he struggles at times to get the strength to stay afloat, and he understands it is in human nature.
The two-time Olympic gold medalist in the men's marathon says he draws motivation from the countless people moved to action by his illustrious career and inspirational words.
"I struggle with motivation, but I try all the time to get inspired by fans messages around the world," Kipchoge a webinar hosted by NN Running Team.
The athlete holding a world record has always been honest about the pain fuels his drive. Kipchoge admits there are highs and lows in his athletic life.
He says marathon is full of obstacles, and a part of his training is all about overcoming it all. His documentary, The Last Milestone lifts the lid on the challenges he goes through to stay on top.
The 37-year-old became the first man in 40 years to win the marathon gold in successive Olympic Games when he triumphed in Tokyo in 2021, solidifying his status as the greatest distance runner of all time.
Kipchoge revealed some of the strategies he uses to maintain his laser-like focus as he strives for an unprecedented third Olympic marathon championship in Paris in 2024.
HOW DOES ELIUD KIPCHOGE KEEP HIS MOTIVATION?
While many things continually cross his thoughts when he racing, he blocks them and concentrates entirely on the road. He puts his mind totally on the work ahead until he finishes the race.
After training for four months, he knows how to block what's in his head and concentrate fully on the race. This keeps him calm because no distraction comes in, at least not to cost him motivation.
His team comprising coach Patrick Sang, nutritionist and physiotherapist also come in handy.
HOW DOES ELIUD KIPCHOGE SAFEGUARD HIS MENTAL STRENGTH?
During DW Africa's visit to his farm in Rift Valley, Kenya, early in the year, he opened up on his struggles with mental health. He discussed his mental health and strategies for maintaining motivation in the face of adversity.
As much as it's been 18 years on the rails, and he's satisfied with his progress. But his environment has a significant role in shaping his state of mind.
In Kipchoge's view, the increased mental stress experienced by Kenyan athletes is a direct effect of associating with pessimists.
The last 18 years haven't been too difficult for him because he chooses to focus on the good in life. He is surrounded by upbeat people, both in and out of sports, who help him maintain his concentration.
The victor of the 2018 Berlin Marathon reflects on the values that keep him focused and prepared. The integrity of the 38-year-old is so important to him that he cannot imagine living without it.
He also practices self-discipline and loyalty in his daily life.
"In sport, I mean by integrity is the courage to go the next mile. Courage to face anything in your life," he says.
Further, running, as a sport, is best enjoyed in a group setting. Kipchoge opines that the sport is best when looked at a team's effort other than an individual's effort.
He cites that teamwork is crucial in any endurance event, especially in a marathon. He is able to rely on others for emotional and physical support.
WHAT IS ELIUD KIPCHOGE'S SECRET TO SUCCESS?
Besides knowing where to get motivation, Sang, his coach, also taught him something special.
His coach instilled in him the belief that he is the finest there is and the importance of treating yourself with the highest integrity.
Because "where there is life there are obstacles". Kipchoge goes on to say, "I understand life very well." As a result of this insight, he is now better equipped to handle challenging circumstances rationally.
Despite the difficulties in life, Kipchoge believes that pushing oneself to the limit is beneficial to one's mental well-being.
He advises putting in long hours, pushing oneself, and making detailed plans.