Cincinnati Open: Emma Raducanu wins again!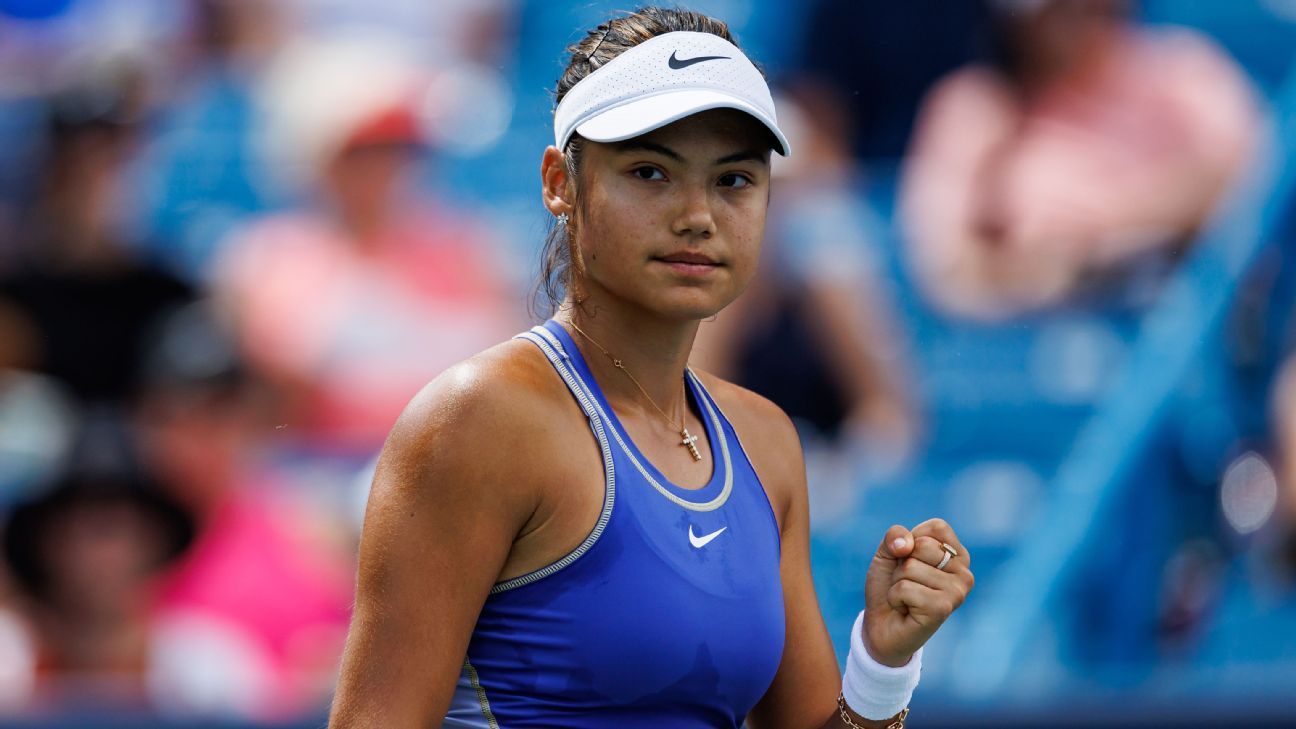 Emma Raducanu extend her stay at the Cincinnati Open by defeating Victoria Azarenka

The 19-year-old beat the Tennis Great Serena Williams in the previous match

The reigning US Open champion will face Jessica Pegula in the last 16
At the Cincinnati Open, Emma Raducanu stunned Victoria Azarenka to earn her second consecutive victory over a player who had previously held the world's number one position
Raducanu moving from strength to strength
After the delight and excitement of beating Serena Williams in front of her boisterous home crowd, Raducanu was tasked with forgetting about it all and moving on as soon as possible.
She handled the task with incredible ease, which was somewhat surprising. She followed up her performance that dismantled Williams with one that was even more damaging.
In her first appearance in Cincinnati, Emma Raducanu advanced to the third round by cruising to a 6-0, 6-2 victory against Victoria Azarenka in 62 minutes.
Raducanu's self-assurance continues to increase at the ideal time, with her defence of the US Open championship coming up in just one tournament.
Emma Raducanu mentioned the importance of savouring these moments against players she had grown up watching win grand slams, but she also added that she entered both matches fully backing herself.
Azarenka s maintained a ranking of 22 throughout her career. Her journey to the final of the 2020 US Open was an outlier in the six years that had passed since she was a top–10 player.
Emma Raducanu exposed Azarenka's vulnerabilities effectively; all she could do was fight for her reputation. She could hold serve twice before Raducanu sealed the victory without any difficulty.
Azarenka's performance was abysmal, unlike Raducanu's brilliant tennis on the court. She committed unforced errors all over the court and moved with a sluggish pace. As a result, she concluded the opening set with four winners to go along with a total of 16 errors.
Raducanu established a 6-0, 4-0 lead, coming perilously close to inflicting Azarenka's first ever double bagel on her.
This will be Raducanu's second tournament with coach Dmitry Tursunov on his side. They began their trial period together at the Citi Open, and it appears as though everything is going swimmingly so far.
She has come out on top in each of their competitions, winning multiple bouts each time, and she has made significant headway.
Emma Raducanu will face Jessica Pegula in her next match
In a broader sense, her performances serve as a timely reminder that momentum may suddenly grow even when athletes are having a difficult time.
Jessica Pegula of the United States, the much-improved seventh seed, will be Raducanu's next opponent. This will be just the second time in Raducanu's career that she faces an opponent in the top 10.
Nevertheless, it has been a very long week. Williams has been a dominant figure in tennis since Raducanu's birth. But the commentator mentioned that she had followed Azarenka since the beginning of the latter's career.
In the year 2020, when Victoria Azarenka was competing in the final of the US Open, Emma Raducanu was studying for her tests and daydreaming about one day joining Azarenka on those stages.