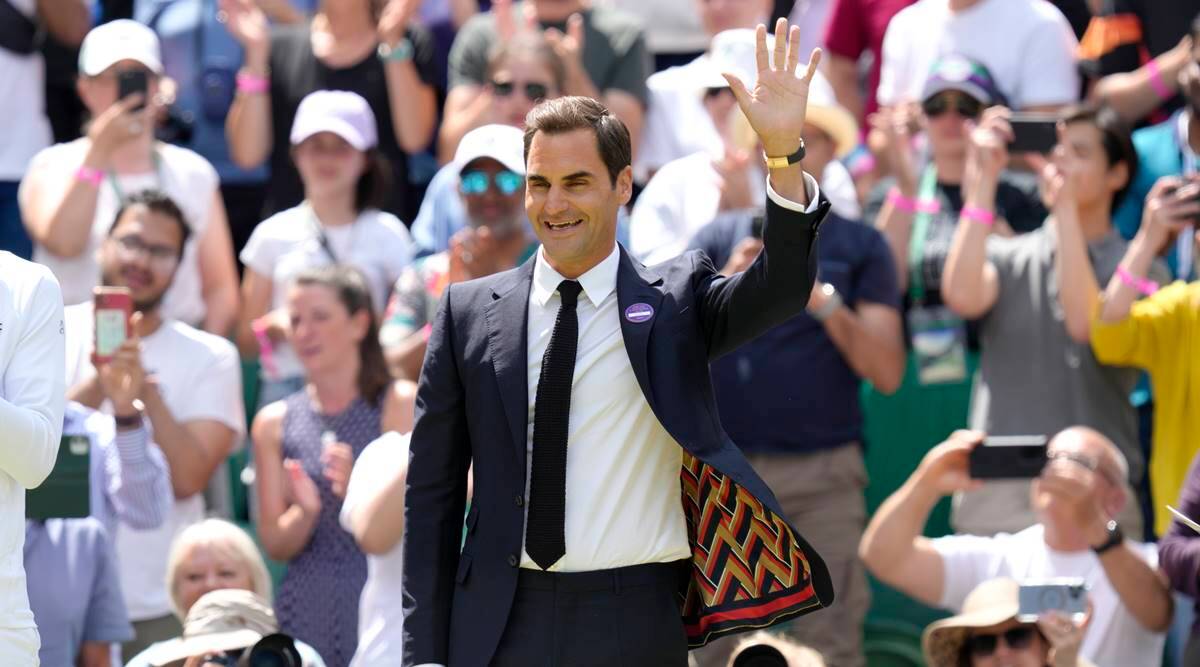 Rodger Federer ovation was greeted by deafening applause and a standing ovation as he entered the arena
The Tennis legend sat down next to Djokovic, the six-time champion, after a brief conversation
Federer is not competing in this year's Wimbledon tournament due to the knee injury
The 20-time Grand Slam winner has won most of the Wimbledon titles
When Roger Federer came back to Wimbledon to lead the 100-year mark of celebration commemorating the centennial of Centre Court, he was greeted with a standing ovation from the crowd.
Since he is still recuperating from knee surgery and will not be able to compete in the prestigious tournament for the first time since the year 1997, Federer received the loudest applause during a parade of former champions.
Roger Federer holds the record holds the record of most Wimbledon titles
Nearly thirty people who have won the main singles trophies in the past, including Bjorn Borg, Rod Laver, Chris Evert, Billie Jean King, Rafael Nadal, Novak Djokovic, Venus Williams, and Andy Murray, walked out to rousing applause. Among those honoured was Andy Murray.
Since his loss to Hubert Hurkacz in the quarterfinals of this tournament a year ago, Roger Federer has not competed in a single match.
However, he is still planning to make a comeback, and it appears it will start in London at the Laver Cup in September.
The show was hosted by Sue Barker, a former Tennis player and former Tennis star John McEnroe.
It featured Sir Cliff Richard performing a reprise of his popular rain break singalong of Summer Holiday from 1996, complete with tennis backing singers.
This time, the former British Tennis professional player Laura Robson and Pam Shiver were among the singers providing support.
Although not as enthusiastic as it was for many other people, there was polite applause for Margaret Court, who has been heavily condemned for her point of view on gay marriage.
Even though the organisers may have been concerned about the reception she would earn, there was polite applause nonetheless.
Because she tested positive for Covid 19, Former Tennis star Martina Navratilova was required to stay away from the event and was one of the notable players who did not compete.
Other notable players who did not compete include Pete Sampras and Serena Williams, both of whom have won the singles tournament seven times each.
Andre Agassi, Jimmy Steffi Graf Connors, Maria Sharapova, and Boris Becker who is currently behind bars, were some of the other notable players who were not present at the parade.
However, Rod Laver and Angela Mortimer, the winners in 1961, could claim the longest-lasting connections to Centre Court.
An additional round of standing ovations was reserved for former semi-finalist Barker at the conclusion of the ceremony. Barker is currently winding up on presenting duties for the BBC,
Barker, who had been forced to console numerous emotionally distraught players after losing the championship match, cried on Centre Court while attending the reception.
It is safe to say that Roger Federer is itching to get back out on the court for one more match to give it his all before retiring.
As he works to regain his full fitness before making his return at the Laver Cup in the next two months, he has been posting regular videos of himself training on social media. His return to competition is scheduled for that month.